Press
Greg Nicotero Talks Cliffhanger With EW; CNBC Interviews Norman Reedus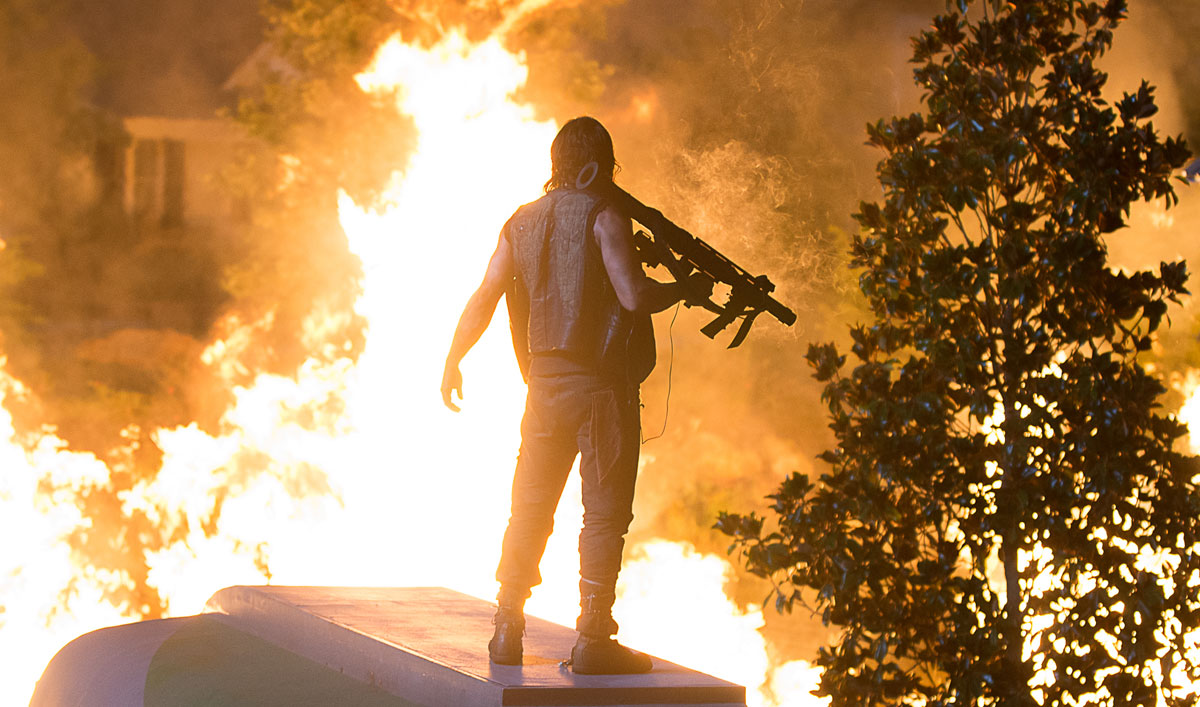 This week, Greg Nicotero discusses the Season 6 cliffhanger with EW, while CNBC interviews Norman Reedus. Plus, EW gets a look at Morgan in Season 7. Read on for more:
• Greg Nicotero reveals to Entertainment Weekly that the person "who was at the receiving end of Negan's bat will be revealed in the first episode."
• Speaking with CNBC about life as a struggling actor, Norman Reedus says, "I mean, I've lived off $12 a month for probably a good portion of my life. If it's something you really want, you have to roll with the rejection."
• Entertainment Weekly has a first Season 7 look at Lennie James' Morgan, who appears to be "back with his trusty pole, but where is he?"
• ComicBook.com interviews Greg Nicotero, who confirms he directed the Season 7 premiere and calls the experience "the hardest two weeks of my life."
• Entertainment Weekly learns from Greg Nicotero that the Saviors, "as sadistic as they may appear, they have a system that works for them."
• ComicBook.com reports that The Walking Dead received two Emmy nods, for Outstanding Special Visual Effects In A Supporting Role and Outstanding Prosthetic Makeup For A Series, Limited Series, Movie Or Special.
• TVLine features the show's Comic-Con key art: "The shot — as you can see for yourself — features Jeffrey Dean Morgan's Negan standing before his 11 potential 'batting practice' victims, each of them wearing a look of dread that makes you just wanna hug 'em."
• The Independent is anticipating the show's Comic-Con panel since everything "will be scrutinized with a fine toothed comb by fans of the series. A sneak peak at season seven also looks in order, hopefully revealing some interesting new details."
• TVLine spotlights a featurette on the Season 6 Blu-ray and DVD where "we get up-close and personal — maybe more so than the squeamish would like! — with some of the past season's most memorable zombies."
• Talking to Entertainment Weekly about the Prison Break reboot, Sarah Wayne Callies says she's learned so much since the original series and that "Andy Lincoln and Jon Bernthal are two of the best teachers I've ever had."
• Uproxx talks to Ross Marquand about "his surging popularity both on The Walking Dead (where he is unfortunately one of 11 people on the chopping block in the seventh season premiere), and on the Internet, where his impressions have taken social media by storm."
• According to Epicstream, Tovah Feldshuh says she based her portrayal of Deanna on Hillary Clinton: "I would have used her [Deanna] as the head of state to forge relationships with other communities. Rick (Andrew Lincoln) would have been Colin Powell, and I would have been the president of the United States."
To stay up-to-date on all the latest news about The Walking Dead, sign up for the weekly Dead Alert newsletter.
Read More