Press
Dead Showcases Season 7 Trailer; Scott Gimple Talks Cliffhanger Resolution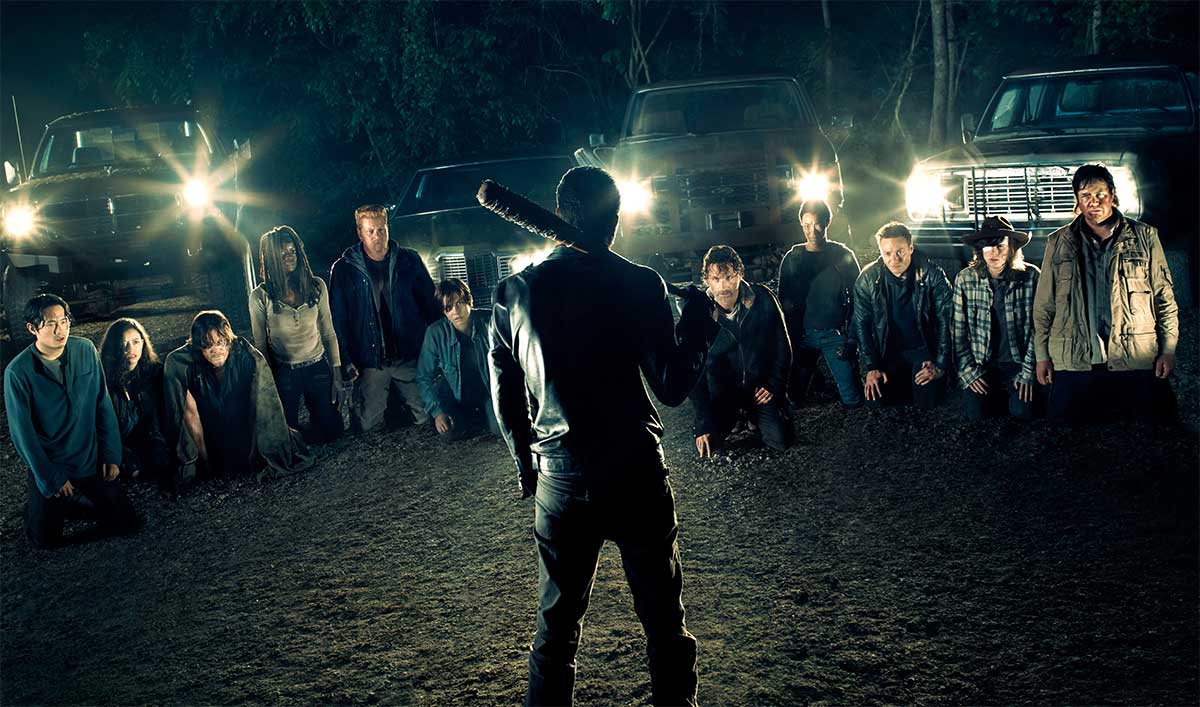 This week, The Walking Dead showcases the Season 7 trailer at Comic-Con, while Scott Gimple discusses the resolution of the Season 6 cliffhanger. Plus, the new season will premiere on Oct. 23. Read on for more:
• The Hollywood Reporter notes the Season 7 trailer offered "lots of Tara and Heath hunting zombies, and Carol and Morgan as they follow guys with makeshift armor into the Kingdom. Plus, the series officially introduced the dreadlocked King Ezekiel — played by voice actor Khary Payton — with his CGI tiger, Shiva."
• After watching the trailer, Digital Spy remarks that viewers will "FINALLY get to meet King Ezekiel — and his pet tiger" and adds, "There's no denying actor Khary Payton looks terrifying in costume, tiger by his side, but will he be an ally for Rick's crew or not?"
• Cinema Blend extols The Walking Dead's tiger: "Even just from that one screenshot, you can tell there's some impressive technology behind that tiger. It's very detailed and surprisingly convincing."
• Entertainment Weekly adds that "not only will we visit the Kingdom, we dare venture inside the Sanctuary, home of the Saviors."
• Regarding the resolution of the Season 6 cliffhanger, Scott Gimple tells TVLine, "We spared no drop of awfulness, no iota of misery, no scintilla of pain."
• Vanity Fair opines, "From the looks of it, the world of Season 7 is going to be a lot darker and more expansive than ever before. Hopefully, whoever it is that suffers Death By Bat, the group recovers from the devastating loss quickly; they'll probably want to stay sharper than ever with a guy like Negan looming over them."
• Deadline also reports that the trailer debuted "to roars from the SDCC [San Diego Comic-Con] crowd" and "showed more of the Jeffrey Dead Morgan played Negan in action and a wild car chase."
• According to Nerdist, although "nothing could be shown of any characters who may or may not have died, fans left Comic-Con's 2016 The Walking Dead panel solidly entertained regardless, as the cast took the time to goof around and engage their funny sides."
• For its part, Us Weekly shares what it learned from the show's Comic-Con panel, which was "a veritable buffet of amazing reveals," while Vulture also has highlights.
• Entertainment Tonight quotes Jeffrey Dean Morgan predicting that he won't receive such a warm welcome at Comic-Con next year, after his victim is revealed: "I think next year is going to be a salute of middle fingers and language next year when I come out onstage."
• During a post-panel press conference, Collider doesn't learn the identity of Lucille's victim, but "we still got some insight into the work that was put into that crucial and pivotal scene, as well as a few hints on what to expect next season."
• At Comic-Con, Robert Kirkman reveals, "I wish I was still writing Tyreese, yeah, that's a character I really enjoyed," Cinema Blend reports.
• Deadline reports that Season 7 will premiere Oct. 23 (and internationally on Oct. 24 on FOX channels in more than 125 markets).
• According to Polygon, Danai Gurira marvels that someone like Michonne is "on screen every week and that's a fantastic rare thing. I mean, dreadlocks? A sword? I wish I came up with her!"
• Yahoo TV learns from Andrew Lincoln that the Season 6 cliffhanger is "more about [Negan] than the death. It's the breakdown of a man, but it's also, 'There's a new kid on the block.' And if we had the death, it maybe would have trumped [Negan's] entrance."
• Gale Anne Hurd tells Deadline that Season 7 will be similar to previous seasons and that there — "will be panels from the comics brought to life, but there will also be stories that are not in the comic book."
• Greg Nicotero talks to Entertainment Weekly about Season 7: "You're opening a new chapter and you're going into a different direction, and that's where we are, and it's going to happen pretty rapidly and pretty dramatically as we get into episodes 1, 2, 3, and 4."
• Norman Reedus tells Moviefone that the resolution to the Season 6 cliffhanger is "well worth the wait. I will say it's well worth the wait!"
• Cinema Blend spotlights Norman Reedus' prank on Andrew Lincoln: "Andrew Lincoln had the misfortune of firing up his car's air conditioning on a 93-degree day, only to find the vents filled with glitter. Norman Reedus caught Lincoln's reaction on camera, and it's definitely worth watching."
• ComicBook.com reports on Danai Gurira joining the cast of Marvel's Black Panther and notes that she has "experienced a surge in popularity following her stint" as Michonne.
• According to The Hollywood Reporter, Robert Kirkman and Dave Alpert are adapting Chronicles of Amber for television.
To stay up-to-date on all the latest news about The Walking Dead, sign up for the weekly Dead Alert newsletter.
Read More