Press
Norman Reedus Previews Season 7; Rolling Stone Interviews Robert Kirkman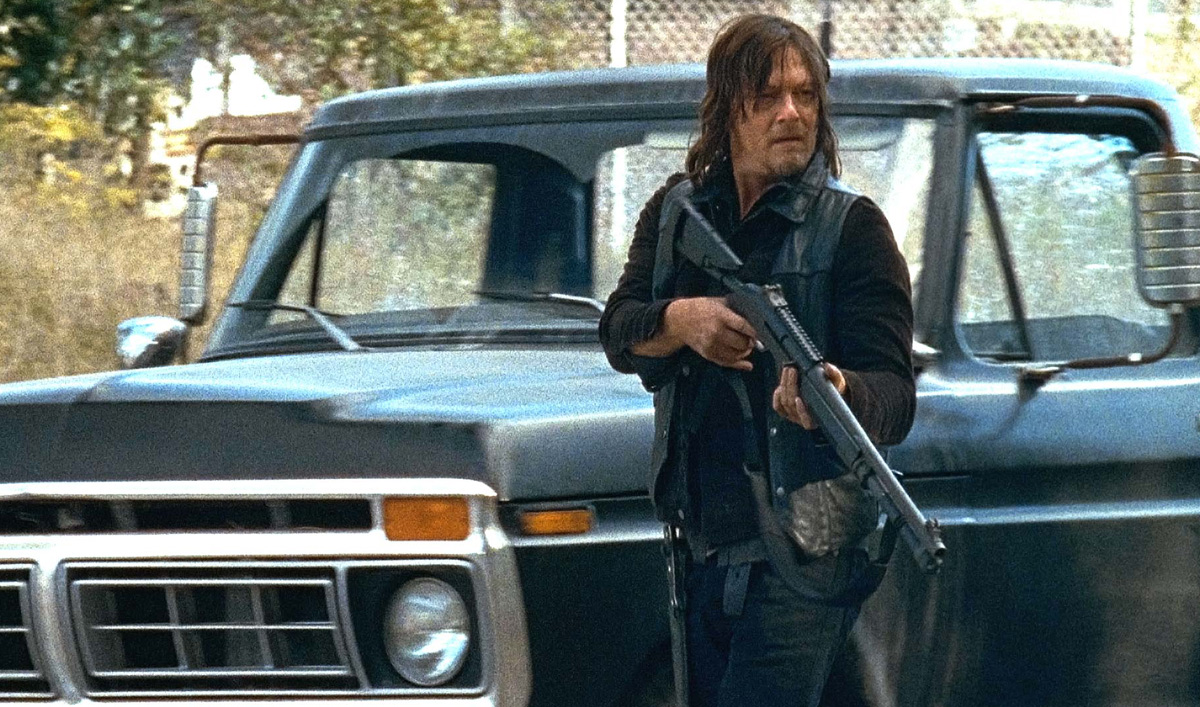 This week, Norman Reedus teases Season 7, while Rolling Stone interviews Robert Kirkman. Plus, John Cusack wants to join The Walking Dead. Read on for more:
• Talking to TVLine, Norman Reedus previews Season 7: "I will definitely 100-percent say that it's well worth the wait. It's large. It's mind-blowing."
• Robert Kirkman marvels to Rolling Stone that The Walking Dead was made into a TV show: "It's weird, you go from doing this comic book with your childhood best friend — and then you're standing on a set where there are burnt out cars and wrecked helicopters and what you've imagined is standing right in front of you."
• According to ComicBook.com, John Cusack wants to appear on The Walking Dead because he's "strangely a secret zombie movie fan."
• Previewing Season 7 to Uproxx, Robert Kirkman says, "Negan is going to be an ever-present, constant threat that is going to change everything moving forward."
• Vanity Fair, focusing on Danai Gurira's career as a playwright, reports, "Danai Gurira battles an endless horde of zombies with nothing more than her katana (and a little help from Rick and company). But this year, Gurira has taken a break from the zombie war. Now, she gives voice to the voiceless."
• TVLine supports an Emmy nomination for Melissa McBride, who "shattered us by revealing the high price that her character was no longer willing to pay for her toughness" in Season 6.
• Bear McCreary tells Variety, "We are in a new era of television: serialized, longform dramatic storytelling. You need the music to evolve in the same way the characters do. It's not enough to have copy-and-paste music that sounds like the pilot."
• Entertainment Tonight learns from Norman Reedus that Season 7 will be "mind-blowing. The thing about the show is it's so personal to us. There's death of friends and death of each other, and it's kind of hard to talk about, you know?"
• Norman Reedus, talking to the Atlanta Journal Constitution, says that, in Atlanta, "I ride with Steven (Yeun). I ride with Austin Nichols. I ride with Jeffrey Dean Morgan. There are some people on the crew that ride bikes. But it's also fun just riding by yourself."
• Robert Kirkman shares with The Guardian that zombies will probably always be popular because they represent "the physical manifestation of everybody's fear of death. It's that looming feeling of unavoidable doom, manifested in flesh."
• A.V. Club spotlights a version of Devo's Whip It dedicated to Rick that serves as "a message of encouragement for one of the most stressed-out, harried characters in television."
• Adweek reports that The Walking Dead was the most-tweeted series during the 2015-16 TV season according to Nielsen.
• CarterMatt is agitating for Danai Gurira to be a guest host on Saturday Night Live's next season because "she would be a big surprise for those who picture Michonne as nothing other than a sword-wielding badass, and would represent the entire fandom well."
• Outer Places previews the Netflix debut next month of Voltron: Legendary Defender, which features Steven Yeun's voice, and asks, "Who wouldn't want to watch Glenn ride flying robot lions to save the galaxy?" USA Today has a clip from the show.
To stay up-to-date on all the latest news about The Walking Dead, sign up for the weekly Dead Alert newsletter.
Read More