Press
Greg Nicotero Teases Season 7; Dead Wins Trio of Saturn Awards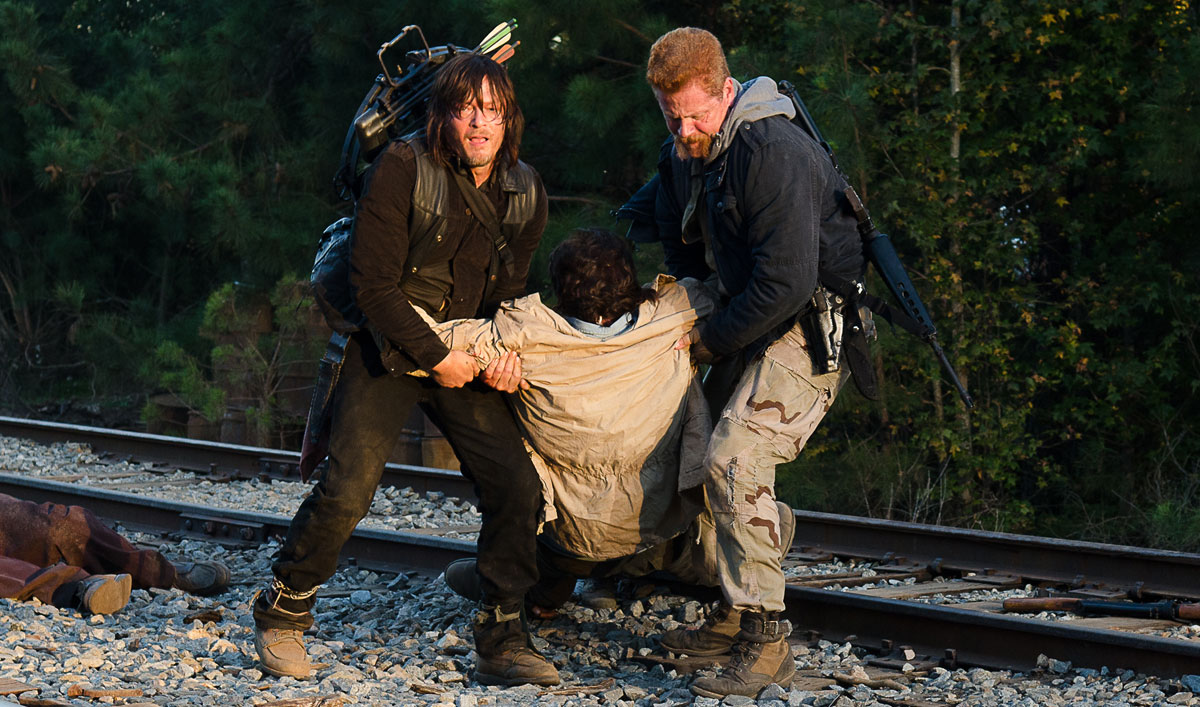 This week, Greg Nicotero teases Season 7, while The Walking Dead wins three Saturn Awards. Plus, Norman Reedus and Nicotero open their new restaurant. Read on for more:
• Greg Nicotero teases to Digital Spy, "The next season is a very different Walking Dead from the one we are accustomed to. I think that people will enjoy that the show continues to change direction and doesn't just deliver the same thing over and over again."
• The Walking Dead won the Saturn Award for Best Horror TV Series, while Danai Gurira won for Best Supporting Actress on Television and Chandler Riggs won for Best Younger TV Actor, reports ComicBook.com.
• People gets a look at Norman Reedus and Greg Nicotero's new restaurant, which is not a zombie-themed dining experience — though Nicotero says, "There's around 400 people that work onThe Walking Dead so when people come in the restaurant, it will give them another opportunity to bond with the people who create the show." Zap2it adds, "These are the five menu items we'd risk turning into a zombie to try."
• The Los Angeles Times, previewing The Walking Dead attraction at Universal Studios Hollywood, quotes the theme park's creative director who explains, "We wanted to make the guests feel like they are walking in the footsteps of Rick and the other survivors on the show."
• Yahoo TV advocates Emmy nods for guest stars Jeffrey Dean Morgan, Alicia Witt and John Carroll Lynch, asking, "Will TWD finally get some Emmy recognition for its standout lineup of performers?"
• TVLine compiles "a list of the series' 22 most painful deaths ever — you know, the ones from which you were sure you'd never recover… and then, of course, got over!"
• According to Uproxx, during a recent Conan appearance, Norman Reedus reveals he has an impersonator, who says he plays Daryl "on the weekends, but on the weekdays I play Norman Reedus."
• TheWrap interviews Alicia Witt, who was "amazed" that Andrew Lincoln came to set for her episode: "He drove an hour out from his home to be on the set, especially on his day off, [for] an episode that he was only in at the end of, to be the voice on the walkie."
• Digital Spy also learns from Greg Nicotero that the "level of commitment from the cast and crew keeps the spirit of the show alive. As long as that stays alive then we can keep it going for as long as we want it to go on."
• TVLine is worried about Rick, Carl, Michonne, Eugene, Maggie, Sasha, Daryl, Aaron, Rosita, Abraham and Glenn because the cause of death is the "world's sickest game of Eeny, Meeny, Miny, Moe, courtesy of Negan."
• ComicBook.com highlights the show's 10 most memorable quotes so far.
• Entertainment Weekly reports that Season 6 will be available on Blu-ray + Digital HD and DVD on August 23 — with an extended version of the finale coming to Blu-ray only.
• ComicBook.com looks back at Season 3, when "Rick realized that he must prioritize himself and his group's safety at any expense."
• Undead Walking reveals that Hallmark will offer a Rick Grimes Christmas ornament this year.
• Outer Places, recommending Netflix's Voltron: Legendary Defender, trumpets Steven Yeun as "the show's most-recognizable geek culture name" and also notes there's a guest appearance from Norman Reedus.
• According to Pitchfork, Ross Marquand stars in the music video for the title track of The Amazing's new album, Ambulance.
To stay up-to-date on all the latest news about The Walking Dead, sign up for the weekly Dead Alert newsletter.
Read More