Press
Guardian Touts Danai Gurira; Steven Yeun Books Movie Role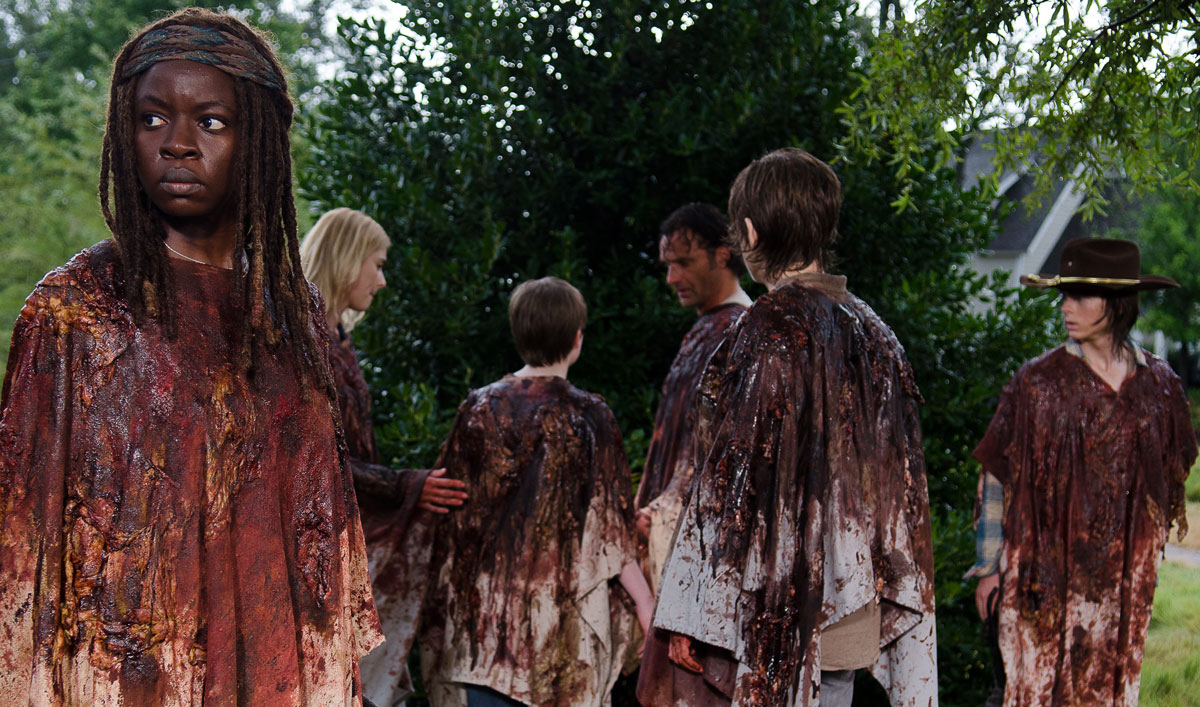 This week, The Guardian has high praise for Danai Gurira, while Steven Yeun books a new movie role. Plus, The Fresno Bee credits The Walking Dead for the proliferation of apocalyptic TV. Read on for more:
• The Guardian applauds Danai Gurira, noting that "as katana-swinging Michonne, she's one of the leads in the highest-rated show in cable TV history, a revolutionary thing for a black woman."
• Deadline reports that Steven Yeun has joined the cast of Bong Joon-Ho's Okja, a follow-up to Snowpiercer.
• The Fresno Bee notes that "producers have discovered that anything that could lead to the end of the world is entertaining to audiences," crediting The Walking Dead for this "embrace of total annihilation."
• ComicBook.com spotlights a fan-made supercut of Abraham's best quotes because "Abraham has had some of the best lines in the show, abrasive and to-the-point in a way that no one else really is… until Negan comes along."
• Moviepilot believes that "Judith is the queen of ass-kickers on the show, and here are some of the times that she proved beyond a shadow of a doubt that you don't mess with her baby-powdered butt."
• USA Today reports that Ride With Norman Reedus will premiere June 12.
• Deadline reports that Danai Gurira will be honored with a Lilly Award next month in New York City and notes that her play, Eclipsed, currently running on Broadway, is "expected to figure in next week's Tony Award nominations."
• In a feature on Hatco, a hatmaker based in Garland, Tex., The Dallas Morning News points out that Andrew Lincoln sported one of the company's Stetson Ropers as Sheriff Rick Grimes.
• Gale Anne Hurd is teaming with Ben Silverman and Howard T. Owens' Propagate Content to adapt the popular podcast Lore as an hourlong anthology series, according to The Hollywood Reporter.
• Vanity Fair reports that Josh McDermitt ("whom you might know as Eugene from The Walking Dead") has joined the cast of Showtime's Twin Peaks reboot.
• Undead Walking interviews Justin Kucsulain, who says, "I believe Ethan is a smart man, a crafty man, and I believe he knew that there was no getting around Negan. I also believe he was kind of blinded with the thought of having to save his brother."
• Digital Spy reveals that The Walking Dead: Alien one-shot comic "reveals the fate of Rick Grimes's long-lost brother, Jeff."
• Gulf News reports that all performances of Danai Gurira's Eclipsed, now playing on Broadway, will be dedicated to the still-missing victims of Boko Haram.
To stay up-to-date on all the latest news about The Walking Dead, sign up for the weekly Dead Alert newsletter.
Read More