Press
Dead Finale Most-Watched by 18-49; Steven Yeun Visits Korea With Conan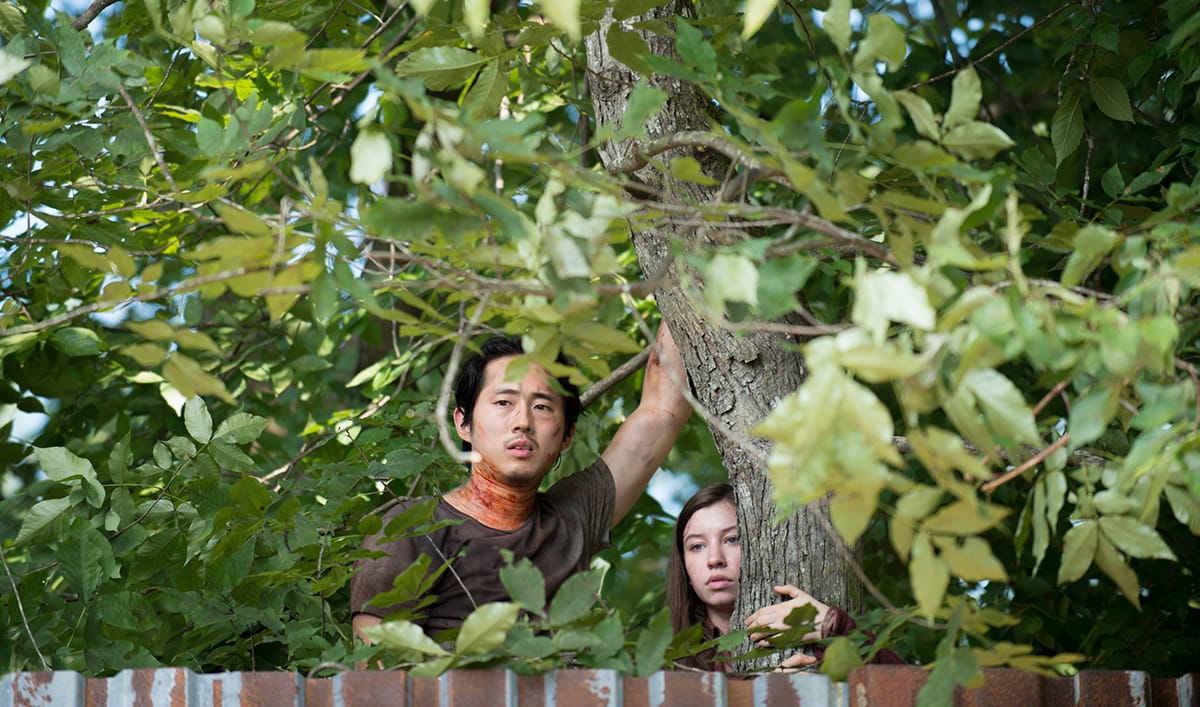 This week, the Season 6 finale is the most-watched TV show by the 18-49 demographic, while Steven Yeun visits Korea with Conan O'Brien. Plus, one of Negan's quotes shows up in TVLine's list of the best of the week. Read on for more:
• Variety reports the Season 6 finale "caps a fourth straight year that Walking Dead has finished as the most popular series on television among adults 18-49 when including the three-day playback numbers," according to Nielsen.
• In a segment that included "a short comedy routine" and "some heartfelt words," Steven Yeun and Conan O'Brien recorded a segment of Conan from the DMZ between North and South Korea, according to ComicBook.com, which also posts a video of the duo "in a super-random and gut-busting hilarious K-pop music video for J.Y. Park's 'Fire.'"
• TVLine's gallery of TV's best quotes includes Negan saying, "This is Lucille, and she is awesome."
• Regarding the season finale, Gale Anne Hurd tells Digital Spy, "We did want the moment to be about the introduction of Negan – and I think that Jeffrey Dean Morgan is fantastic. You'll be out of your misery very soon in the new season – and I guess so will somebody else!"
• The Hollywood Reporter reveals the first page of Here's Negan, which will relate Negan's backstory, and notes that first page is "quite powerful while revealing nothing about the character. It's Negan creating his trademark weapon of choice: Lucille."
• Commenting that "no character in The Walking Dead has skirmished death more times than Glenn Rhee," The Independent tracks the 10 times he's come extremely close to being killed off.
• ComicBook.com posts Greg Nicotero's "behind-the-scenes video in which he makes a head explode with compressed air."
• Yahoo spotlights Greg Nicotero's reveal of a walker, made up to look like Johnny from George A. Romero's Night of the Living Dead, "who narrowly missed his time in the spotlight this season."
• According to Comic Book Resources, Jon Bernthal discusses Shane's "crazy arc. I was so grateful for that opportunity. Very rarely on TV do you get a full arc."
• Greg Nicotero, speaking with Den of Geek about the episodes he directs, says, "I make sure that we're not rushing, that the actors have that time to do another take if they want to try something different."
• Now that Season 6 is over, Yahoo TV details what the cast is working on before Season 7 begins in the fall.
To stay up-to-date on all the latest news about The Walking Dead, sign up for the weekly Dead Alert newsletter.
Read More