Press
Norman Reedus on Daryl; Robert Kirkman, Gale Anne Hurd Talk Negan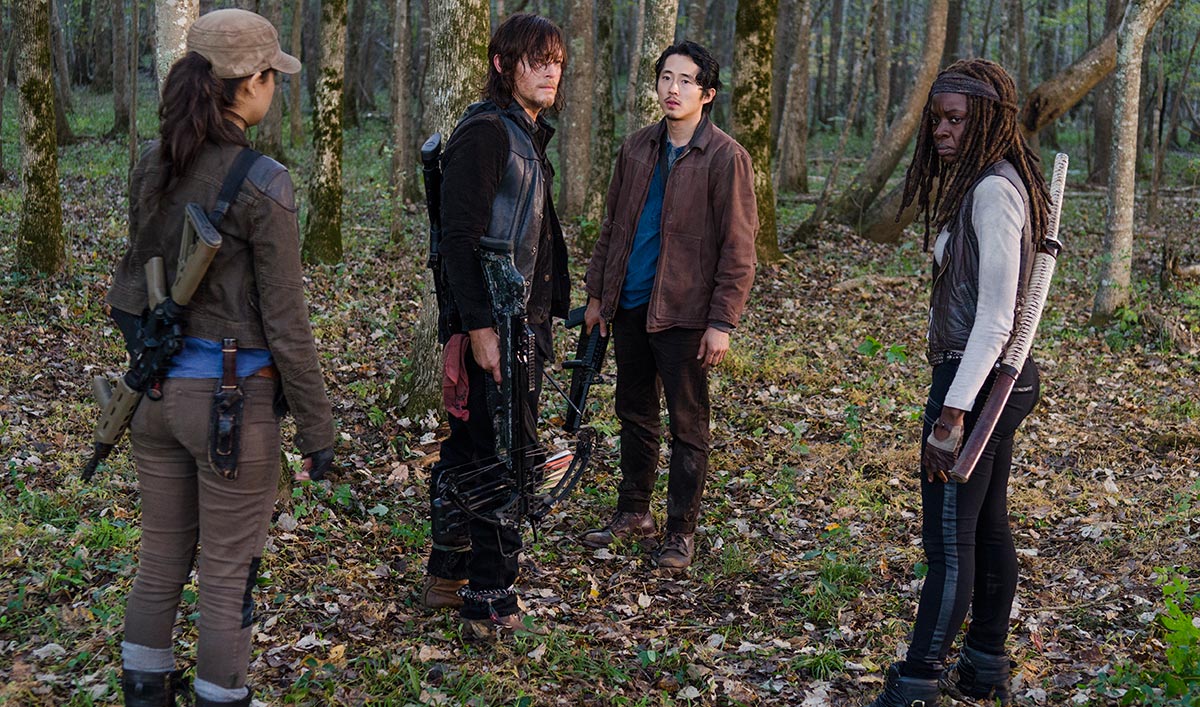 This week, Norman Reedus discusses Daryl's possible demise, while Robert Kirkman, Gale Anne Hurd and Andrew Lincoln tease Negan's arrival. Plus, The New York Times profiles Jon Bernthal. Read on for more:
• Norman Reedus confirms to TVLine, "It's definitely Daryl getting shot. I won't tell you where he's getting shot. But you see [Dwight] pull the trigger, and that's Daryl's blood."
• Norman Reedus warns The Hollywood Reporter, "You should be very worried about Daryl. At the end of the episode, there's a comment that Dwight makes ["You'll be all right"] — and we're really good about throwing you off base. That comment might not even be to Daryl. It could be to Rosita — or to anybody there."
• Norman Reedus explains to Entertainment Weekly that Daryl went after Dwight because of Denise: "Daryl took that very personally. I mean, to have her die in front of him with his arrow, I don't think that he's going to let that go. I think that he wants revenge."
• "I was shocked that that would happen to Daryl. But, when you're acting out of passion, sometimes you make a mistake. In that world, you can't make mistakes like that," Norman Reedus says to USA Today about Dwight shooting Daryl.
• Teasing the season finale, Norman Reedus tells Deadline, "Without a doubt, this whole season has been just completely ballistic. I will say that the Season 6 finale is the most hard-core finale we've ever done, if not the best episode we've ever done."
• Robert Kirkman teases Negan to Entertainment Weekly: "I won't necessarily say that this is Rick potentially coming up against an anti-Rick, but this is a character that Rick is not necessarily going to have an advantage over the way he had an advantage over, say, a Gareth, or a Governor."
• According to Entertainment Weekly, Gale Anne Hurd adds, "Whatever you're thinking, it is going to be not only bigger, but more wicked. Jeffrey Dean Morgan is not only a fantastic actor, but he's larger than life. And what can you say? He's also got Lucille."
• For his part, Andrew Lincoln tells Entertainment Weekly that Negan's introduction is "the greatest entrance ever written."
• Jon Bernthal talks to The New York Times about Shane: "On The Walking Dead, they just kill off these characters, completely at random, and that's part of the appeal of the show. But they really dedicated so much time to this one character's journey."
• TV Guide pays tribute to Carol's spikemobile, "the most badass vehicle to roll through the post-apocalyptic South since The Governor drove a tank into the prison back in Season 4."
• E! Online wonders "who exactly is going to be on the deadly receiving end of a swing from Negan's beloved Lucille (aka, his horrifying barbed-wire-wrapped baseball bat)?"
• Asked by Entertainment Weekly about her favorite zombie kill, Danai Gurira chooses a Season 3 incident "where there was a walker right behind me and I had to just stab him without looking and pull his brains out through the top of his head."
• Entertainment Weekly posts a season finale preview and comments, "Yes, Negan is coming, and you can see and hear him for yourself." Meanwhile, the New York Daily News has an image of Negan and "his iconic barbed-wire bat Lucille is hoisted ominously over his shoulder."
• TVLine previews how "two of The Walking Dead's fiercest fighters [Sonequa Martin-Green and Lauren Cohan] will clash on a new playing field: Spike TV's Lip Sync Battle."
• Tyler James Williams, interviewed by Essence, says, "Having a character tied to these other characters means something. I'll always be Noah's biggest advocate because I understood everything he did and his relationships to everybody."
• Josh McDermitt talks to Yahoo TV about playing Eugene: "I want to look as stupid as possible. I don't want to look like a normal guy in the background."
• Interviewed by The Root, Danai Gurira speaks to parallels between Michonne and her play Eclipsed, that both "ironically ask the same question: Who would you be if the world got this dire?"
• The Walking Dead's prop master, John Sanders, gives Yahoo TV the scoop on Daryl's motorcycle, including "the bike's beginnings, how the Honda Nighthawk platform was modified very specifically to fit Daryl's needs, and its importance to the show."
• Melty learns from Chandler Riggs that his "favorite scene with Carl is going to come. Episode 16 is going to be awesome, by the way… [it's] really, really good."
• Moviepilot points out that Judith "has been played by 16 little actresses."
• BuddyTV's list of good TV characters being bad includes Carol killing Karen, "one of the worst thing[s] she ever did, mostly because it was completely useless. The infection spread and Carol killed an innocent woman for nothing."
• Behind the Thrills has details of the upcoming The Walking Dead attraction at Universal Studios Hollywood, including the fact that "the creative team was able to pour so much detail into the attraction, that it will literally feel like you've stepped onto the set of The Walking Dead."
• For recaps and reviews of Season 6, Episode 15, "East," check out ABC News, A.V. Club, Cleveland.com, The Daily Beast, Entertainment Weekly, Los Angeles Times, MassLive, The New York Times, TV.com, TVLine, USA Today, Us Weekly, Vulture, The Wall Street Journal, TheWrap and Yahoo TV.
To stay up-to-date on all the latest news about The Walking Dead, sign up for the weekly Dead Alert newsletter.
Read More