Press
Melissa McBride Talks Carol; Scott Gimple Explains Casting Negan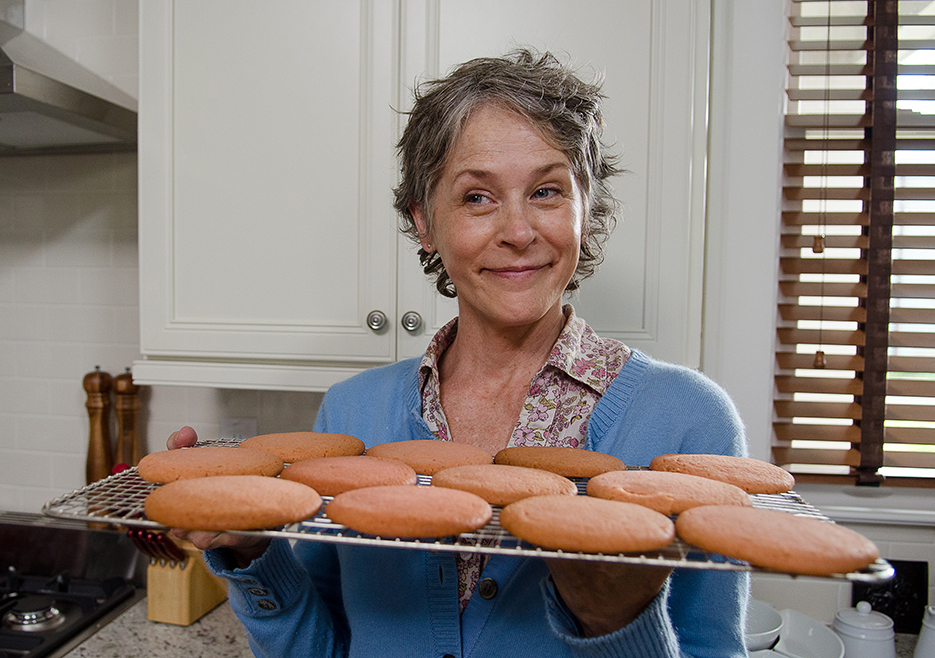 This week, Melissa McBride talks Carol's state of mind, while Scott Gimple explains casting Negan. Plus, Greg Nicotero discusses the Saviors and Glenn. Read on for more:
• Melissa McBride tells TVGuide.com the last episode was about Carol "feeling how all the losses have stacked up and the grief and the guilt she's been carrying from what she's done and what she knows she's going to have to continue to do."
• Yahoo TV speaks with Melissa McBride, who says that Carol "since the beginning… back to Sophia coming out of the barn, she's just had to very quickly adapt, to do what she has to do to survive and help the people in her band of survivors to live another day."
• EW asks Melissa McBride about Carol's attraction to Tobin, and she says that Tobin is "a sweet fellow and I think was there for Carol, who is trying to understand how any of us can be capable of doing what we're doing, more specifically, taking human lives."
• Scott Gimple explains Jeffrey Dean Morgan's casting as Negan to Nerdist: "The glee that he had in the idea of being able to play this role was perfect for this role. The glee that he showed is so similar to the kind of id that Negan displays."
• The Hollywood Reporter talks to Greg Nicotero, who notes that "the Saviors are showing themselves to be a relatively formidable group. The fact that they'd send someone in to murder Gregory, the head of the Hilltop, and then bring his head back."
• Steven Yeun is "so fantastic of a performer. My job as the director is to create an environment where these guys can go to these horrible, dark places. And that's about as dark as you can get," Greg Nicotero says about Glenn killing for the first time, according to TheWrap.
• Greg Nicotero explains to EW that Carol is "so angry at Maggie because Maggie represents what life should be and what the promise of a future is. She feels that Maggie is being reckless by even leaving the safety of Alexandria."
• Steven Yeun tells Entertainment Weekly his favorite zombie kill ever was from Season 3, saying, "The chair walker is obviously a big one. That was really fun and it felt like an important turning point for Glenn."
• Michael Cudlitz talks to ComicBook.com about Abraham breaking up with Rosita, saying, "He doesn't really have the words to do it in a soft gentle way in that moment but it certainly pains him to do it. I think he's much more used to dealing with men."
• Reviewing Danai Gurira's Familiar, which just opened off-Broadway, the New York Post declares that "the playwright's good ear for dialogue helps make this a sharp look at assimilation."
• Meanwhile, The New York Times proclaims that Familiar "probes with subtlety and smarts the subject of immigration and assimilation — a topic of major currency these days" and calls Danai Gurira "an excellent actor as well as a playwright."
• TV.com enjoys when Rick, "covered in fresh blood, doesn't get why people are staring at him" in last week's episode.
• Lauren Cohan, interviewed by EW, singles out a Season 3 zombie kill when Maggie "gets up under Riot Gear Walker, and then there's just, like, green goo. I think that's still probably to date my most hands-on disgusting kill."
• Speaking with ComicBook.com about the season finale, Greg Nicotero reveals, "I can tell you that the last episode, the pace and the build of what happens from the teaser to the end, it's a pretty precipitous drop to a very dark place."
• Ross Marquand visits Jimmy Kimmel Live to do his celebrity impressions — and shares an anecdote about arriving at the airport drenched in fake blood, according to ComicBook.com.
• Danai Gurira explains to Vulture why Michonne and Rick are right for each other: "They can check each other, she can make him laugh, she can disarm him, but she's also deeply loyal to him and she respects him."
• Melty interviews Greg Nicotero, who notes that "visually we are showing that the world is big and that there's threats out there. And now in the second half of the season, those threats are going to become more focused."
• Alicia Witt, talking to Starcasm about The Walking Dead, says, "If I could have named five shows I'd most want to be on, this would be one of them. If not the top one!"
• Uproxx calls Xander Berkeley "outstanding" and explains that he's "been acting for more than 30 years, a that guy whom everyone has seen in something."
• Undead Walking attends Michael Cudlitz and Josh McDermitt's panel at Dallas' Walker Stalker Con, where the two "joked around with each other and their fans."
• Design & Trend believes that Maggie is "the leader that Rick Grimes' group needs!"
• NME shares what it learned about The Walking Dead from Greg Nicotero and the cast at a meet-and-greet.
• PopSugar, focusing on the show's titular walkers, tries "to imagine what they'd say if they could speak."
• The Ledger of Lakeland, Fla. interviews a native son, Justin Kucsulain, about playing Ethan, and he says, "If you're going to be on The Walking Dead, the most epic thing that can happen is getting killed by the main man Rick."
• Kimberly Leemans, interviewed by The Ocala (Fla.) Star-Banner about playing Crystal, says, "I wonder if there's a count of how many have punched Rick; I'm sure there's a count somewhere. But it was quite the honor to punch No. 1 on the call sheet."
• Mic lists "eight of the show's most shocking moments so far, with more undoubtedly coming in the near future."
• For recaps and reviews of Season 6, Episode 12, "Not Tomorrow Yet," check out The Atlantic, A.V. Club, Den of Geek, E! Online, Forbes, HitFix, Indiewire, Los Angeles Times, New York Post, The New York Times, Rolling Stone, The Telegraph, TVLine, USA Today, Us Weekly, Variety, Vox and Vulture.
To stay up-to-date on all the latest news about The Walking Dead, sign up for the weekly Dead Alert newsletter.
Read More