Press
Melissa McBride, Alicia Witt Talk Carol, Death; Rick's Best Zombie Kill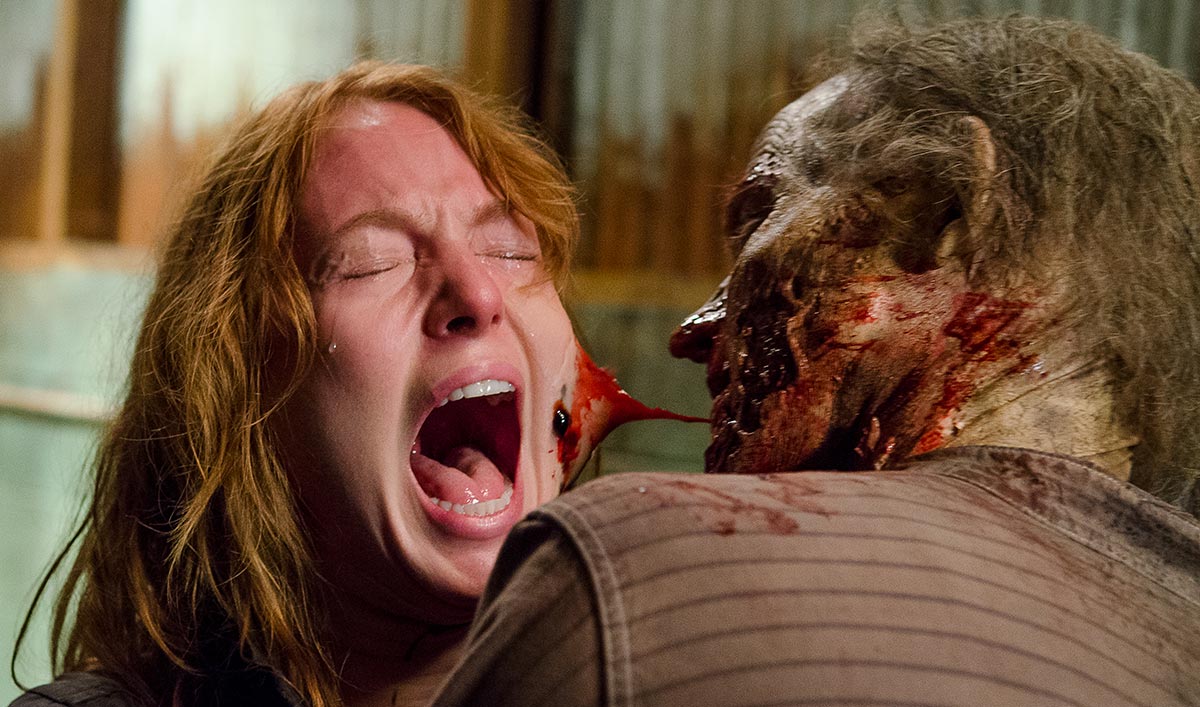 This week, Melissa McBride and Alicia Witt discuss Carol and death, while Andrew Lincoln describes Rick's best zombie kill. Plus, The Walking Dead will be at Universal Studios Hollywood year-round. Read on for more:
• Melissa McBride speaks about her group and the Saviors with E! Online: "I love this episode so much because, even in the title 'The Same Boat,' we are, we're in the same boat. We are them, they are us. They are beholden to something. We have to do what we have to do to survive. I could be you, you could be me."
• Variety learns from Melissa McBride that Carol is "really struggling with what is the right thing to do. With Paula she waited as long as she could to see how it was going to go. That was very different for Carol. Usually she doesn't hesitate and just eliminates the threat right away."
• Talking about "The Same Boat" with The Hollywood Reporter, Melissa McBride shares that "it was so great working with these women. I was so happy to finally get good, meaty stuff with Lauren Cohan and Alicia Witt is hilarious; we laughed a lot."
• Melissa McBride talks to TheWrap about how much she likes playing Carol: "It's so fun, but I understand Carol. So it's not that difficult. It's just her going into whatever mode she needs to be in."
• Alicia Witt tells Entertainment Weekly that Melissa McBride is "one of those actors I put in the same category as Joan Allen and Al Pacino, who I've been extremely lucky to work with. She's right up there with them in terms of you get lost within a scene."
• Alicia Witt hypothesizes to TVGuide.com that, when Paula lost her family, she "decided that she was going to be there for herself. She was going to prove her worth and her strength by taking people down and by being the last man standing, in a way."
• E! Online gets the scoop from Alicia Witt on her character's ending: "It was weird, but, you know, I felt like, hey, if you have to die after one episode of The Walking Dead, it might as well be a really epic death. I feel that it was."
• Andrew Lincoln shares with Entertainment Weekly that killing the bicycle girl in the series pilot was probably his "most profound" zombie kill "because it's when I understood what we were trying to do — is see the human behind the beast. And find some humanity, or lost humanity, in the monster."
• Talking about the upcoming Universal Studios Hollywood attraction based on the show with USA Today, Greg Nicotero says, "I think it says a lot that we're getting an opportunity to be part of a Walking Dead experience that's 365 days a year."
• According to Entertainment Weekly, Steven Yeun calls Negan's arrival "awesome. We've been waiting for this person for a long time, and in the comic books, he in a way brings a level of stakes that are kind of unmatched."
• Discussing Negan with ComicBook.com, Lennie James says "it is one of the greatest introductions of a character that I can remember in any television series, let alone in our television series. It's a phenomenal entrance."
• Speaking with The Hollywood Reporter about Rick and Michonne, Sarah Wayne Callies says, "Maybe what Rick needs is the idea that he doesn't have to constantly run away from a family that needs him too much. Instead, he can trust somebody who is every bit as capable as he is. Maybe there's peace in that."
• During Gale Anne Hurd's SXSW speech, she said, "I've always been drawn to the story of ordinary people thrust into extraordinary things: Ripley, Sarah Connor, Carol. Female characters like these, and Michonne, are rarely seen," The Austin Chronicle reports.
• Greg Nicotero tells Yahoo TV that Morgan is building a secure jail cell: "I think Morgan is committed to the next time they have somebody in there, if they need to, they'll attempt to rehabilitate them."
• Variety talks to a Hollywood executive who's impressed by The Walking Dead's marketing campaign, describing it as "smart, sophisticated marketing that beautifully identified and communicated the complexity of what would have or could have otherwise been dismissed as pulp genre."
• Danai Gurira, described as "a breakout star in the New York theater community" by the Los Angeles Times, says, "I realized one night that there were 10 women of African descent on stages in New York City at the same time, hopefully getting to tell stories through complex and rich major characters."
• Vanity Fair, speaking with Danai Gurira, notes it's "a rare feat for any writer to have two shows playing concurrently, and even rarer for that writer to be an African-American woman."
• Danai Gurira tells VH1 that Michonne is "written as someone who can be related to by both male and female audiences and we have such amazing fans who talk to me about how much they enjoy her strength and relate to her personality."
• TV Guide lists the reasons why Jeffrey Dean Morgan is "the perfect Negan."
• Glamour gets the scoop from Andrew Lincoln on the survivors, whom he calls a "rag-tag bunch of misfits that have become this dysfuncational apocalyptic family. It's colour-blind and gender-blind and that's what I dig about it. It doesn't matter – everything's been stripped away."
• ComicBook.com learns from Melissa McBride that the Season 6 finale script was "so very dark. I couldn't say anything after I had finished reading it. I felt like I had dropped into a blackhole."
• Tech Insider interviews the show's property master and weapons expert, John Sanders, who explains he trains the cast with live and blank guns "so that they understand the difference between the two and we hope at least that it helps them in their acting and the reality of how that weapon really works."
• The Tampa Bay Times interviews Justin Kucsulain about his experience on set, and he says, "I was starstruck having lunch with Steven Yeun, Michael Cudlitz and Norman Reedus. I couldn't even eat my beautiful plate of food."
• Noting that "viewers can get the sense of the survivors' state of being just by checking out Rick Grimes' appearance," Collider.com compiles a video of his "various visages."
• Broadway World reports that Familiar, written by Danai Gurira, has extended its off-Broadway run to Apr. 10 (from Mar. 27).
• For recaps and reviews of Season 6, Episode 13, "The Same Boat," check out The Atlantic, A.V. Club, Channel Guide Magazine, HitFix, Los Angeles Times, New York Post, The Sydney Morning Herald, Toronto Sun, TV.com, TVLine, USA Today, Variety, Vox, Vulture and Yahoo TV.
To stay up-to-date on all the latest news about The Walking Dead, sign up for the weekly Dead Alert newsletter.
Read More