Press
Robert Kirkman Looks Ahead; Chandler Riggs on That Carl Scene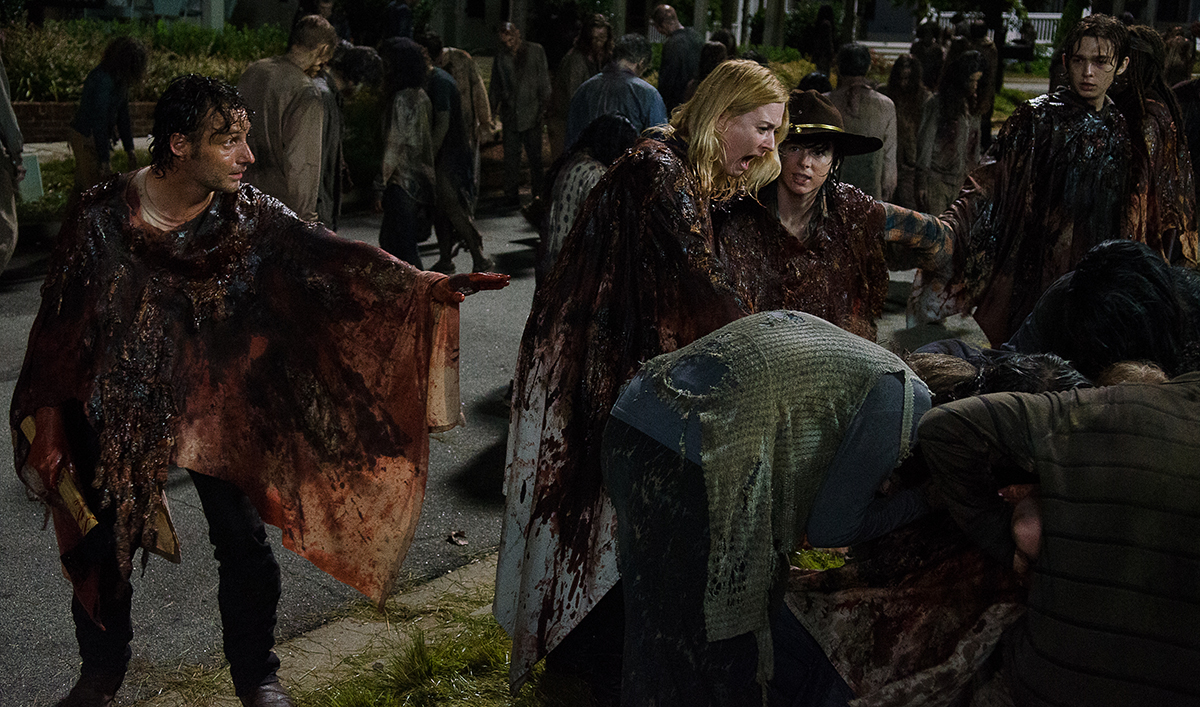 This week, Robert Kirkman looks ahead to the rest of Season 6, while Chandler Riggs talks about Carl losing his eye. Plus, Greg Nicotero breaks down the midseason premiere. Read on for more:
• Robert Kirkman shares with Entertainment Weekly that "we're full steam ahead in the Saviors territory at this point. So, yeah, you know, those guys that blew up, definitely not the sum total of Negan's crew, and we'll definitely be seeing more of them moving forward."
• "He definitely sees the world a lot differently, both physically and emotionally, because the things he experienced that night are really traumatic in the first place," Chandler Riggs says to E! Online about Carl losing his eye. Riggs also speaks with The Hollywood Reporter, The Huffington Post, IGN and The Wall Street Journal.
• The Hollywood Reporter finds out from Greg Nicotero and Chandler Riggs about the mechanics of Carl losing his eye, with Nicotero calling it "one of the trickier aspects of the episode." Tech Insider also has the details.
• Talking to Entertainment Weekly, Greg Nicotero calls the midseason premiere "a win-win because we made the episode that we wanted, and we were able to actually squeak in a very important story plot, because the Carol and Morgan story is something that's very prominent through the second half of the season."
• Andrew Lincoln tells TheWrap about one of the midseason premiere's most intense scenes: "When we read that scene, all of us, our jaws dropped and we said, 'Really?' I just remember all of us being sort of shell-shocked shooting it. It was 4:45 in the morning and I had to chop my leading lady's arm off."
• "It's a massive watershed episode, and it marks a real change in Rick's leadership and his feelings about Alexandria, the people within it, and also their future," Andrew Lincoln says to Variety about the midseason premiere. Lincoln also chats with Forbes.
• Entertainment Weekly talks to Alexandra Breckenridge, who says about her big scene that "this mother is watching her child be eaten alive. I can't think of something worse, I really can't. It's just excruciating, and so being in the moment as an actor was just horrifying."
• Robert Kirkman speaks to The Hollywood Reporter about Carl losing his eye: "Carl has been evolving every step of the way. If anything, this event just jumpstarts that evolution and pushes things into a more interesting area."
• Entertainment Weekly asks Danai Gurira about Carl, and she says, "A huge part of why Michonne lives and breathes is to be a part of keeping that young man safe."
• Gale Anne Hurd, talking to Deadline, says Rick is "going to hang on to make sure that Carl survives, to make sure that he can fight to keep Carl alive and to try to create a society that he'd like Carl to grow up in."
• Mashable speaks with Melissa McBride, who says that Carol's "number one rule with conditions is that you eliminate the threat, just eliminate the threat. Leave out the liabilities and eliminate the threat."
• Yahoo TV learns from Greg Nicotero, "There's some great episodes coming up, and of the 15 episodes I've directed, the season finale is, in my opinion, the best episode I've ever done."
• Discussing the rest of Season 6 with ComicBook.com, Gale Anne Hurd teases that "we'll be introducing a lot of new characters. That means that there are potential new alliances and, as we all know, potential for some pretty incredible villains."
• After watching the midseason premiere, the New York Post says that "the most unexpected, world-altering moment happened when a devastated Rick said, 'I was wrong.'"
• Scott Gimple, speaking with Entertainment Weekly, says that "we're on a network where the DNA is about giving the audience a cinematic experience, and that's what we try to do, and we're very lucky that we landed where we did."
• Interviewed by Men's Fitness, Norman Reedus teases that "the second half of the season is so hardcore. It's sort of like the first half was the pulling back of an arrow with a bow, and the arrow has gained momentum."
• Talking to Access Hollywood, Gale Anne Hurd says she knows that Jeffrey Dean Morgan "will bring the character of Negan to life better than anyone else we could possibly have cast."
• Josh McDermitt, speaking to TheWrap, says, "I cannot say whether or not I've gotten to work with Jeffrey Dean Morgan. What he brings to the show is so much experience and a new element that I'm really excited to see what happens in the second half of our season."
• Bravo's Inside the Actors Studio featured The Walking Dead and Atlanta Magazine reports that the group gave "a remarkably detailed account of what goes into making the show, plus some surprising tidbits about their pasts."
• Fusion applauds Entertainment Weekly's collectible The Walking Dead covers and says, "The Steven Yeun version marks the rare occurrence of a mainstream American national publication featuring an Asian man."
• Entertainment Weekly reports that Lauren Cohan will guest-star on two episodes of The Mindy Project.
• Ross Marquand will also join The Mindy Project as a guest star and will appear on Hulu's Deadbeat, according to Entertainment Weekly.
• According to Playbill, Familiar, written by Danai Gurira, began its off-Broadway run last week.
• For recaps and reviews of the midseason premiere, "No Way Out," check out Big Shiny Robot, CNN, Collider.com, Comic Book Resources, Entertainment Tonight, Independent, Los Angeles Times, The New York Times, USA Today and Vulture.
To stay up-to-date on all the latest news about The Walking Dead, sign up for the weekly Dead Alert newsletter.
Read More