Press
Andrew Lincoln Teases Rest of Season 6; Variety Touts Midseason Premiere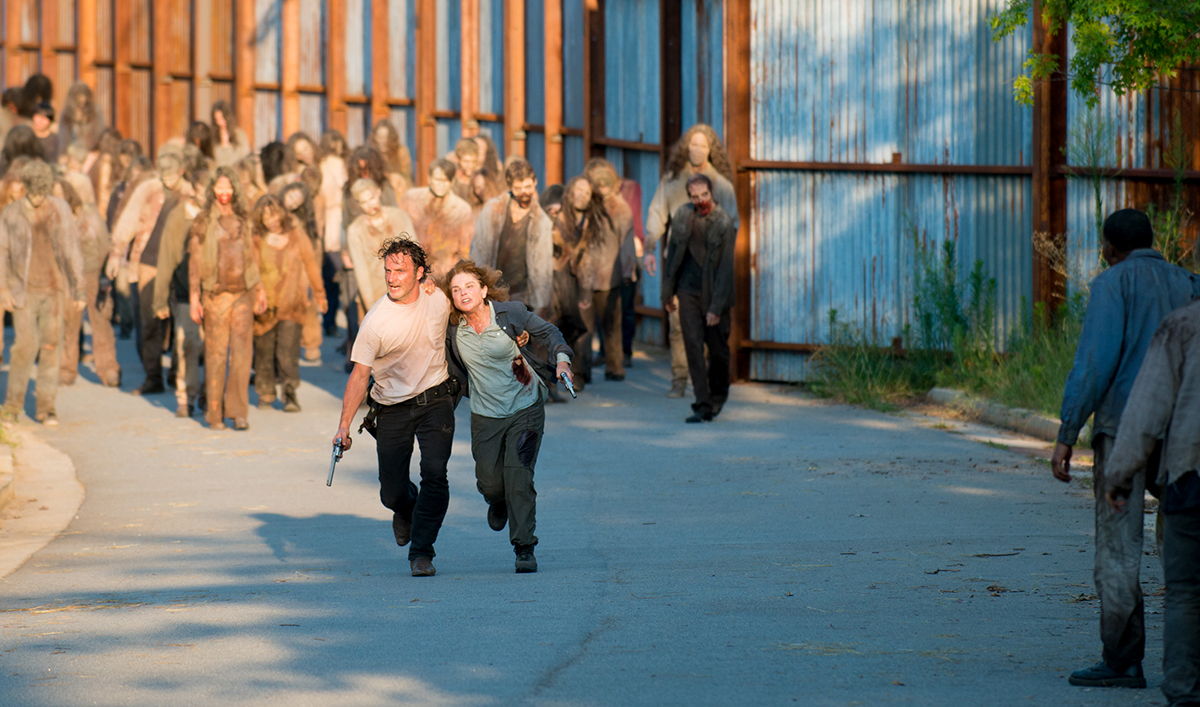 This week, Andrew Lincoln teases the rest of Season 6, while early reviews applaud the midseason premiere. Plus, Entertainment Weekly debuts six collector's covers ahead of the premiere. Read on for more:
• Andrew Lincoln tells Entertainment Weekly "there's a marked change in Rick as a result of what happens in episode 9. It's one of those watershed moments that happens. And as a result he learns something vital about being a leader."
• Variety reviews the midseason premiere, commenting that "the show comes roaring back (on Valentine's Day, no less) out of its midseason break — operating on multiple fronts with various characters, and a sustained level of tension that has become its hallmark."
• Entertainment Weekly highlights its six The Walking Dead collector's covers and quotes Lauren Cohan saying the Season 6 finale "gives me a physical reaction because it's the hardest day on set that I've ever had in my life."
• Vanity Fair touts "an unmissable camera move" in the midseason premiere that it considers "maybe the most memorable in the show's history."
• The Hollywood Reporter learns from Scott Gimple that "Rick's group has an extremely deep knowledge base and skill set on how to survive that a lot of people [at Alexandria] don't have. The second half, we answer the question: What do they do with that power? What is their responsibility?"
• Uproxx, reviewing the midseason premiere, says it contains "character deaths, massive carnage, a lot of near-death experiences, the biggest crowd-pleasing moment of the season, and hands down the best cold open of the series so far."
• Tech Insider calls the Feb. 14 midseason premiere "the show's best episode in a long time."
• Robert Kirkman shares with Entertainment Weekly that Morgan and Carol's conflict is "only beginning. I would expect to see, a little bit more of that in the back half of the season as Morgan is still finding his place within this group."
• For those who need to catch up, TV Guide provides a primer to The Walking Dead, "a spoiler-filled synopsis of the show's plot to date, complete with all the major players, notable deaths, and even the most important episodes if you do feel like doing some of the viewing."
• TV Guide looks back at all the show's significant deaths, "at the folks who have already fallen in this seemingly never-ending war against the undead."
• Speaking of death, Entertainment Weekly convenes "a reunion of 11 of the most memorable characters to perish along the way."
• Atlanta Magazine adds to the death conversation by tallying how Season 6's "death toll stacks up to others. Although considering TWD comic creator Robert Kirkman has warned that 'so many people die' when the show returns, expect a Valentine's Day bloodbath."
• During an Entertainment Weekly roundtable, Andrew Lincoln reveals to Melissa McBride that Sarah Wayne Callies thought Carol should not die in Season 3, so "she knew that she was going, but she fought for you to stay."
• Uproxx spotlights a "great video featuring 107 Walking Dead factoids."
• E! Online watches the first four minutes of the midseason premiere and declares they're "insanely tense thanks to… Negan."
• USA Today speaks with Greg Nicotero about the midseason premiere, and he says, "You're never going to survive unless you band together as a group. That's the one aspect Rick has struggled with this season. The episode tees us up for this larger world that we're going to experience going forward."
• The New York Post chats with Danai Gurira, who says The Walking Dead appeals to her because there's "great intensity that the job calls for. The characters are constantly in dire circumstances."
• Norman Reedus tells Men's Fitness his favorite scene was "the moment with Daryl and Rick sitting beside the car the morning after he bit the neck out of that guy. I just like that moment because Rick has sort of become the brother to Daryl that Merle couldn't be."
• Digital Spy, interviewing Lennie James, learns that Negan has "such a dazzling introduction that it's going to blow people off their seats."
• Greg Nicotero talks to Entertainment Weekly about the midseason premiere's "epic man against the undead battle that is unprecedented in the history of The Walking Dead" and discloses there were over 1,300 walkers in the episode.
• During CarterMatt's conversation with Sonequa Martin-Green, she teases, "As wild as the first half was, the second half is mind-blowing. It's dynamite. It's SO intense and so compelling and so poignant."
• The New York Daily News learns from Steven Yeun that he gets "recognized on planes, at spas, in massage sessions, but one of the weirdest places I got recognized was in the middle of a surgical procedure, which was interesting."
• The Associated Press interviews Michael Cudlitz, who teases, "You're going to love Negan. You're going to love to hate Negan and that's what I think the show needs, someone that you love that is bad that is just as beloved as the characters that he's trying to kill."
• Andrew Lincoln, talking to Forbes about Rick, says the midseason premiere "represents a seismic shift in who this man is and how he views the world and his place in it as a leader."
• Tech Insider has details from The Walking Dead event at New York City's 92nd Street Y, where Scott Gimple revealed, "I think the characters themselves go to some very dark places. But, at the same time, we go to some of the lightest places. We actually attempt a comedic episode."
• Communities Digital News has highlights from a Smithsonian-sponsored The Walking Dead panel that centered around "the supposed death of Glenn Rhee, the violent passing of Hershel Greene and Rick putting an abusive husband out of his misery."
• Variety showcases Danai Gurira, who's "living the lives of three different, very successful people at once — actor, playwright and international arts ambassador."
• The Wall Street Journal reports that Hallmark has teamed up with The Walking Dead to provide Valentine's Day e-cards that "feature zombies feasting on chocolates, zombies wearing heart glasses, and a zombie reaching for a heart made out of rose petals."
• Fansided ranks the most dramatic moments so far of Season 6, which had "some small dramatic moments and some dramatic events that weaved through entire episodes."
To stay up-to-date on all the latest news about The Walking Dead, sign up for the weekly Dead Alert newsletter.
Read More