Press
Andrew Lincoln, Danai Gurira Dish on Richonne; Tom Payne on Playing Jesus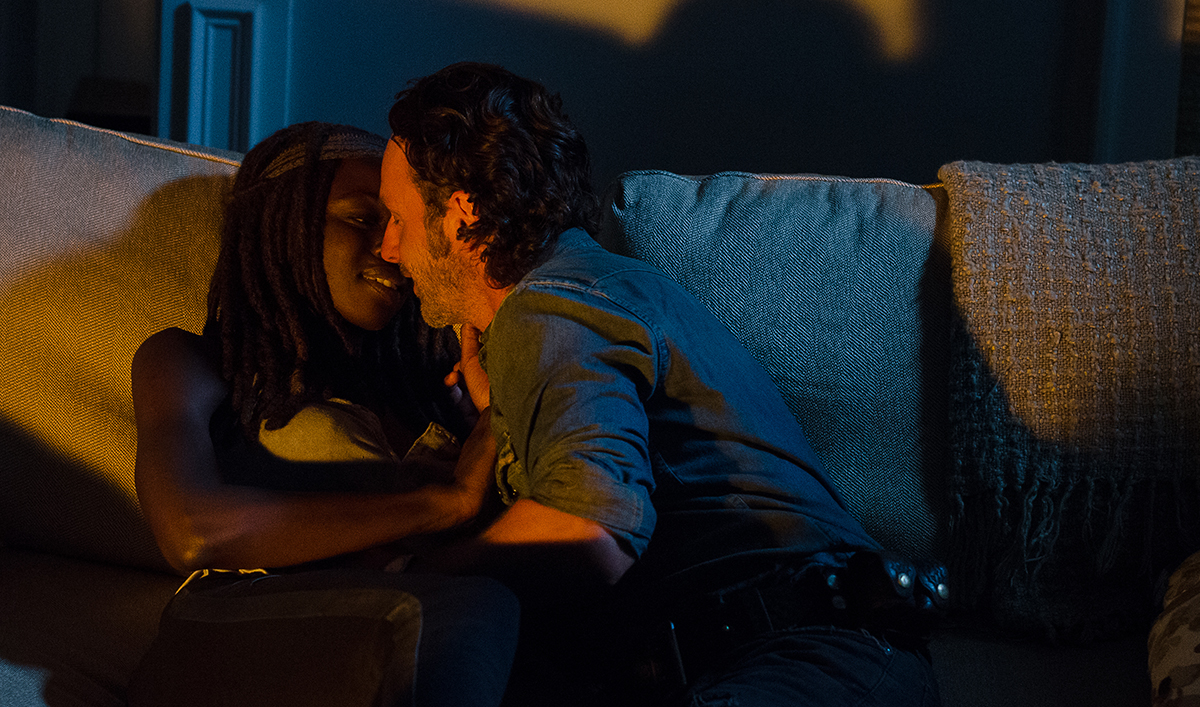 This week, Andrew Lincoln and Danai Gurira dish on Rick and Michonne pairing up, while Tom Payne is interviewed about playing Jesus. Plus, the show wins an award for best special make-up effects. Read on for more:
• Andrew Lincoln, speaking with TVLine about "Richonne," says, "It was just natural… And Michonne has been a mother figure and best friend to Carl for so long. And she saved Rick's life and Carl's life on countless occasions. There's something rather moving about these two warriors getting together."
• The Hollywood Reporter learns from Danai Gurira, "I think she was aware she loved Rick and Carl, but the idea of seeing Rick as someone she was going to get with? No. It only comes upon her the same time it comes upon him, which is on that couch."
• Addressing Rick and Michonne's new relationship, Scott Gimple tells TVLine that "starting Season 4, my overall goal was to bring them to a unique place of respect and intimacy, possibly/probably leading to romance." Gimple also speaks with Entertainment Weekly.
• "What's great here is that Richonne doesn't feel like a strategic move by Walking Dead writers to give fans what they want — the reason it took so long was because they actually invested time into letting the bond between Rick and Michonne emerge," Vulture says.
• E! Online learns Tom Payne's theory that Jesus "pretty much got captured on purpose when he got knocked out." Payne also speaks with Yahoo TV and IGN.
• Tom Payne, talking to Variety, says, "There is a lot of mystery about the character, and if you went back and watched it again and questioned all of his motives for everything that he did, you would get a lot more about the character and who he is."
• Tom Payne talks to Entertainment Weekly about Jesus: "I really enjoy the fact that the character comes in and changes the energy of the show. I think that episode has a very different energy, certainly since the events of the last two episodes in Alexandria."
• Deadline reports that The Walking Dead won the award for Best Special Make-Up Effects for TV/New Media Series by the Make-Up Artists & Hair Stylists Guild.
• Entertainment Weekly has an account of Tovah Feldshuh's last day on set, playing Zombie Deanna, with the actress saying, "You hope you're Daryl. Everyone wants to be Norman Reedus. I thought I would escape death through excellence, but I guess not."
• Danai Gurira, chatting with The Wall Street Journal about Michonne and Rick, says, "I've seen the intimacy grow between them around everything. Decision making, how she can influence him, how she respects him, around how much he trusts her."
• Variety talks to Danai Gurira about reading the script for Michonne and Rick's scenes: "There was something surprising seeing those names on the page doing that. Seeing it in writing was like, 'Whoaaaa!' I was kind of thrown."
• TVLine explains why "Rick and Michonne ended up showing a good deal more skin than was initially intended during their first big romantic encounter in Sunday's The Walking Dead."
• Vanity Fair believes the pairing of Michonne and Rick is "just the latest in a long list of choices that has made the hugely popular zombie series one of TV's most progressive shows."
• The Independent weighs in on Richonne, observing, "After the horror that was last week's mid-season six premiere of The Walking Dead, the fans were owed something nice – and thankfully, that's exactly what they got when the latest episode culminated in the most romantic twist yet."
• Yahoo TV speaks about "The Next World" with Danai Gurira, who says that "it was really quite an interesting departure to step into something kind of lighter, that has humor and even romance in it. I was like, 'No one is going to expect this episode to come after ['No Way Out']."
• The Oregonian highlights a fan-made YouTube video with footage of Rick and Daryl chasing Jesus that comes off as a "rollicking" romp when set to the theme music from The Benny Hill Show.
• Lauren Cohan previews to the Toronto Sun what viewers can expect from Maggie this season: "When we first met her, there was sort of this feisty, rebellious girl, and that sort of resurfaces in this season. It's feistiness with a lot more wisdom, and it's so much fun."
• Melissa McBride, talking to Express.co.uk, says, "I feel like I've played all these evolutions of Carol but it all feels like her."
• Looking ahead, Entertainment Weekly learns from Lauren Cohan that the group is "going to go out into a new territory that's going to really open up the next level of the show."
• 2paragraphs declares that Eugene nails his "hunky dunky" line.
• Variety reports that Gale Anne Hurd will be a speaker at next month's South by Southwest Film Festival.
• Greg Nicotero shares the secrets of keeping walkers cool between takes with BBC Newsbeat, saying, ""We have buses that are air conditioned so after the take, you have 100 zombies that go sit on the air conditioned buses and eat popsicles and then come back on set again."
• Michael Cudlitz tells Entertainment Weekly that Abraham is interested in Sasha because "he sees a lot of himself in Sasha, things that he has respected his whole life — the strength that she has on her own."
• Norman Reedus tells Variety about sometimes shooting The Walking Dead and Triple 9 on the same day: "(For) one, I would cover myself in blood and go fight for my life, and then the other one, I'd go slick my hair back and fight with a bunch of guys to rob people."
• Digital Spy explains why "there's much more to the show than just the guts and gore."
• ComicBook.com spotlights The Warp Zone comedy group's a capella version of The Walking Dead theme song "while dressed as Maggie, Daryl, Abraham, Rick and The Governor."
• Popsugar reviews "all the information we have about big, bad Negan."
• Forbes combs through IMDb "to see which episodes fans have voted the best in the nearly 100 episode run of the series."
• Hypable wonders how the midseason premiere deaths will "impact the remaining characters."
• Entertainment Weekly gets "up close and personal with The Walking Dead props."
• Danai Gurira shares with PBS NewsHour that she writes plays because "I want women and girls of African descent and of color to be able to not have to keep searching for stories about themselves."
• Atlanta Business Chronicle reports that "Senoia's economy is on the upswing" ever since The Walking Dead started shooting there in 2010.
• The Stir lists "some adorable and cool baby name ideas inspired by new and memorable characters on The Walking Dead."
• For recaps and reviews of Season 6, Episode 10, "The Next World," check out Entertainment Weekly, E! Online, Forbes, Geeks of Doom, HitFix, Los Angeles Times, The New York Times, TV.com, TV Guide, TVLine, USA Today, Vanity Fair, Vox and Vulture.
To stay up-to-date on all the latest news about The Walking Dead, sign up for the weekly Dead Alert newsletter.
Read More