Press
Robert Kirkman Teases Negan's Arrival; Lauren Cohan on Maggie & Glenn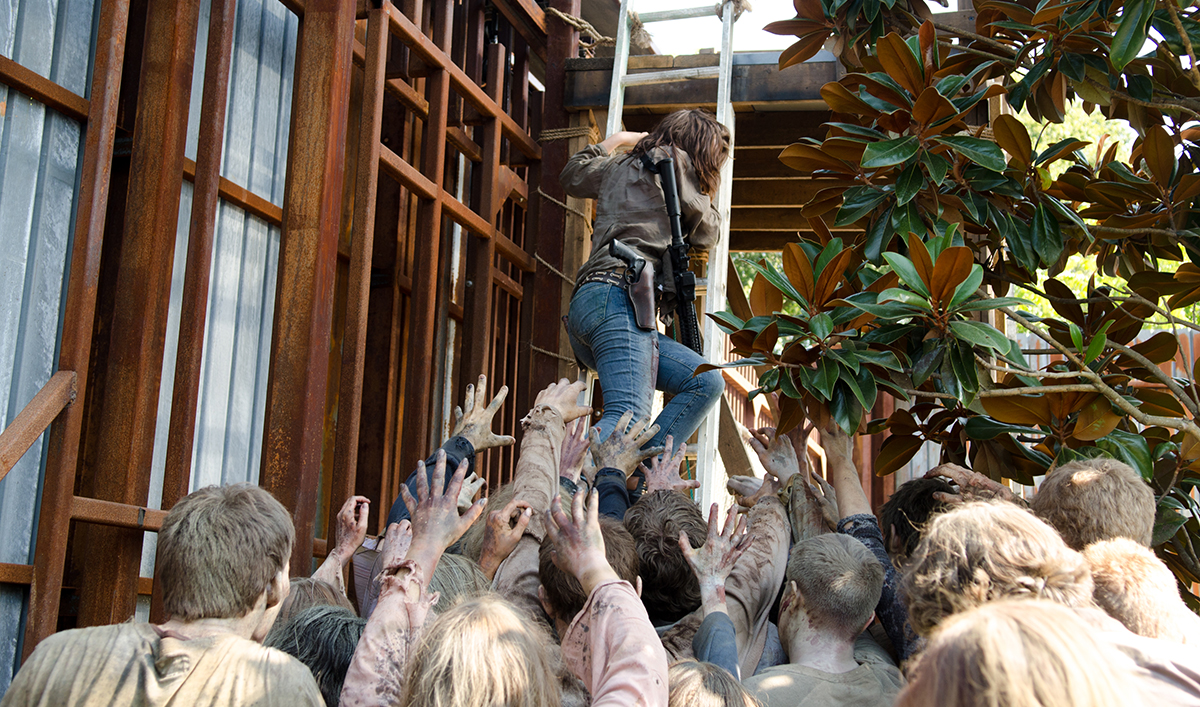 This week, Robert Kirkman teases Negan's arrival to Entertainment Weekly, while Lauren Cohan discusses Maggie and Glenn. Plus, Kirkman also talks about Jesus joining The Walking Dead. Read on for more:
• "Negan is kind of an atomic bomb that's going to be dropped on the show and the show will probably never be the same after that. So buckle up, I guess?" Robert Kirkman tells Entertainment Weekly.
• IGN learns from Robert Kirkman that he got goosebumps watching Jeffrey Dean Morgan in action as Negan: "Seeing Negan is a big deal. I think fans are going to be very pleased with the portrayal that Jeffrey's come up with and the way we're handling him in the show. It's gonna be awesome."
• Lauren Cohan, interviewed by Entertainment Tonight, says Maggie and Glenn have "some roller coasters ahead of us but fans will be, I think, pretty gripped with the drama that's to come."
• Talking to Celebuzz, Lauren Cohan adds, "You can't avoid having the full experience that your body allows you to have, because of these zombies, basically. So yeah, I'm really excited for Maggie and Glenn to have a baby Magglenn."
• Chatting with Extra about what's coming in Season 6, Lauren Cohan teases, "It's gonna be a lot of high-octane zombie thrills… and zombie attacks." Talking to Toofab, she also says, "The world as we know it in The Walking Dead is about to completely change."
• Entertainment Weekly interviews Robert Kirkman, who talks about Jesus joining The Walking Dead: "He's smart, quick, very athletic. He's kinda been surviving on his feet. He's going to be bringing a lot to the show. There's some cool stuff coming with him."
• The Telegraph considers The Walking Dead one of the five best fantasy/horror shows: "For horror TV that sacrifices characters without sacrificing strong characterisation and plot, AMC's zombie series The Walking Dead takes the bloody crown."
• Robert Kirkman talks to Entertainment Weekly about the survivors' future in Alexandria, saying, "They actually have a chance at surviving long term and building a safe place, not going from safety to safety to safety the way they have for the life of the show."
• Variety features a new poster for the second half of Season 6, with Scott Gimple explaining that it "gives a look at tiny pieces of a larger world our group is about to discover. In the new world, they'll find hope, possibility, tragedy and the terrifying cost of change." E! Online comments, "It's a whole new world for The Walking Dead when season six resumes."
• Greg Nicotero tells Multichannel News, "I think The Walking Dead certainly made putting a genre show on television cool."
• Deadline reports that Lauren Cohan joins Danai Gurira in the cast of All Eyez On Me, a Tupac Shakur biopic, playing Leila Steinberg, "a key figure in the young rapper's life."
• Norman Reedus shares with Entertainment Weekly that his first guest on his upcoming unscripted series for AMC, Ride With Norman Reedus, is "kind of a surprise, but it's a big one, and I'm excited to get started."
• Lauren Cohan tells People about meeting Michael Bolton, whom she had a crush on when she was little: "When I was 21, I was waitressing and I waited on him. I started crying! Pretty embarrassing."
• According to Variety, Falling Water, a series executive produced by Gale Anne Hurd, has been ordered to series at USA Network.
• TV.com reports that Hunters, a series from Gale Anne Hurd, will premiere on Syfy on Apr. 11.
• According to Broadway World, Danai Gurira's The Convert will be performed at the Central Square Theater in Cambridge, Mass., starting later this month.
• Undead Walking highlights Ross Marquand on the Fox Sports NFL pre-game show where he did "some celebrity impressions making fun of some of the biggest moments of the playoffs."
• Detroit Sports Nation spotlights a video of Steven Yeun and Sam Richardson lobbying for Reggie Jackson of the Detroit Pistons to be voted into the All-Star Game.
• Mumbrella Asia has a video of Norman Reedus (and other celebrities) saying a Chinese New Year greeting as part of a Tiger Beer "global digital campaign that aims to get the world involved in the Chinese New Year celebrations this year."
• Bloody Disgusting considers Lauren Cohan's upcoming movie, The Boy, one of the must-see horror films of 2016, noting that "if the trailer is any indication we could be in for a moody, atmospheric creep-fest that has the potential to be the sleeper hit of the winter."
To stay up-to-date on all the latest news about The Walking Dead, sign up for the weekly Dead Alert newsletter.
Read More