Press
Jeffrey Dean Morgan Talks Negan; Award Nods for Dead, Danai Gurira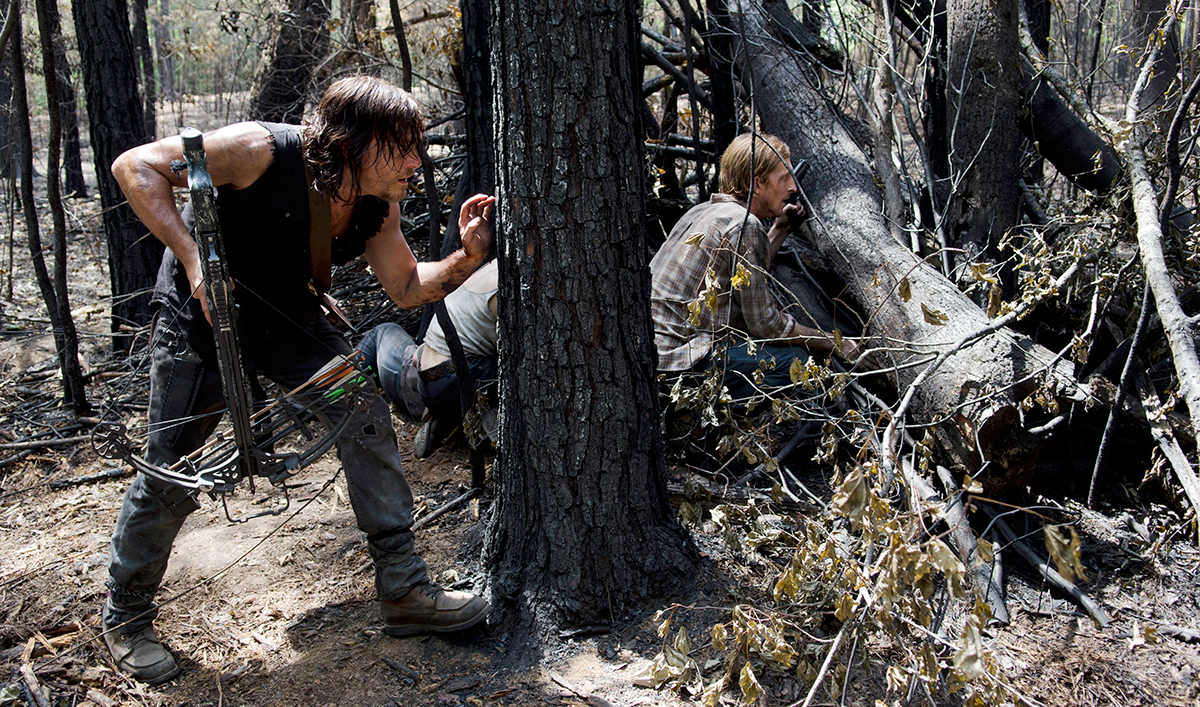 This week, Jeffrey Dean Morgan teases what's up for Negan to TVGuide.com and Entertainment Weekly, while Danai Gurira is nominated for an NAACP Image Award and the cast gets a SAG Award nod. Plus, The Walking Dead was tops on Twitter for 2015. Read on for more:
• TVGuide.com interviews Jeffrey Dean Morgan, who talks about playing Negan, hinting, "As far as I know, it's going to be very much parallel to the comic books. If you know what's coming, then I don't have to tell you."
• Jeffrey Dean Morgan tells Entertainment Weekly, "Negan is special in a lot of ways and the more kind of digging I do into Negan, the more excited I get. I can't tell you the last time I've been this giddy about doing a role."
• According to E! Online, Jeffrey Dean Morgan says, "I think the challenge for me in this role is going to be, is there any heart in Negan? For me I look at that as a challenge as an actor, and that's the kind of thing that I embrace and really look forward to."
• Danai Gurira has received an NAACP Image Award nod in the category of Outstanding Supporting Actress in a Drama Series, according to The Hollywood Reporter.
• The cast of The Walking Dead has been honored with a Screen Actors Guild Award nomination in the category of Outstanding Stunt Ensemble in a Drama or Comedy Series, People reports.
• TheWrap reports that The Walking Dead was the top TV show on Twitter in 2015.
• Christian Serratos talks to MTV News about being Latina in Hollywood, saying, "Rosita Espinosa is very clearly Hispanic — I think the fans know that, and definitely the fans of the comic book know that."
• Josh McDermitt tells Tech Times, "I think Eugene is still working on who he is and how he fits into the group. Until he figures that out and demonstrates a level of trust through his actions, he will never fully earn the trust of his fellow survivors."
• The Huffington Post runs through the Easter eggs that "you might've missed that make the show even better."
• Emily Kinney, interviewed by Entertainment Weekly about watching the show now that she's not on it, says, "I think in some ways it's more fun because I don't know what's going to happen. But then, in another way, it still feels like my friends up there going through this stuff, so I don't know. It's a very interesting experience watching."
• Greg Nicotero reveals to Tech Insider that The Walking Dead will never have a "perfectly clean skeleton walking around because obviously, there's no muscle."
• MTV asks, "Can you pinpoint Walking Dead episodes based on Carl's hair alone? It's harder than it looks!"
• Cinema Blend says the Season 5 limited edition Blu-ray is "where it's at."
• Design & Trend poses "10 burning questions we need answered when the zombie drama returns in February next year."
• IGN decides to "take a stroll down mutilation lane and look as some of the series' most hardcore walker kills.'
• Moviepilot takes note of Greg Nicotero trying "to replicate a look from John Carpenter's 1980 horror film The Fog" in the midseason finale.
• Wetpaint posts "some excellent shots of Carol and Morgan's showdown, pregnant Maggie Greene's narrow escape from the horde, and more!"
• International Business Times found nine holiday gifts "to give anyone in your life who is obsessed with zombies and AMC's The Walking Dead."
• Bloody Disgusting spotlights Invaders, a "fantastic" short film starring Jordan Woods-Robinson (Eric) and Ricky Wayne (Officer O'Donnell).
To stay up-to-date on all the latest news about The Walking Dead, sign up for the weekly Dead Alert newsletter.
Read More