Press
Dead, Morgan Win Year-End Plaudits; Jeffrey Dean Morgan Teases Negan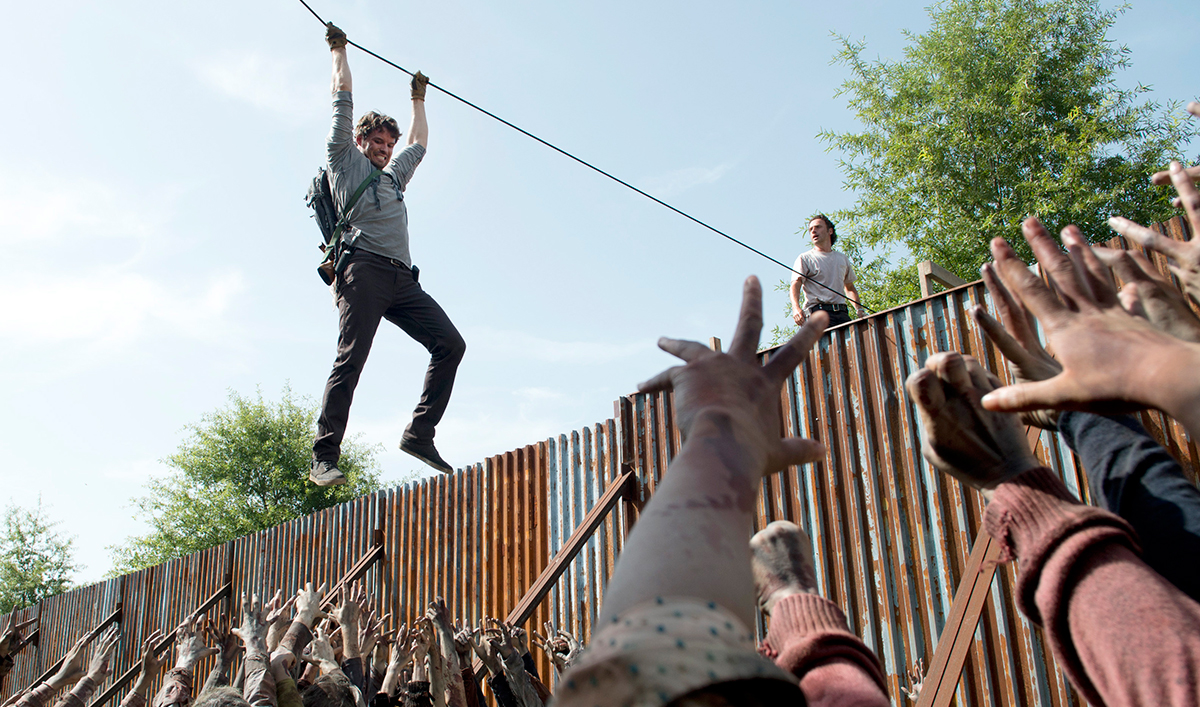 This week, The Walking Dead and Season 6's Morgan-centered episode win year-end plaudits, while Jeffrey Dean Morgan teases Negan. Plus, Steven Yeun wins actor of the year at the Unforgettable Awards. Read on for more:
• The Orange County Register considers The Walking Dead one of the year's top dramas, describing it as "the most exciting show on television – not to mention one of the most thought-provoking."
• "Somehow this show still manages to continually up the ante without jumping the shark, and with the promise of super-baddie Negan in 2016, it's only going to get better," Digital Spy writes in choosing The Walking Dead as one of 2015's best TV shows.
• The Walking Dead is one of Channel Guide Magazine's things worth celebrating in 2015 because the show was "alive and kicking in Seasons 5 and 6, with some of the most engrossing and grossest episodes of the series."
• Yahoo TV applauds "Here's Not Here," noting that the "transformation of TWD's Morgan Jones was a mystery viewers had been waiting to learn more about since his reunion with his friend Rick Grimes was teased in Season 5."
• Cleveland.com also believes that "Here's Not Here" was one of the year's best episodes since "Morgan's journey has been one of the most compelling aspects of The Walking Dead."
• Jeffrey Dean Morgan appears on The Talk to discuss Negan and says he took the part "almost immediately" when it was offered, according to TVRuckus.
• ComicBook.com spotlights Jeffrey Dean Morgan's appearance on Opie With Jim Norton where he said about Negan, "He's gonna put the hurt on people but he's also got a great sense of humor."
• Variety reports that Steven Yeun won Actor of the Year at the Unforgettable Awards (which honors Asian talent in the media) and says, "As a community, that's why events like these are important because we get to come together and push each other more and lift each other up."
• MTV's list of TV's best characters includes Carol ("the real hero of this show") and Glenn ("the Good Angel in a show filled with conflicted, often merciless characters").
• Sonequa Martin-Green is one of TV's most underrated actresses, according to CarterMatt, which calls hers a "standout performance amidst a sea of great actors."
• Hypable thinks Glenn's near-death was one of TV's biggest moments this year, noting that "when it was finally revealed that he survived (after having crawled under a garbage box), the world could finally exhale in relief."
• Moviepilot looks back at Glenn's journey over the course of the show, since there's "no denying Glenn's come a long way since delivering pizzas in the pre-apocalypse world."
• Inverse believes The Walking Dead had one of the year's most astounding cliffhangers: "The show ended its mid-season finale while the survivors were attempting to sneak past a crowd of walkers, so here's hoping the premiere will pick up from that very moment Sam called out for his mother."
• Wetpaint posts some Season 6 behind-the-scenes photos, observing that the cast "definitely had some lighter moments in between takes."
To stay up-to-date on all the latest news about The Walking Dead, sign up for the weekly Dead Alert newsletter.
Read More