Press
Andrew Lincoln Teases Next Episode; Scott Gimple Promises More Daryl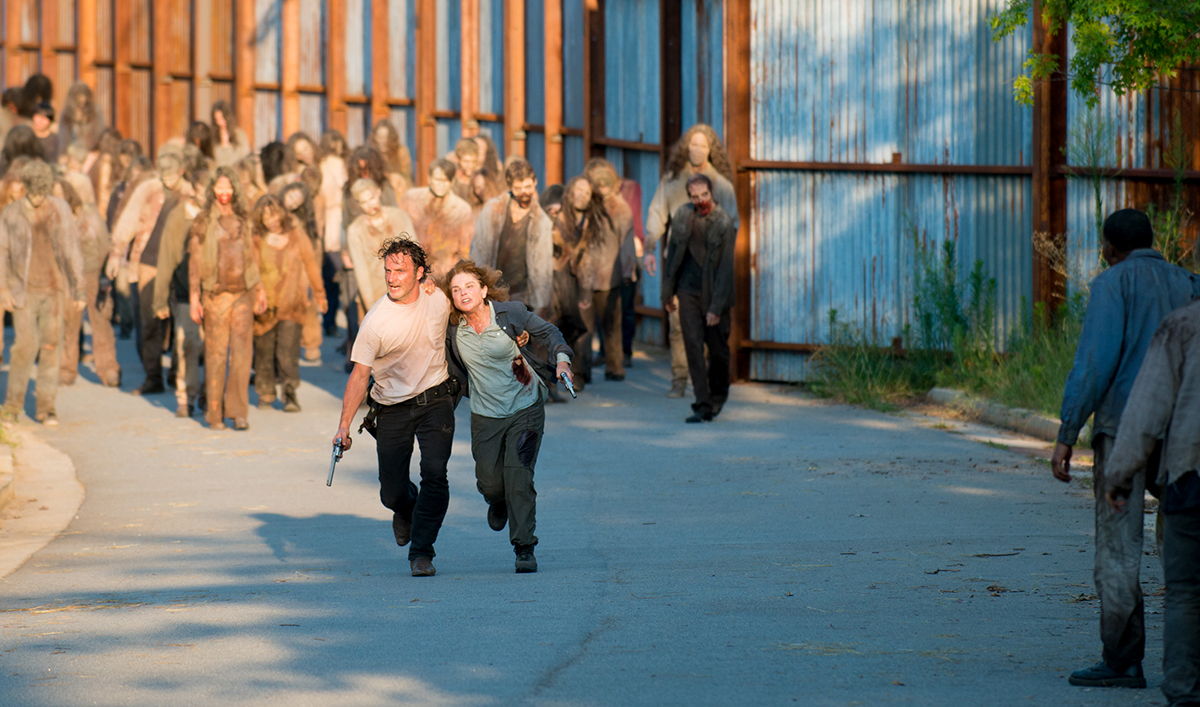 This week, Andrew Lincoln teases the "epic" next episode, while Scott Gimple promises more Daryl in Season 6's second half. Plus, Gimple and Robert Kirkman share some intel on Negan. Read on for more:
• Andrew Lincoln tells Entertainment Weekly that the next episode "may be the most ambitious, and the most epic and just insane, emotional, action-overload we've ever attempted."
• Deadline chats with Scott Gimple, who reveals, "I will say that we are going to see much more Daryl Dixon next half-season." Variety and Yahoo TV also glean insights from Gimple.
• USA Today also speaks with Scott Gimple, who calls Negan "pure id. Just unmitigated id. He's not a psychopath. He's not crazy. But he is driven and he is very much a character totally unique to the landscape of the walking dead that we've seen thus far." He says more about Negan to TVLine.
• Talking to Variety, Robert Kirkman adds, "Negan himself is a catalyst who fundamentally changes what we're doing with The Walking Dead and how these characters exist and really messes a lot of things up for Rick in a lot of terrifying ways."
• Robert Kirkman says to The New York Times, "Deanna's plans for Alexandria are kind of her legacy, and rebuilding and honoring her legacy is something other characters are going to be invested in. So I wouldn't be surprised if they stay in Alexandria for a good long while."
• TV Guide talks to Greg Nicotero, who says, "The first half of the season has been big and epic and sprawling, and I think by ending with the overrun of Alexandria and then leading into the introduction to Negan, we're setting up some of our stakes for the second half of the season."
• Scott Gimple, interviewed by Entertainment Weekly about Deanna's demise, says, "It felt like her time and in many ways she was passing along thoughts to Michonne that are very important for Michonne moving forward."
• Tovah Feldshuh talks to Entertainment Weekly about Deanna's death, saying, "She wants to infuse into Michonne the fact that she must carry on this legacy of the possibility of a sane civilization returning to the planet Earth, which is now drowning in blood and negative forces and evil."
• Greg Nicotero tells MTV, "The second half of the season, now that we've introduced this new group of people who are clearly ruthless, the timeline is going to be much more linear in terms of propelling us forward at an accelerated rate, as each episode continues."
• Regarding the show's Feb. 14 return, Scott Gimple warns, "We will be wooing you with the weirdest of Valentine's Day gifts: Chaos, terror, heartbreak, heroics, tragedy, and terror. Yes, that's two terrors. Friends, in all seriousness, episode nine is one of the biggest episode we have done," according to E! Online.
• Talking to Variety about Season 6 (and a Los Angeles exhibit of his photography), Norman Reedus says, "I will say that our back half is the best eight we've ever done. It's super intense."
• Entertainment Weekly spotlights the prologue scene that links the two halves of Season 6, commenting, "In it, we heard our first mention of the most notorious villain from The Walking Dead comic book: Negan." MTV says the scene "gave us out clearest indication outside the real world that the baddest Big Bad in the history of the Grimes Gang is coming — and very, very soon."
• Vanity Fair wonders, "So what does the inevitability of Negan mean for our favorite characters?"
• Ross Marquand tells Out, "This show, at the end of the day, is about relationships. I think it's wonderful that Aaron and Eric have this beautiful bond, and I want to see it developed in a big way."
• ComicBook.com views the holiday message from members of the show's cast where they "tell us their perfect holiday, favorite traditions and to express gratitude to their loyal fans."
• The New York Times reports that The Walking Dead Experience, a theater production that "uses actors, technical effects and over 10,000 square feet of elaborate sets to approximate the outbreak of a zombie plague in a small town," is headed to New Jersey this weekend. Variety and NJ.com have more details.
• The Huffington Post highlights U.K. actors, like Andrew Lincoln and Lennie James, who "have really made it big, over in the States."
• Fangoria spotlights McFarlane Toys' "stunning" replica of Jon Bernthal as Shane, "the first truly antagonistic role in The Walking Dead."
• For recaps and reviews of Season 6, Episode 8, "Start to Finish," check out ABC News, Boston Herald, Comic Book Resources, The Daily Beast, Deadline, Digital Spy, E! Online, Los Angeles Times, MTV, Refinery29, The Sydney Morning Herald, TVLine, Vulture, Wetpaint, TheWrap and Zap2it.
To stay up-to-date on all the latest news about The Walking Dead, sign up for the weekly Dead Alert newsletter.
Read More