Press
Scott Gimple, Steven Yeun Talk Glenn's Story; Steven Yeun Thanks Fans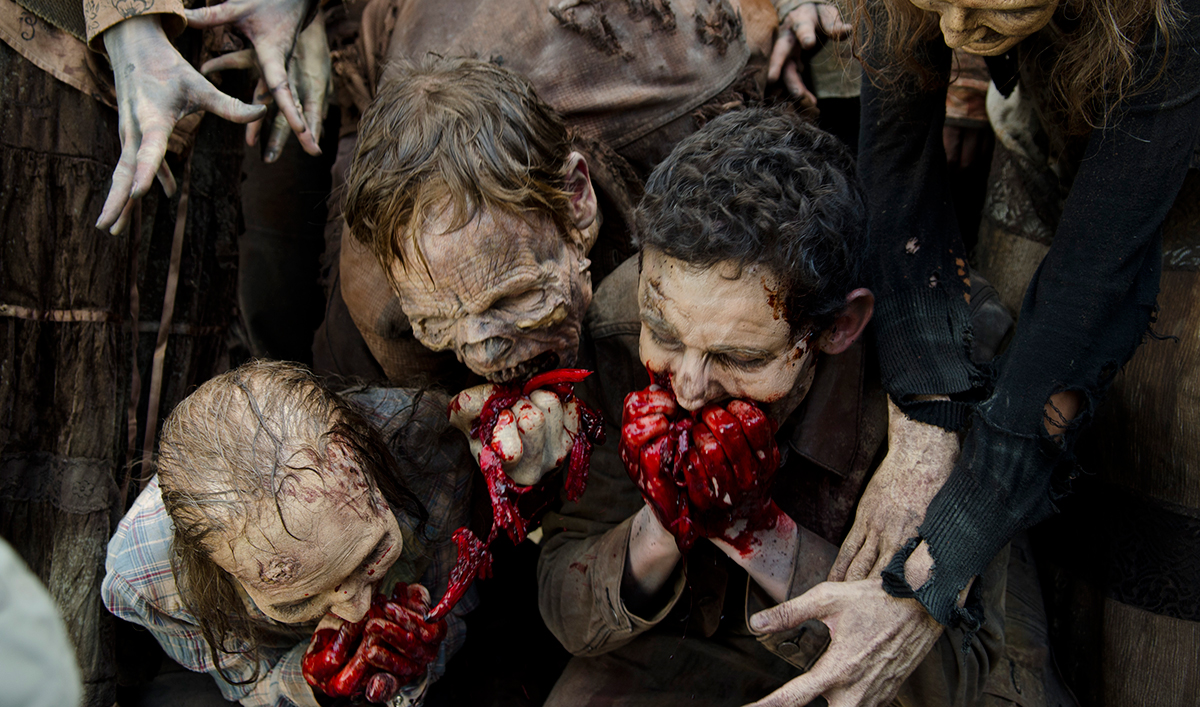 This week, Scott Gimple and Steven Yeun discuss Glenn's recent storyline, while Yeun thanks fans for their support. Plus, The Wall Street Journal explains the game schedule some NFL players want so they can watch The Walking Dead live. Read on for more:
• "It was important this year to do a story about uncertainty, for the audience to share that uncertainty. Maggie didn't know what happened to Glenn, and I wanted the audience to feel the exact same way," Scott Gimple said on Talking Dead according to TheWrap.
• Vulture spotlights Steven Yeun's thank you message to the fans where he said, "I've been following everything you've been saying and it's meant so much to me to see all of your support and concern for Glenn."
• Entertainment Weekly has Steven Yeun's comments on Talking Dead including his assessment that "I think it proves that this world still can take that story of the good guy winning sometimes."
• The Wall Street Journal reports the NFL schedule can interfere with players watching The Walking Dead live, one example being the Carolina Panthers' Mario Addison who says, "I love to play in the 1 p.m. game because I love the Walking Dead. If we play at 1 p.m., I'll have plenty of time to relax and prepare for The Walking Dead."
• Andrew Lincoln tells TheWrap why he's happy Steven Yeun's Glenn is alive, saying, "Steven's one of the true leaders on set. He's the true hero of the story at the moment. In short, I love the guy and I'm very glad he isn't dead."
• CNN observes that the "incredible scene" of Glenn's survival "played out in the opening minutes of a plot-heavy episode, which ended with a tower falling and taking down a portion of the wall around Alexandria, exposing the town to a mass of walkers on the other side of the fence, leading into next week's fall finale."
• Katelyn Nacon, speaking with The Wall Street Journal, says Enid would "rather take her chances in being alone then going through pain of losing someone. Insecurities cause her to be the way she is."
• Christian Serratos opens up to Entertainment Weekly about Rosita's scene with Eugene in "Heads Up," saying that her character "observes and she's very methodical, but it was cool to finally see her unravel a little."
• TheWrap talks to Katelyn Nacon, who says of working with Steven Yeun, "It was awesome. He's such an amazing actor. It was so easy to work with him. Whenever we worked together it felt very natural."
• Asked by Entertainment Weekly about his best day ever on set, Andrew Lincoln says, "I would have to say one of the most memorable times was riding the horse into Atlanta. Just because of the scale."
• Lauren Cohan tells Entertainment Weekly her best day on set was during Season 5's "Self Help" when the bus crashed and the flames were bigger than expected, so "we had this fire at our bums and we were just kind of trying to play it very cool until we could run away."
• Forbes thinks The Walking Dead is still so popular because the show "has made the audience feel like they're more than just a passive observer, but a core member of the group themselves."
• Katelyn Nacon tells the New York Post, "Enid wants to survive but she wants to feel like she's living. These walkers are not going to dictate her life."
• The Atlanta Journal-Constitution, A.V. Club and Comic Book Resources and Entertainment Tonight have details of a proposed theme park ride based on The Walking Dead.
• Design & Trend lists the reasons why "Sonequa Martin-Green and Michael Cudlitz's fictional survivors would make a great zombie apocalypse couple!"
To stay up-to-date on all the latest news about The Walking Dead, sign up for the weekly Dead Alert newsletter.
Read More