Press
Norman Reedus Talks Latest Episode; Michael Cudlitz on Abraham & Sasha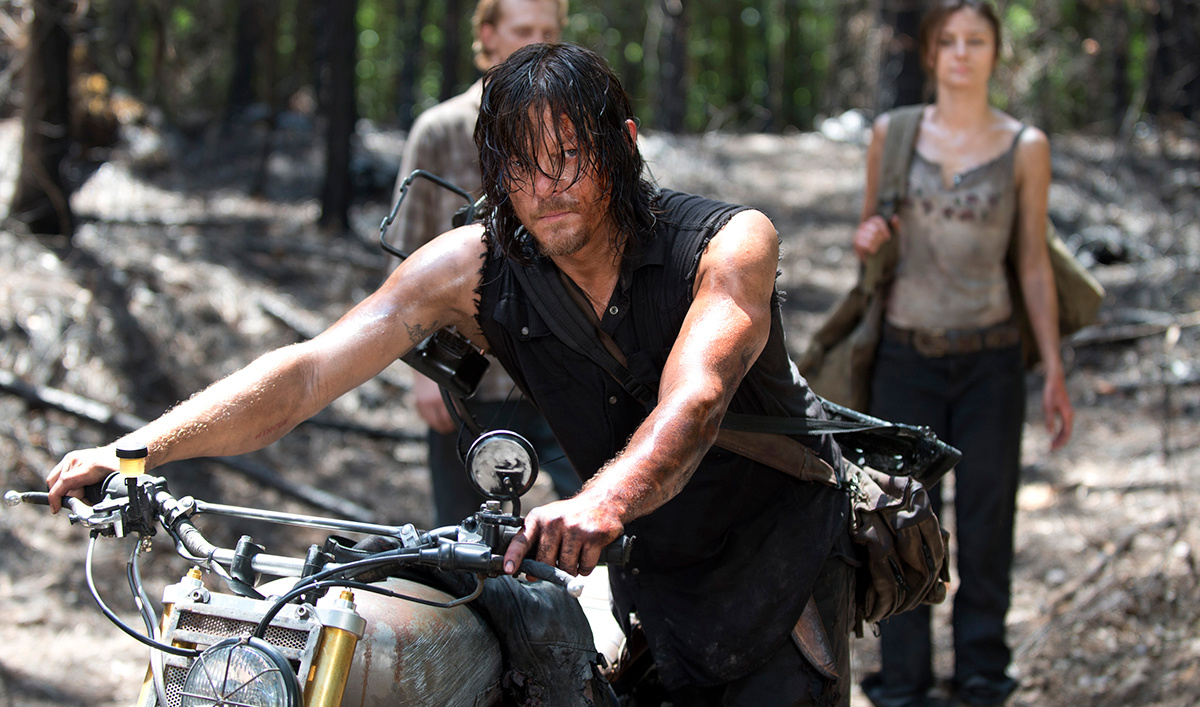 This week, Norman Reedus discusses the latest episode, while Michael Cudlitz talks about Abraham's attraction to Sasha. Plus, Steven Yeun is asked by Entertainment Weekly about his favorite scene ever. Read on for more:
• Entertainment Weekly asks Norman Reedus whether Daryl is hurt more by the loss of his motorcycle or crossbow, and he answers, "They both equally hurt. To watch them ride off together really crushed me inside a little bit."
• Norman Reedus reveals to The Hollywood Reporter that the voice yelling "Help!" at the end of "Always Accountable" was "not Glenn — but it's somebody at Alexandria."
• Teasing the rest of the season to Yahoo TV, Norman Reedus declares, "Every single thing that happens, from here on in, is just like we just jumped off a cliff."
• Michael Cudlitz tells TVGuide.com why Abraham is attracted to Sasha: "Her pain, her loss, is something he identifies with greatly. It brings them closer because he feels connected to her. He fully understands what she is going through, and that in itself is something that pulls them together."
• Michael Cudlitz talks to Mashable about Abraham's dialogue, saying, "When you read those lines that they wrote for me, it's fantastic. You're like, 'really? I get to say what?' It's great."
• Asked by Entertainment Weekly about his favorite scene ever on the show, Steven Yeun shares that "every first scene that we're all in together of every first episode of every season is probably my favorite."
• ComicBook.com spotlights the swamp thing walker from "Always Accountable" that was a tribute to Bernie Wrightston, the co-creator of Swamp Thing.
• MTV wonders "what the heck is going to happen if Walking Dead ever kills off Daryl Dixon?"
• Wetpaint speaks with Katelyn Nacon, who doesn't know if Enid could survive on her own "for a very long time, but I know that if she did have to survive on her own she would try her hardest not to die and let her parents down. She wouldn't give up easily."
• Katelyn Nacon, interviewed by TheCelebrityCafe.com, says the loss of Enid's parents made Enid "very independent. She doesn't want to get close to someone and have to lose them."
• Major Dodson tells iDigitalTimes that Sam is drawn to Carol because he "feels Carol is nice to him. She acknowledges him even though she's tough. He likes her because of that. Also, she made him cookies."
• Tech Times interviews Major Dodson, who says, "Sam is staying upstairs because he doesn't know what happened downstairs or outside the house. So he doesn't want to go downstairs because he's found that upstairs is the safest place for him."
• Uproxx's staff weighs in on "the moments that they most related to, or at least understood their favorite Walking Dead characters."
• Uproxx points out the "hilarious" methods used to hide cast member pregnancies, namely Sonequa Martin-Green and Alanna Masterson.
• "What do The Walking Dead and Harry Potter have in common? Not a ton, except for the fact that the main character of the first is basically the same guy as the coolest character in the second," MTV points out.
• Moviepilot breaks down the fan theories surrounding the blood running down the wall in "Now."
• Tech Insider takes a look at "how zombies on The Walking Dead transformed over the course of six seasons."
• Moviefone reports that the second half of Season 6 will premiere Feb. 14.
• ComicBook.com reports that a concept for an amusement park ride based on The Walking Dead, using "a combination of 3D media, practical sets and animatronics," is being unveiled this week at an attractions expo.
• For recaps and reviews of Season 6, Episode 6, "Always Accountable," check out Big Shiny Robot, Channel Guide Magazine, Entertainment Weekly, Geek Smash, The New York Times, TVLine, USA Today, Vox and The Wall Street Journal.
To stay up-to-date on all the latest news about The Walking Dead, sign up for the weekly Dead Alert newsletter.
Read More