Press
Lennie James Talks Morgan; Scott Gimple Says Rick's Hand is Safe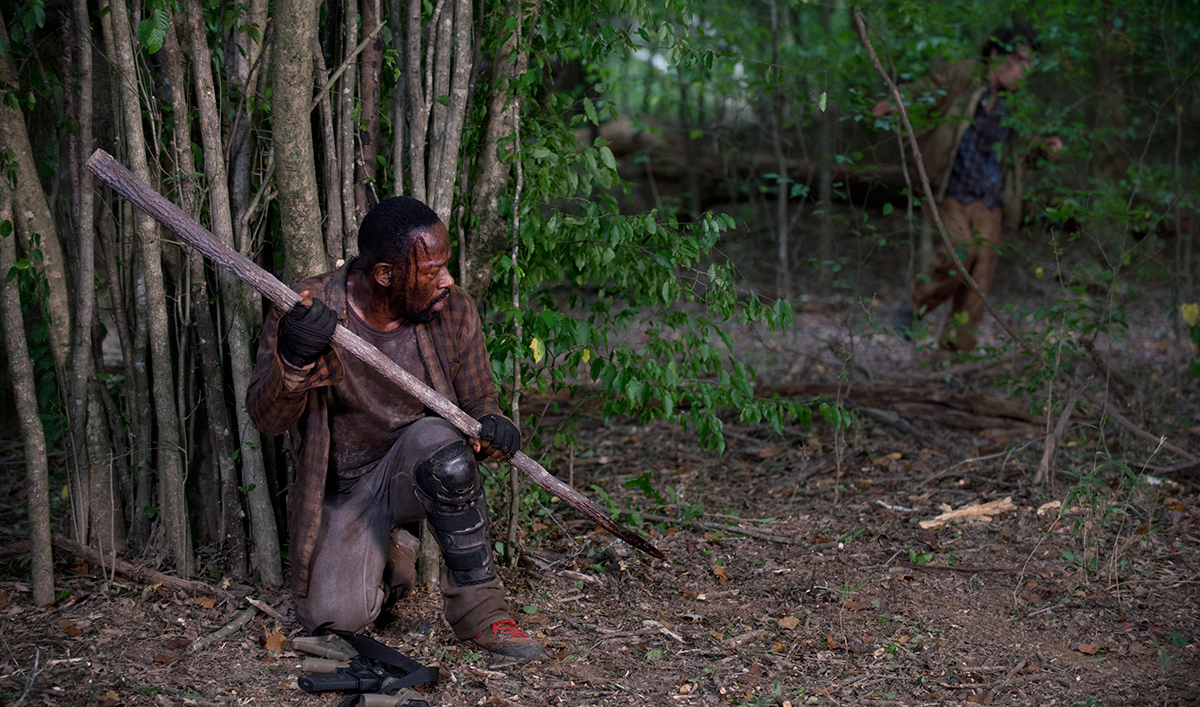 This week, Lennie James and Greg Nicotero discuss Morgan, while Scott Gimple reveals that Rick's hand is safe. Plus, Vanity Fair spotlights John Carroll Lynch. Read on for more:
• Lennie James talks about "Here's Not Here" with Entertainment Weekly, saying that "what was very weird about the episode is that although it feels like it's just two guys in a room, it was arguably one of the most physically challenging episodes that I've certainly done on the show so far."
• One of the things Season 6 explores about Morgan is "exactly how at peace he is with his newfound ideology of how to survive in this world," Lennie James tells The Daily Beast. James also chats with IGN, Vulture and Den of Geek.
• Lennie James speaks with MTV about Morgan vs. Rick: "Rick's way of doing it ultimately turns you into The Governor: a soulless, merciless killer. What Morgan purports to everybody may just turn you into a victim waiting to happen. So, who walks this Earth now, more content?"
• Greg Nicotero says to TheWrap, "Morgan is like a reformed criminal almost. I think that he was at the deepest, darkest place in his existence and found a way to redeem himself and to find the good in life."
• Speaking about Glenn's fate, Greg Nicotero tells The Hollywood Reporter, "It's a journey and the whole point of this is to give the audience a great story and a great rollercoaster to ride. People are happy, sad and angry."
• Scott Gimple assures The Hollywood Reporter, "Rick's hand is safe. You can proclaim it from the mountaintops: His hand is safe! He will be wrapping it. There will be some ointments involved."
• Vanity Fair spotlights John Carroll Lynch, who "has the corner on the horror TV market."
• Scott Gimple speaks to The Walking Dead's appeal with The New York Times: "There is so much artifice to our lives, so much noise, so much distraction, fakery and fiction that I think there's an attraction to seeing it all stop, and being left with nothing but to keep yourself alive and find out who the person is looking back at you in the mirror."
• According to The Hollywood Reporter, Norman Reedus is teaming with AMC for Ride With Norman Reedus, the working title of a docuseries debuting next year that will explore motorcycle culture.
• ComicBook.com reports that The Walking Dead will get a Season 7, as if "there was ever any doubt." CBS News says, "The move doesn't come as too much of a surprise considering the popularity of The Walking Dead, but still good news for fans nonetheless."
• Vanity Fair considers "Here's Not Here" a preview of how Morgan "could destroy all of Alexandria," while Uproxx points out "seven callbacks to earlier moments in the series" in the episode.
• Danai Gurira, interviewed by The Associated Press about her successful playwriting and acting careers, says, "I wanted to play an action chick one day. How often do you see comic book characters come to life that have dreadlocks and a sword? That was astoundingly fascinating to me."
• The Toronto Star interviews Lauren Cohan, who says it's hard for her to see Maggie "just keep receiving things instead of pushing back sometimes. There's so many strong voices out there, but I think you're going to see me stepping up more now as this season goes on."
• Melissa McBride tells Entertainment Weekly that her favorite days on set are when the cast is all together: "Any time that the whole cast is all together is a super fun day because there are a lot of hysterical people in this cast and it's a lot fun to cut up."
• Similarly, Danai Gurira tells Entertainment Weekly she "loved the day when Michonne took down all her walkers in that field" in Season 4's "After," labeling the scene "awesome and exhilarating and a really amazing experience to do."
• Greg Nicotero talks to ComicBook.com about upcoming tribute walkers, saying, "You do thousands of make-ups and to have an opportunity to recreate a make-up or a character that you just loved, that inspired you, it's sort of my nerd-version of paying back."
• According to International Business Times, Greg Nicotero shares, "I think we have several more years ahead of us. I think [series creator Robert] Kirkman said 11 or 12."
• Forbes goes even further, noting that The Walking Dead has "the potential to run for 20-25 seasons based purely on the amount of material available."
• International Business Times interviews Katelyn Nacon, who says she likes how "messed up" Enid is, that she's "been through a lot. It's always interesting to see how a person gets to this kind of place of pure survival, especially in The Walking Dead."
• Major Dodson talks to Wetpaint, saying that his character, Sam, thinks of Rick "as a tough man who actually knows about the monsters that Carol told him about. He knows what they actually are, how they work, what they look like. Maybe Sam will look up to him." Dodson also chats with Hidden Remote.
• Collider.com has highlights from Atlanta's Walker Stalker Con, including "some behind-the-scenes tidbits from the show, as well as some teases about what to expect in Season 6." Atlanta and ComicBook.com were there too.
• MTV reveals what the show's cast looked like five years ago.
• Rolling Stone includes The Walking Dead on its ranking of the best horror TV shows of all time, calling it "a ratings juggernaut that showcases man's inhumanity to man with at least as much gory gusto as the cannibalistic attacks of the undead."
• Bustle rewatches the series pilot for the first time since it premiered five years ago and notes "there are a bunch of things I kind of forgot about over the years and I'm here to remind you of those things."
• CinemaBlend lists "the 10 most shocking deaths over the course of the past 5 years of The Walking Dead," noting that "shocking" means "the moments that seemingly came completely out of left field." Similarly, Moviepilot looks at the show's top 10 deaths.
• IFC names 10 weapons you definitely want in a zombie apocalypse, including Morgan's bo staff, Michonne's katana and Daryl's crossbow.
• Blastr interviews Sonya Thompson about playing a walker in Seasons 1 and 2, and she says, "It was more hard work than I could have imagined in the heat and humidity in Georgia. That was challenging on some days."
• For recaps and reviews of Season 6, Episode 4, "Here's Not Here," check out A.V. Club, Collider.com, Express, Forbes, Geeks of Doom, HitFix, Los Angeles Times, MassLive, MTV, The New York Times, The Sydney Morning Herald, TVLine, USA Today, Variety, Vulture and Yahoo TV.
To stay up-to-date on all the latest news about The Walking Dead, sign up for the weekly Dead Alert newsletter.
Read More