Press
What Critics Have to Say About Last Sunday's Episode, "Thank You"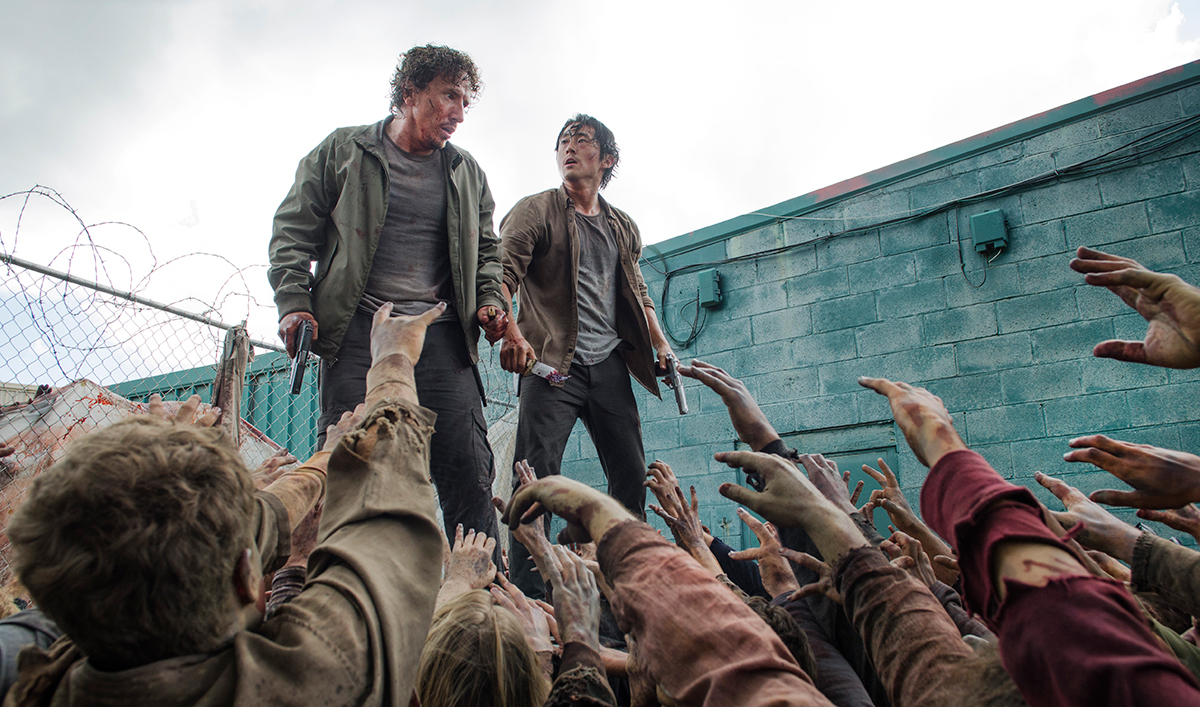 From BuzzFeed and Esquire to The Hollywood Reporter and TheWrap — see the press reaction to last Sunday's episode and what they had to say about Glenn, Nicholas, Michonne and others. Read on for more, including comments from the show's Scott M. Gimple, Greg Nicotero and Dave Alpert.
• TVLine asks Scott M. Gimple how long viewers will have to wait to discover Glenn's fate, and he replies, "Not terribly long. It'll be in the first half of the season. And there are only five episodes left."
• According to Variety, Scott M. Gimple says of Glenn, "In some way, we will see Glenn, some version of Glenn, or parts of Glenn again, either in flashback or in the current story, to help complete the story."
• The Los Angeles Times learned from Scott M. Gimple that he released a statement about Glenn because it "seemed that silence, for some reason, might be looked upon as saying something unto itself."
• Greg Nicotero, interviewed by Yahoo TV, adds that the "sequence was very, very carefully choreographed, and very carefully written to allow the audience to draw their own conclusions and their own expectations."
• Dave Alpert tells MTV, "that good guy Glenn, regardless of what has happened to Glenn, is gone."
• Digital Spy has the Twitter reaction of fans, who are divided on whether Glenn is alive or dead.
• The Hollywood Reporter's critics debate "Thank You," which "seemed to feature the demise of Steven Yeun's Glenn. But did it really?"
• Vulture is also up in the air, wondering if, "even with the zombies eating Nicholas first, is there any way that Glenn gets out of this?"
• Us Weekly is also uncertain, noting that the show "seemingly" killed off Glenn and says "some fans are speculating that Glenn survived against all odds."
• Zap2it comments, "While on first glance it seems Glenn is a goner, there are a few things that just don't add up on repeat viewing."
• The Daily Beast observes that "the scene leaves a phantom of ambiguity behind. Was that Glenn's body being torn apart or Nicholas's? (Nicholas's body appeared to land at least partially on top of Glenn's.)"
• There's no ambiguity for The Wall Street Journal, which asserts, "Glenn is dead. There is simply no credible way he survived the events of Sunday night's episode: trapped in an alley surrounded by hundreds of walkers. No ammo. No police riot gear. No help. No exit. No nothing."
• Variety asks, "Did The Walking Dead just say goodbye to one of its most enduring characters? All signs certainly point to yes…"
• E! Online declares, "We're crossing all our fingers and toes, but the honest truth is that it doesn't look good. It doesn't look good at all."
• TV Guide considers Glenn's death a fait accompli and delves into how it will affect the show: "I enjoy seeing the light that someone like Glenn could sometimes add. He could reason with Rick and make sense of even the worst situation. Without him, it seems only more doom and gloom is in store."
• The New York Post says, "Thinking that Glenn is alive is a delusion, like hoping that Jon Snow somehow made it. It's obviously easier for some fans to believe in a global zombie plague than in a fan-favorite kicking the bucket forever."
• On the other hand, BuzzFeed declares definitively, "Glenn AIN'T DEAD. He's DEFINITELY alive and there is a lot of proof of this."
• Esquire proclaims, "Glenn is not dead. The frenzied Glenn-carnage that the internet lost its collective mind over last night was a lie — a clever bit of misdirection, like televisual sleight-of-hand. Do not fall for it. Glenn Rhee is alive."
• The Hollywood Reporter gives several reasons for "why it appears unlikely that the AMC zombie drama could have made such a departure from its comic book source material."
• TheWrap notes some fans aren't convinced "and immediately started theorizing how Glenn could have survived the horde of zombies he fell into. And given the character's penchant to survive near-death situations in previous episodes, TheWrap can't say they're wrong just yet."
• USA Today believes "the evidence is actually pretty convincing" that Glenn was not actually killed.
• Entertainment Weekly believes Glenn is still alive, but "it could potentially be a few weeks before we get our final answer. So we can all die a little inside until then not knowing the truth."
• Vanity Fair believes "there's some convincing evidence that suggests he very well might make it out alive."
• By the same token, Yahoo TV speculates "there are ways to explain why Maggie's hubs should not be counted out just yet."
• The Huffington Post explains, "There's strong evidence Glenn is still alive."
• Forbes says that "from everything I've seen both in the episode and out of it, I'm actually leaning toward a hard no. Glenn is not dead. We may not see him for a while, but that ignoble end was a head fake, and we'll be seeing him again at a later date."
• Entertainment Tonight lays out "six reasons why we think Glenn is still alive, and is going to survive this season on The Walking Dead…"
To stay up-to-date on all the latest news about The Walking Dead, sign up for the weekly Dead Alert newsletter.
See what real-time reaction was like and weigh in yourself with Story Sync for Episode 3.
Read More