Press
Melissa McBride Talks Episode 2 Carol; Lennie James Teases Morgan/Rick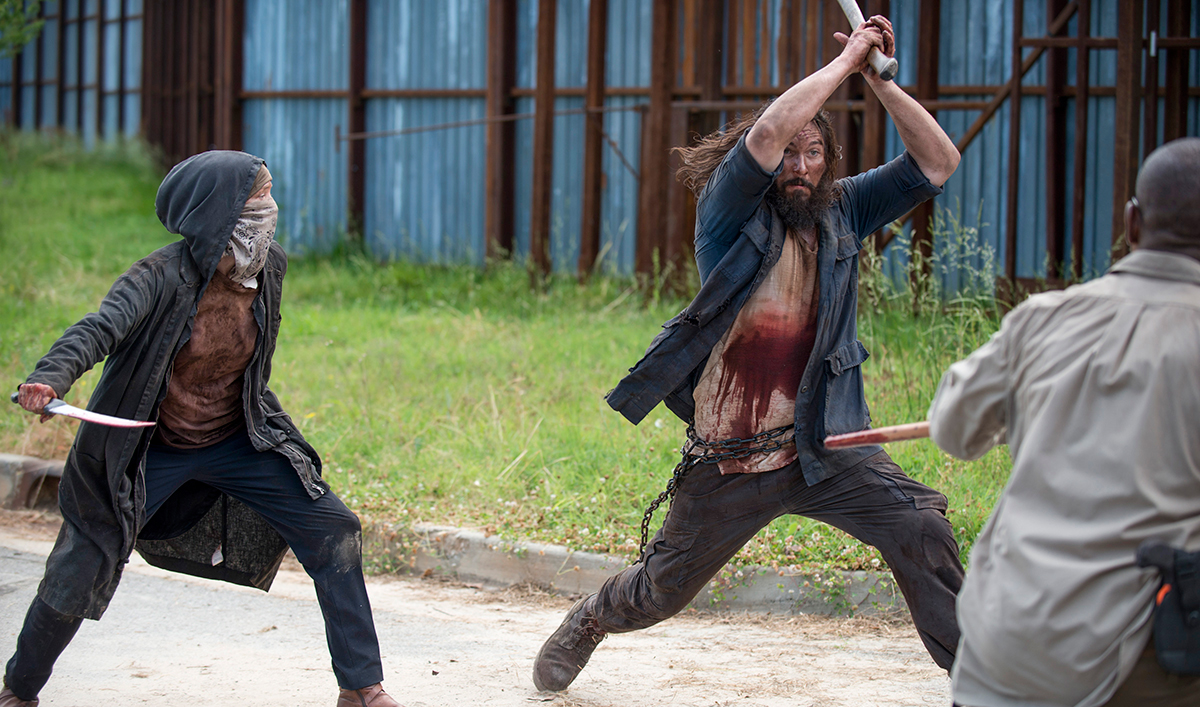 This week, Melissa McBride discusses Carol's actions in Episode 2, while Lennie James teases Morgan and Rick's Season 6 relationship. Plus, Alexandra Breckenridge tells EW about stabbing a Wolf to death. Read on for more:
• Melissa McBride, talking to The Hollywood Reporter about Carol's behavior in Episode 2, says, "For me, it all goes back to how unlikely Carol is to be running around with guns and knives and it's awesome for me to watch her survive in the way she does. She's still unlikely for me."
• Lennie James tells BT.com that Morgan and Rick's friendship is "the question of this season…Who are they to each other? How much do they trust each other?"
• Entertainment Weekly, asking about Jessie stabbing a Wolf to death, speaks with Alexandra Breckenridge, who says, "I was happy that my character actually got it together, and her fight-or-flight kicked in and she's desperate to save her family."
• The Hollywood Reporter gets Scott Gimple's take on "what to expect from the survivors in season six."
• Teasing Season 6, Greg Nicotero tells The Wall Street Journal, "This season is relentless. There's not a chance to catch your breath."
• ComicBook.com talks to Melissa McBride, who says that, if she were in Carol's shoes, "I would fight to the best of my ability and try to balance it with any sort of normalcy just like she's trying to do. Just like they're all trying to do."
• Gold Derby commends Melissa McBride's "stellar performance" in "JSS."
• Interviewed by The Guardian about a new production of her play, Eclipsed, Danai Gurira also talks about Michonne, who "has been figuring out how to temper her strength for the greater good and what's going to help people she cares about."
• Reviewing Eclipsed, The Hollywood Reporter calls the play a "richly nuanced ensemble piece about women enduring the dehumanizing oppression of the Second Liberian Civil War," while Variety describes it as "a searing drama about the decisive roles women played in the second Liberian civil war." The play is "powerful," according to WNYC.
• The New York Times reports that Eclipsed will head to the Great White Way next year, noting it's "the rare play written by a woman to get a Broadway production."
• Scott Gimple tells TVLine that working on the upcoming Morgan flashback episode was "one of the great pleasures of the season for me."
• HeyUGuys chats with Lennie James, who says the upcoming Morgan standalone episode was "a trip to shoot and an incredible experience. It's an amazing story, and if it's at all possible after 'Clear,' Morgan goes further into the hole before he finds his way out."
• Cleveland.com shares "everything you need to know about the Wolves, a vicious group of survivors that could still play a big role during The Walking Dead Season 6."
• Zap2it declares Carol "Alexandria's best hope."
• Lauren Cohan, interviewed by Entertainment Tonight, says that Maggie is "trying to hold on and make the best of what we have now, because she knows how precious life is."
• Speaking with Entertainment Weekly, Sonequa Martin-Green says of Sasha, "I realized that I should be ashamed for the way I behaved and I need to honor the ones that I've lost and actually try to live life they way they did instead of living it like some psychopath."
• Cleveland.com takes "a look at the origins of Rick and Morgan's relationship and where it may be going during Season 6."
• The Walking Dead has a chance at six People's Choice Awards nominations, for favorite TV show, cable TV scifi/fantasy show, favorite scifi/fantasy actor (for Andrew Lincoln and Norman Reedus) and favorite scifi/fantasy actress (for Danai Gurira and Melissa McBride).
• Slate has a virtual graveyard for all of the show's dead characters: "Beneath each grave, a character is laid (or, in some cases, scooped) to rest. Click on a grave to leave a flower and let the healing process begin."
• In DuJour, Danai Gurira says, "I feel very blessed to have opportunities right now that I definitely want to see through, opportunities that I yearned for and that are starting to really happen."
• E! Online gets the cast's comments on how the show has changed them — with Melissa McBride sharing that playing Carol "has required me to go to places that are a little uncomfortable."
• Norman Reedus crashes ComicBook.com's interview with Melissa McBride and says that Carol is "a cute chick! You know what I mean? I've been making googly eyes at her since season one, it's about time."
• Uproxx decides to "take a look at some of Michonne's most epic kills. Because we all enjoy watching Michonne kill things, don't we?"
• USA Today shares five things it learned from "JSS," calling it "one of the craziest episodes in years."
• MTV honors Abraham, who captures the experience of the zombie apocalypse "in prose that's as elegant and memorable as his signature mustache." Wetpaint spotlights "more 'Abraham-isms' that will either make you laugh, scratch your head, or both."
• Talking to Good Housekeeping, Sonequa Martin-Green says, "Season 5 was a huge workout all on its own, because I was pregnant the entire season. I was able to do it, thank goodness, but that was pretty crazy."
• Ann Mahoney, chatting with io9, says Olivia doesn't "super trust Rick yet because I don't know him that well yet. But he seems to at least have command, presence and people tend to listen to him."
• Variety reports that the NBC Universo cable channel has made a deal with AMC for the rights to Spanish-dubbed episodes from The Walking Dead's first three seasons.
• Bustle points out there are "some TV episodes scarier than any horror movie ever dared to be," including the series pilot, "Days Gone Bye" (which "leaves you feeling as disorientated as Rick").
• Business Insider considers The Walking Dead — the show that "helped make zombies a cultural phenomenon again" — the most popular TV show from Georgia.
• The Atlanta Journal-Constitution reports on how The Walking Dead's success is helping Senoia, Ga., one of the show's main filming locations, by "breathing new life into the area like the resurrected dead."
• Speaking with MTV, Lauren Cohan says her new movie, The Boy, "goes on this really, really disturbing unnatural journey. It has some things that happen towards the end that are just twisted… it's extremely thrilling and entertaining."
• For recaps and reviews of Season 6, Episode 2, "JSS," check out The Baltimore Sun, Cleveland.com, Collider, The Daily Beast, Forbes, HitFix, IGN, International Business Times, Los Angeles Times, MassLive.com, New York Daily News, The New York Times, Rolling Stone, TV Guide, TVLine, USA Today, Us Weekly and The Wall Street Journal.
To stay up-to-date on all the latest news about The Walking Dead, sign up for the weekly Dead Alert newsletter.
Read More