Press
Andrew Lincoln, Lennie James Tease Season 6; Greg Nicotero Talks Premiere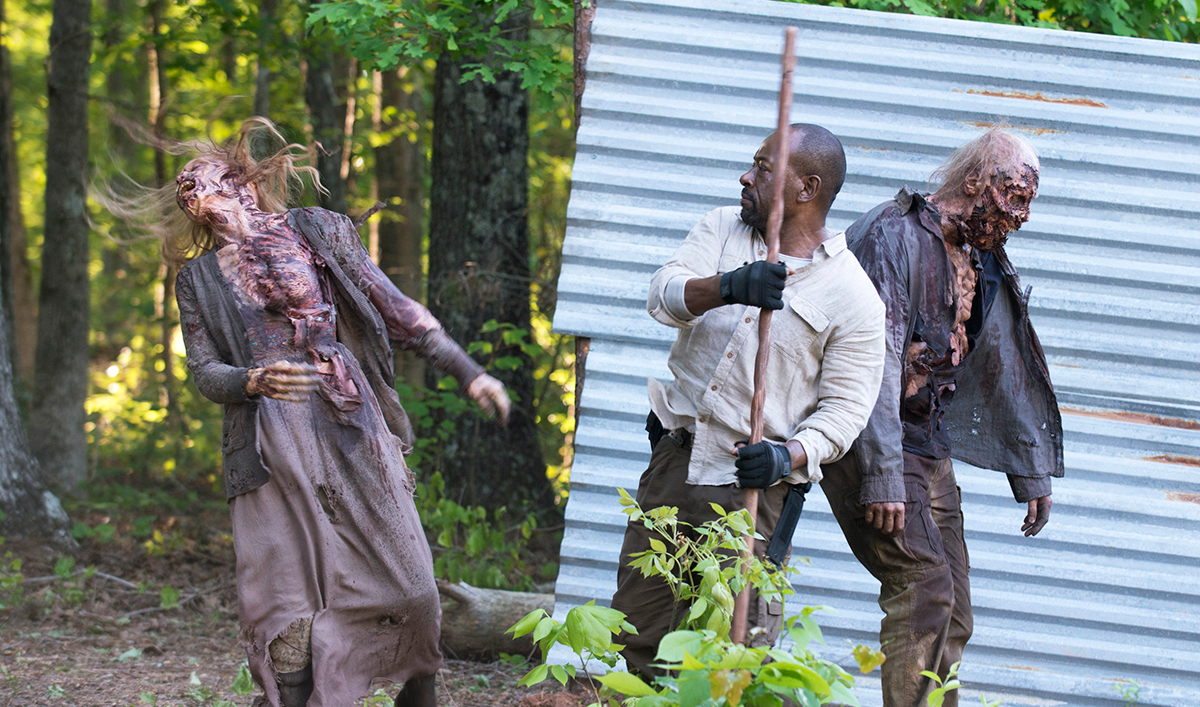 This week, Andrew Lincoln and Lennie James tease Season 6, while Greg Nicotero discusses the premiere. Plus, Gale Anne Hurd and Robert Kirkman also talk about what's to come. Read on for more:
• Entertainment Weekly talks to Andrew Lincoln, who says, "I think we are unashamedly a zombie show this season, and certainly you'll see it's unrelenting up until episode 9."
• Lennie James promises International Business Times that fans "will learn why that weapon of choice – the bo staff – is not just an arbitrary choice, but also fundamental to the path that Morgan's trying to walk now."
• "Shooting the episode was a Rubik's Cube of action sequences and making sure the drama, emotions and relationships sell," Greg Nicotero says to Variety about the premiere. He also chats with Yahoo TV, Entertainment Weekly and Vulture.
• Gale Anne Hurd, speaking with Entertainment Tonight, teases, "It's all hands on deck. In Alexandria, you still have people who are in denial about the risks that they face as you would anywhere."
• Robert Kirkman tells The Hollywood Reporter, "When we got to Alexandria, there was some concern that everything is nice and clean and [questions about] how the show will continue to be exciting. Season six answers that question in a big way." Kirkman also speaks with Entertainment Weekly and The Daily Beast.
• Norman Reedus tells Details, "Daryl judges people not just by what they say but what they do. Stand-up people are the only people you can trust in that world, so that makes Daryl a very compassionate person. And that's one of the reasons that character is popular."
• "This is only the beginning of the most intense season of The Walking Dead. No one, no one is safe," asserts Robert Kirkman at the show's Season 6 premiere at Madison Square Garden, according to MTV. Entertainment Weekly highlights Norman Reedus' entrance to the festivities on a motorcycle. E! Online, The Huffington Post, the New York Daily News, Variety, Vanity Fair, The Wall Street Journal and Zap2it were also at the party.
• Entertainment Weekly interviews Ethan Embry, who talks about everything he got to do in his one episode: "I get to go and wrangle a posse against Rick, I get to do a conspiracy against him, I get my face bitten off — it's great!"
• Michael Traynor, speaking with Entertainment Weekly, says of Nicholas, "I really do think that the way they are writing season 6 that there is a real desire to redeem himself."
• BuzzFeed declares that Ethan Embry is "having the kind of year every actor dreams of," including a stint on The Walking Dead. Embry also describes Carter's death scene to E! Online.
• According to Vulture, Robert Kirkman told a New York Comic Con audience, "I think it would be very cool if Negan were to be introduced into the show. I don't know when that would happen though. I do, but I can't say."
• Wired notes that the Season 6 premiere had "one of the largest zombie showdowns in the show's history."
• Lennie James speaks with Under the Radar about his approach to playing Morgan: "So drawing the dots but staying true to the original guy that we met in the first episode becomes what it's about to take the audience on this journey that they haven't seen."
• Lauren Cohan teases to Details, "This year, all of us are so, so, so consumed with the emotional, the physical, the action, the explosive, crazy, dangerous heights that the season is taking not only for the characters but for us actors."
• Entertainment Weekly shares Greg Nicotero's exclusive storyboard illustrations from the Season 6 premiere.
• "When it comes to relentless character killing, only Game of Thrones is more bloodthirsty than Georgia's own The Walking Dead," proclaims Atlanta Magazine which is putting odds on the characters most likely to die this season.
• Speaking of which, Uproxx interviews several actors whose characters have died on the show, including Sarah Wayne Callies, about "what it's like to leave this beloved series behind."
• In the same vein, Adweek runs through a list of "some of the most notable actors whose characters did not survive."
• Josh McDermitt asserts to Zap2it, "From a viewer standpoint, I feel like Rick would be the best leader for the entire community because he's willing to do what it takes."
• Addy Miller, who played the show's first zombie, talks to The Huffington Post, saying, "Getting shot by Andrew Lincoln was great. A lot of people think I'd be nervous about it when I really wasn't. I felt completely safe on the set and very at home with it all."
• Atlanta Business Chronicle discovers from Tom Luse why Georgia is "the perfect backdrop" for the show.
• ComicBook.com reports that the second half of Season 6 will start on Feb. 14, 2016.
• For recaps and reviews of the Season 6 premiere, "First Time Again," check out Digital Spy, Entertainment Weekly, Forbes, The Hollywood Reporter, io9, Los Angeles Times, MTV, Rolling Stone, The Sydney Morning Herald, TV Guide and USA Today.
To stay up-to-date on all the latest news about The Walking Dead, sign up for the weekly Dead Alert newsletter.
Read More