Press
Andrew Lincoln, Lennie James Talk to EW; IGN Chats With Danai Gurira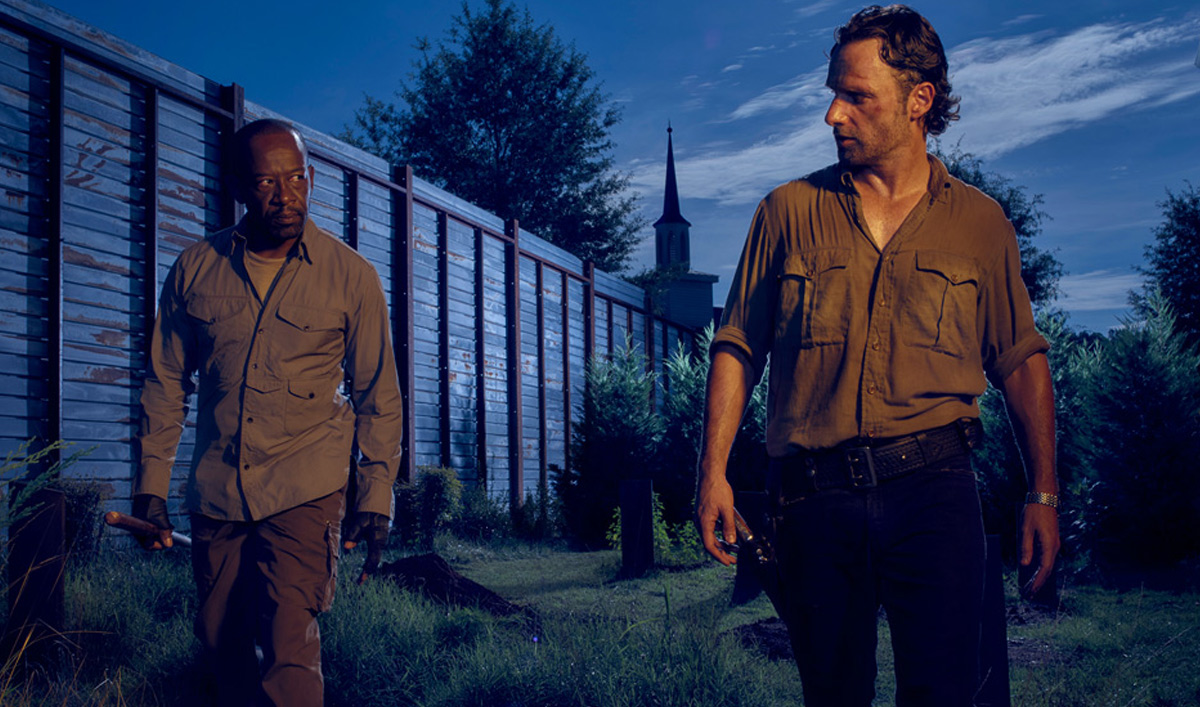 This week, Andrew Lincoln and Lennie James talk to Entertainment Weekly, while IGN chats with Danai Gurira about Season 6. Plus, Vulture has a first look at some new photos. Read on for more:
• Andrew Lincoln, talking to Entertainment Weekly, says Season 6 Rick is "not taking any s— from anybody. But not in a kind of I-want-to-take-the-place way, just in a very kind of I-know-what-needs-to-be-done, and let's f—ing get it done."
• Entertainment Weekly speaks with Lennie James, who says that Morgan and Rick "have a bond — whether they like it or not — and they have to figure that out and that's kind of what happens through certainly the first part of season 6."
• Danai Gurira tells IGN that Season 6 is "a thrilled, unpredictable ride, and goes into massive moments of really amazing, exciting, unpredictable things, and also really deep moments of character depth and development and heartbreaking, gut-wrenching stuff."
• Vulture features a first look at Season 6 with a series of photos: "There's Rick and his trusty crew, the useless Alexandrians, and lots of walkers in various states of decomposition!"
• Melissa McBride, speaking with Entertainment Weekly about Season 6 Carol, says, "When we left off in season 5 the Alexandrians were still unaware of her little undercurrents. So I think when we get back there's going to be the Alexandrian Carol and then she's still got work to do. So we'll see her other side."
• The Guardian interviews Norman Reedus, who says part of Daryl's appeal is "that you're watching this guy reinvent himself as someone who's finding a sense of self-worth through other people in his life. He's slowly becoming proud of who he is."
• Josh McDermitt talks to Icon Vs. Icon about Eugene's comedic aspects, saying, "Eugene isn't necessarily a warrior like Daryl or Michonne, so seeing him in these situations is going to be funny to begin with. I think that is where a lot of the comedy comes from."
• Yahoo TV reports that next month's New York Comic Con will feature a panel called "The Walking Dead: An Inside Look with Robert Kirkman."
• 411 Mania declares The Walking Dead one of the top comic book TV shows because it "keeps us interested via the interaction between our survivors and the humans they come across, trying to figure out if they are friend or foe."
• According to Dread Central, AMC released "Then and Now" videos for Rick, Carol and Michonne, characters who "have lived through some truly transformative events."
• Moviefone spotlights a new AMC video, where Andrew Lincoln declares, "Every single episode has been a season finale, and then it goes off the chain."
• Dread Central highlights a Season 6 teaser that "reminds us that sometimes… you don't have a choice. What choices will our survivors be faced with this season?"
• Design & Trend shares 10 fun facts about Chandler Riggs.
• Design & Trend proposes "five iconic Walking Dead characters who deserve to have their own game."
• Season 5 is now available on Netflix, according to HD Report.
To stay up-to-date on all the latest news about The Walking Dead, sign up for the weekly Dead Alert newsletter.
Read More