Uncategorized
#TWDYoursVSOurs Gives You the Chance to See Your Life Reimagined for the Apocalypse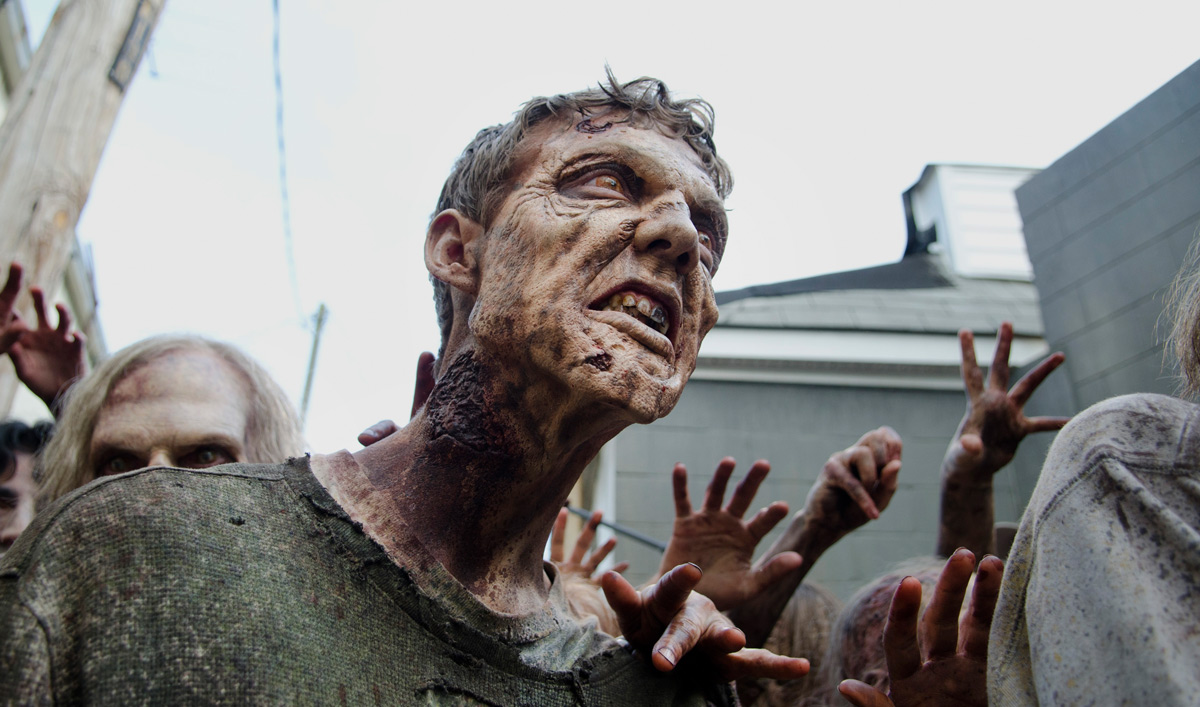 Ever wondered how the apocalypse would unfold in your hometown? What if instead of grabbing dinner and a movie with a date, you'd end up becoming dinner? To find out just how things would look, follow The Walking Dead on Twitter, tweet a photo of "real life," such as a photo of a landscaped neighborhood or of you baking cookies at home and use the hashtag #TWDYoursVSOurs. AMC will select the best shots and tweet the photos backs with an image of an apocalyptic scene added in.
By Tweeting with hashtag #TWDYoursVSOurs, you expressly agree to the following Terms & Conditions:
• You confirm that you are at least 18 years old;
• You understand that your submission will become public (including your user name and photo);
• By submitting your content, you hereby grant to AMC Networks LLC a worldwide, non-exclusive, royalty-free, transferrable license to modify, use, reproduce, distribute and display the content, in whole or in part, in any and all media throughout the world in perpetuity. You understand that your entry may be accessible by all viewers of the AMC Channel Twitter account onto which it is uploaded;
• You represent that the photo you provide is of you, that you own the rights to the photo linked to your account, and that it does not contain any content which infringes anybody else's rights or that uses or depicts anybody else's name or picture or any material which contains trademarks and/or copyright protected material;
• By participating in the promotion, you agree to defend, indemnify and hold harmless AMC Networks LLC, its directors, employees and agents, from and against any and all claims, damages, losses, liabilities, costs or expenses (including but not limited to legal fees) arising from: (i) your use of and access to the Twitter account hosting the promotion (ii) your breach of any of these terms; (iii) your breach of any third party rights, including without limitation any copyright, intellectual property, or privacy right; (iv) your breach of any laws and regulation in creating, posting and/or subsequently amending your submissions; or (v) any claim that any one of your submissions caused damage to a third party. This indemnity shall survive the duration of the promotion.
• By submitting a photo and participating in the promotion, you agree to be bound by these Terms & Conditions. AMC Networks LLC reserves the right to modify the content of these Terms & Conditions at any time without prior notice for the sole purpose of ensuring the execution of the promotion.
The Walking Dead Season 6 premieres Sunday, October 11 at 9/8c on AMC. Watch the official trailer on amc.com.
Get your Season 6 updates first. Sign up for Dead Alert.
Read More