Press
Robert Kirkman Previews Season 6 With EW; Dead Promotes Three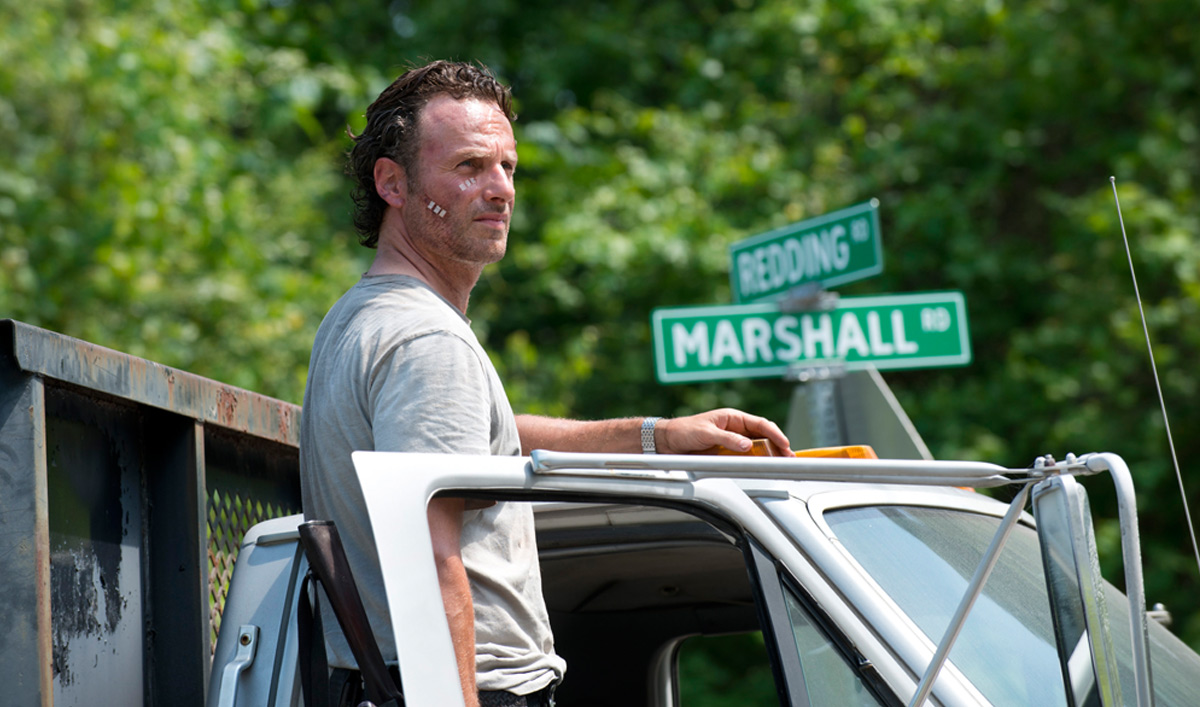 This week, Robert Kirkman previews Season 6 with Entertainment Weekly, while The Walking Dead promotes Tovah Feldshuh and two others to series regulars. Plus, Josh McDermitt reveals his zombie-killing weapon of choice to USA Today. Read on for more:
• Previewing Season 6, Robert Kirkman tells Entertainment Weekly that having Lennie James, "who was such a huge part of season 1 and amazing every time we had him back, finally a regular part of this show is really going to energize this show for the coming season."
• The Hollywood Reporter says that three cast members are now series regulars: Tovah Feldshuh, Alexandra Breckenridge and Austin Nichols.
• USA Today learns from Josh McDermitt that Tyreese's hammer is probably the best apocalypse weapon because it's "got a nice grip, it's round on one side and has the hook on the other; that thing's gonna do a lot of damage."
• People checks out an exclusive look at Daryl wiping blood off his hands and asks, "But is it the blood of a walker? Or a fellow resident of Rick (Andrew Lincoln) and his friends' adopted home of Alexandria?"
• TheWrap spotlights a new Season 6 photo of Sasha "preparing to square off against a host of walkers."
• Meanwhile, The Hollywood Reporter has a Season 6 first look at Carol polishing knives, and Melissa McBride reveals that Carol is "adaptable — and one of her weapons is adaptability."
• Variety showcases Season 6 portraits of Morgan and Ross.
• In a new Season 6 photo at TV Guide, Lauren Cohan's Maggie "not only has her gun at her side, but she looks a little eager to unholster her weapon."
• Entertainment Weekly has a new photo of Andrew Lincoln's Rick, who "has a lot on his mind as we enter season 6 of The Walking Dead."
• TV Insider has a Season 6 first look at Michonne "being reunited with her trademark katana, which she briefly 'retired' last season after becoming co-constable of the Alexandria Safe-Zone."
• Danai Gurira, speaking with Entertainment Tonight, says Michonne can't put her katana away again "and explore other parts of my humanity when other people might take that power from me and misuse it."
• Yahoo TV has "a rundown of everything we know about the season so far, aka all the reasons to expect it's going to be the best season yet."
• MTV relives all the times that Rick was "the epitome of fatherly grace on Walking Dead, even when his son, 'Coral' (Chandler Riggs), was an occasional trash person."
• HitFix spotlights the new Season 6 key art, describing it as "appropriately grim. Rick Grimes, armed to the teeth, squints into the distance while dark storm clouds gather behind him."
• Zap2it also has a Season 6 character portrait, which "reunites Rick with Morgan (Lennie James) inside the walls of Alexandria."
• The New York Post checks out a new Season 6 walker photo, commenting, "There's nothing that says 'The Walking Dead is returning soon' like the sight of a fresh zombie who obviously hasn't had lunch yet."
• Christian Serratos, interviewed by Atlanta about Season 6, says, "We'll see Rosita kind of take her stances in the group. There are going be some really, really cool moments."
• Lennie James reveals at Fan Expo Canada 2015 that more of Morgan's backstory will be revealed during Season 6, according to ComicBook.com.
• Josh McDermitt enjoys Wizard World Comic Con Pittsburgh, telling the Pittsburgh Post-Gazette that it's "so fun to share the excitement and joy and the fervor and the rabid nature of these fans, it's just so exciting. It's our Super Bowl, in a sense."
• WhatCulture explains "the biggest reasons why Season 6 could be the pinnacle of The Walking Dead so far."
• Bloody Disgusting has news of a new series of action figures: Beth, T-Dog, Constable Michonne, Water Walker, Grave Digger Daryl and Death Scene Dale.
• Deadline reports that Steve Coulter has joined the cast of The Wizard of Lies, HBO's movie about Bernie Madoff.
To stay up-to-date on all the latest news about The Walking Dead, sign up for the weekly Dead Alert newsletter.
Read More