Press
Andrew Lincoln Talks Season 6; Danai Gurira Interviewed by NY Times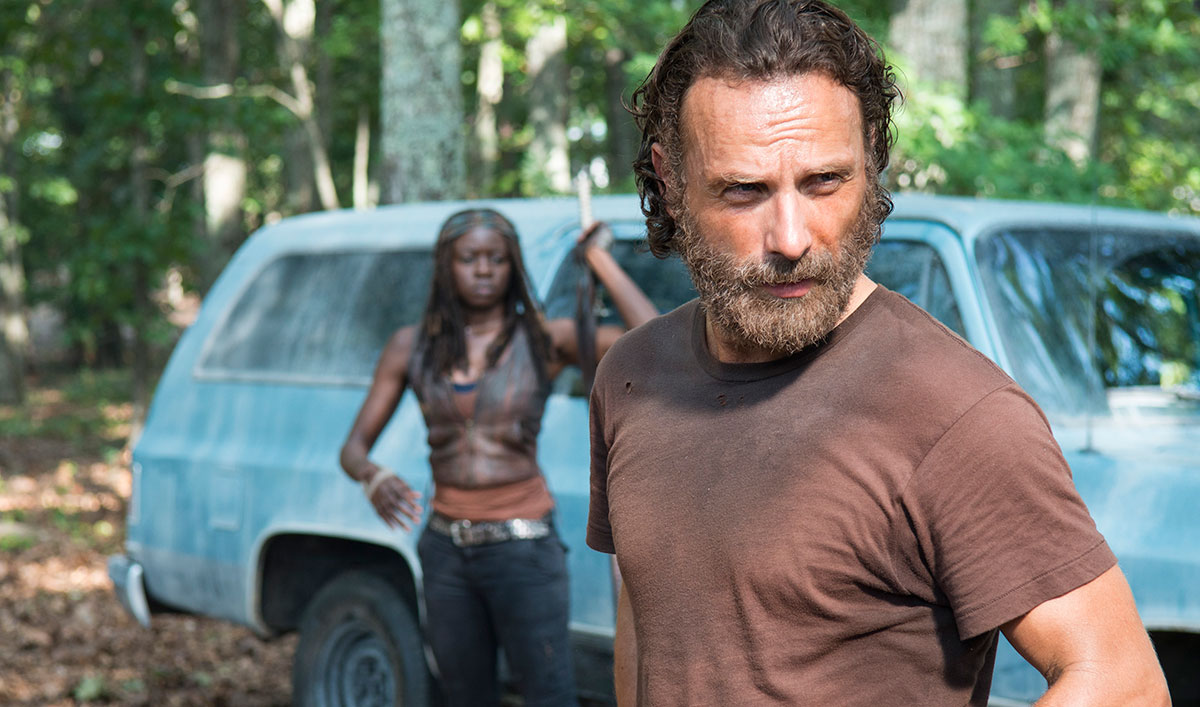 This week, Andrew Lincoln previews Season 6, while Danai Gurira is interviewed by The New York Times. Plus, Variety reports that Gale Anne Hurd was honored at the Women Making History Awards. Read on for more:
• Andrew Lincoln, talking to WorldScreen, says the story of Season 6 is "whether or not [Rick's group of survivors] can integrate [with the Alexandrians]."
• Danai Gurira tells The New York Times, "When I got the audition for Michonne, I thought, Dreadlocks and a sword? Who is this? And then, funnily, when I did a lot of research on her, I was reminded of some of the women soldiers from the Liberian war I had researched when writing Eclipsed."
• Variety reports that Gale Anne Hurd was honored recently at the National Women's History Museum's fourth annual Women Making History Awards.
• Chandler Riggs says Gale Anne Hurd told him he could direct an episode when he's 16 and he's been "loving Greg [Nicotero]'s work, and I've been thinking about shadowing him for a few episodes," according to Paste.
• The Walking Dead is No. 1 on ComicBook.com's Comic Book TV Power Rankings because this is "the show to beat, and not just for comic book shows, but for TV in general, as the ratings behemoth just keeps on winning."
• MTV speculates that "it's not completely out of the realm of possibility that some minor character from FTWD could wind up on TWD at some point."
• ComicBook.com spotlights a new video, where "AMC posed a fascinating question to the cast of The Walking Dead: What advice would your Season 6 character give your first season character?"
• IGN features a new character poster of Sonequa Martin-Green's "traumatized Sasha."
• Steven Yeun's Glenn, "ready to take no s–t, carrying a big gun and not exactly smiling into the camera," appears on ComicBook.com.
• Chatting with Undead Walking, Josh McDermitt says, "Eugene was several lies into a con. People say 'how were you able to keep all these layers going?' and I just had to believe it myself. I think that if you believe what you're saying, then you'll let other people believe it too."
• Cosmic Book News features a new Season 6 promo titled "First Time Again."
• Design & Trend explains why "there's plenty of reason to think that this year's first episode might be its best."
• Danai Gurira talks to Broadway World about her play, Eclipsed, saying, "There are some amazing African women out there, people whom we tend not to pay attention to in our global community but we should." New York Theatre Guide notes that Eclipsed's run at New York's The Public Theater has been extended until Nov. 29.
• According to Flickering Myth, the Season 5 limited edition Blu-ray, featuring the Asphalt Walker in its packaging, will be available Nov. 16.
• Dread Central reports that an 18-inch figure of Sheriff Rick Grimes is now available for pre-order (and will be released by Gentle Giant in the third quarter of 2016).
To stay up-to-date on all the latest news about The Walking Dead, sign up for the weekly Dead Alert newsletter.
Read More