Press
Dead on EW Cover; Andrew Lincoln, Norman Reedus Tease Season 6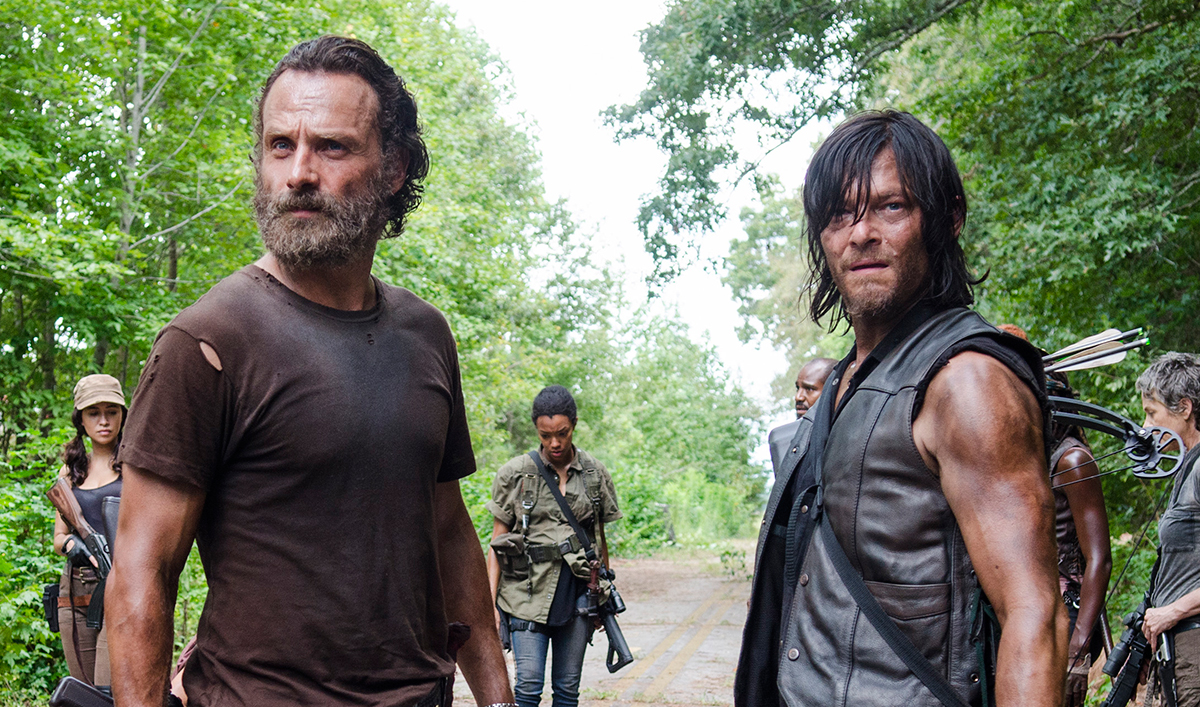 This week, The Walking Dead appears on Entertainment Weekly's cover, while Andrew Lincoln and Norman Reedus tease the season to come. Plus, EW has the scoop on the show's new characters. Read on for more:
• Andrew Lincoln, Melissa McBride and Norman Reedus appear on EW's cover, and Greg Nicotero explains that Season 6 opens "right in the middle of this heightened action sequence, and we then jump around in that time frame to allow the audience to put together in their own minds what it is that we actually just saw."
• Andrew Lincoln tells Entertainment Weekly that, in Season 6, there are "more walkers than we've ever faced before. I think the storytelling is astonishing."
• Entertainment Weekly interviews Norman Reedus, who says Season 6 is about "our group being okay with stability and fighting stability and figuring out if we can actually live with other people."
• Melissa McBride also weighs in, disclosing to EW that there are "a lot of things going on in different story arcs and different characters coming in that are really pitting the characters against their own selves as far as, you know, where they stand."
• With Alexandria "about to get a little bit bigger," Entertainment Weekly shares the scoop on Season 6's new characters, played by Ethan Embry, Merritt Wever and Corey Hawkins.
• Scott Gimple shares with Entertainment Weekly that it's "absolutely a possibility" that Negan will show up by the end of Season 6.
• The Walking Dead will return to Halloween Horror Nights at Universal Studios, featuring Season 5's "most intense, zombie-tastic moments," USA Today reports.
• Entertainment Weekly goes behind the scenes of the cover shoot and shares the story of some hijinks between the stars. There's also a gallery of new Season 6 photos at EW.
• The Walking Dead cast members tell Entertainment Weekly "who is the lamest of the lame when it comes to surviving a zombie plague, and their answers may surprise you."
• HitFix spotlights some new photos of Season 6's zombies, commenting that "things have gotten a little squishy."
• Andrew Lincoln and Melissa McBride are nominated for Entertainment Weekly's EWwy Awards for the Emmy-snubbed.
• In this bonus feature from the Season 5 Blu-ray and DVD at People, the cast and crew discuss their reactions to Beth's death, with Andrew Lincoln revealing, "Watching Norman [Reedus] carry her out was just the worst thing. And then seeing Maggie and Glenn's reaction … it's so unbelievably sad."
• Additionally, The Hollywood Reporter has a deleted Season 5 scene where Andrew Lincoln's Rick talks about the plan to save Beth and Carol, warning, "If this goes south, we'll kill everybody."
• IGN has another bonus feature clip from the Season 5 Blu-ray and DVD titled "Noah's Journey."
• Variety reports that Lupita Nyong'o will star in a production of Danai Gurira's Eclipsed, which will open Oct. 14 at New York's The Public Theater.
• Moviepilot selects the five saddest deaths in the series, from Tyreese to Beth.
• WhatCulture ranks the show's 12 best cult heroes.
• Australia's Daily Telegraph labels The Walking Dead one of the best TV binges ever, noting that "this quality horror drama about the human fallout from the undead apocalypse smashes US ratings records with every new season premiere."
• Undead Walking spotlights a new building set for Dale's Winnebago, courtesy of McFarlane Toys.
To stay up-to-date on all the latest news about The Walking Dead, sign up for the weekly Dead Alert newsletter.
Read More