Press
Norman Reedus on Season 6; Emmy Support for Melissa McBride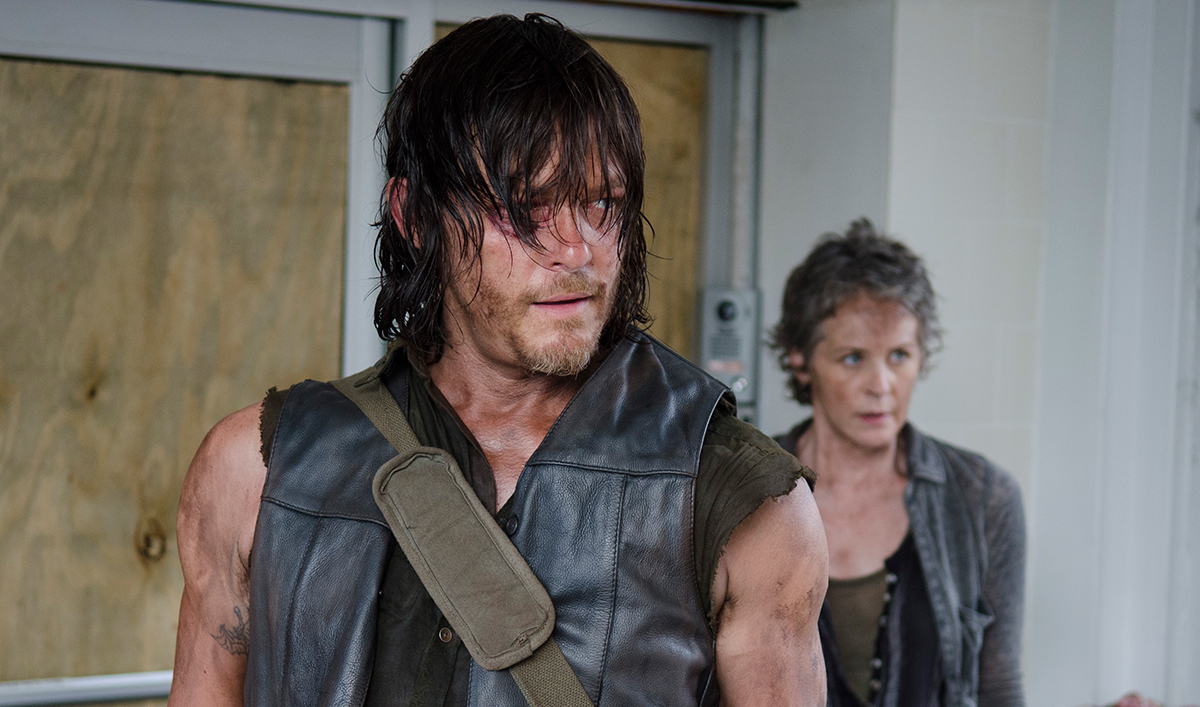 This week, Norman Reedus and Scott Gimple tease Season 6, while Chris Hardwick thinks Melissa McBride should get an Emmy nod. Plus, Jon Bernthal tells Access Hollywood about his pit bulls on The Walking Dead set. Read on for more:
• Norman Reedus speaks with Nerdist about Season 6, teasing, "There's lots of action and lots of drama and lots of sadness like we always bring, but this season's particularly complicated. The storylines are really interwoven with future and past."
• Scott Gimple has this to say about Season 6 to Entertainment Weekly: "I think there's a really cool aspect to the first half of the season that serves almost as a prequel to some direct comic stuff in the second half of the season."
• ComicBook.com talks to Chris Hardwick, who wants an awards nod for Melissa McBride: "If she doesn't get nominated for an Emmy, there is no justice in this entertainment universe."
• Jon Bernthal tells Access Hollywood that his pit bulls were a fixture on The Walking Dead set and one of them "may have fallen asleep" during Andrew Lincoln's audition.
• ComicBook.com reports that Robert Kirkman has confirmed that a Season 6 trailer will debut at Comic-Con.
• Entertainment Weekly debuts the first photos of Season 6 and comments that "judging by what we see, there is still plenty of danger within the walls of Alexandria."
• The Los Angeles Times highlights The Walking Dead as one of Comic-Con's "must-see" panels. IGN is "most excited" about the panel. So is Zap2it, which says the panel is "exciting just to see the cast banter among themselves. The fans love them, they love each other, and Norman Reedus brings the house down every year."
• Speaking with W Magazine, Lauren Cohan says, "I don't know what this obsession with zombie culture says about us."
• MTV spotlights a Season 6 set photo that Norman Reedus shared on Instagram, where he's "getting some well-deserved attention from both Carol (Melissa McBride) and Tara (Alanna Masterson)."
• Design & Trend lists "five Rick Grimes quotes from season 5 and beyond that inspired us all."
• WhatCulture takes a look at "thirteen back stories from The Walking Dead that should be expanded on."
• Looking to Season 6, Moviepilot wonders, "Could we see Rick ousted, at least for a while, by a new leader? If so, which characters could we see stepping up to the mantle?"
• Undead Walking talks to Steve Coulter, who says of Reg that it was "very clear from the script that this was a man who didn't act out of fear, that he was kind and open-minded, and that he didn't have any hidden agenda."
• The Daily Telegraph explores Aussie actors making it big in the U.S., citing as an example Benedict Samuel who plays one of the Wolves.
• Hidden Remote counts down the top 10 episodes, which "have stuck in fans' minds the longest, the ones we go to bed thinking about how awesome/heart-breaking they were."
• MTV calls Norman Reedus the King of the Celebrity Selfie and decides "to honor the man… with a compilation of his finest selfies."
• Speaking with Irish Examiner, David Morrissey discusses the time Andrew Lincoln warned him about Georgia's snake problem.
• Undead Walking chats with Jose Pablo Cantillo, who talks about his time on The Walking Dead, saying, "Walking through the woods on my very first day of arriving in Senoia to be introduced as Caesar along with the re-introduction of Merle, Rooker, it was such a great episode and I feel lucky to be introduced during that time."
• Dread Central reports that Wal-Mart, Target and Best Buy will each get different packaging for the Season 5 DVD/Blu-ray.
To stay up-to-date on all the latest news about The Walking Dead, sign up for the weekly Dead Alert newsletter.
Read More