Press
Lennie James on Morgan's Return; Dead's New Decaying Walkers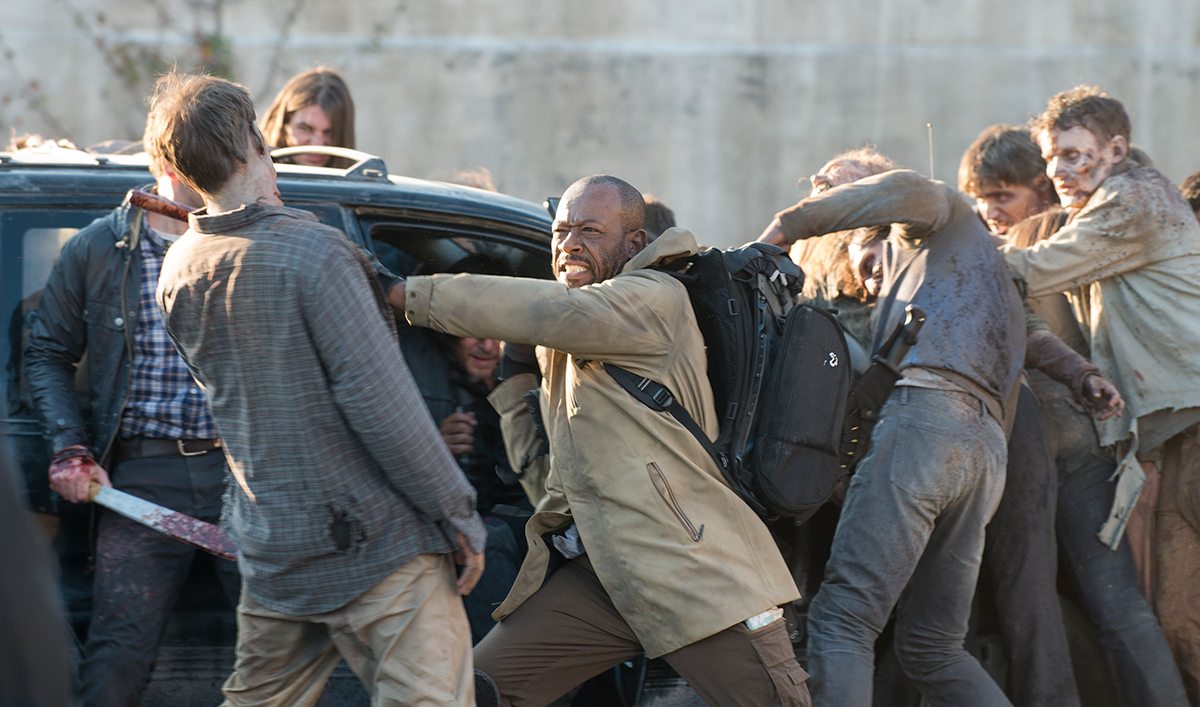 This Week, Lennie James discusses the themes that Morgan will bring to the Alexandria Safe-Zone. Plus, hints about Season 6 plot and sneak peek photos of this year's walkers. Read on for more:
• Access Hollywood interviews Lennie James on Morgan's return to the show after the secrecy of his role in Season 5, with James proclaiming, "I'm allowed to be in town. It's incredible. It's like being let out of the cave."
• TV.com shares sneak peek photos of Season 6's walkers, saying that, "These guys are just a few steps above being a puddle of muck and liquid flesh on the ground." Uproxx agrees, adding, "That is FOUL."
• The Huffington Post uses game theory, "a branch of mathematics that can be used to understand strategic interactions between humans," to analyze three famous scenes from The Walking Dead, including the Governor's last stand in Season 4 Episode 8, "Too Far Gone."
•E Online divulges creator Robert Kirkman's vision for The Walking Dead's ending, with him saying, "I see the story from beginning to end, over many, many years about humanity overcoming this insurmountable apocalyptic situation."
• ComicBook.com shares which fallen survivors the cast members would resurrect, discovering that Shane is a top choice.
• Cleavland.com reports that Season 6 will be flashback heavy, with producer Scott Gimple saying, "There will be a whole lot of flashbacks in the first half of this season. I'm working on an entire episode that is a flashback." Blastr hopes for flashbacks from one comic book character in particular.
• Sploid explains how The Walking Dead uses special effects to fake gory zombie kills, stating that, "the blood and gore look real because of all the amazing special effects on the show."
• Fansided can't wait for Abrahams defining moment, which Michael Cudlitz teased will be coming in Season 6.
• Today spotlights David Morrissey, who has been helping Syrian refugees with the United Nations' Refugee Agency.
• What Culture shares 10 crazy fan theories for how the show ends, including that it was all Rick's coma dream.
• Movie Pilot highlights the "bromance" between The Walking Dead's male stars, stating, "If you looked up that word in the dictionary, what it really should have beside it is a picture of Norman Reedus and Andrew Lincoln."
To stay up-to-date on all the latest news about The Walking Dead, sign up for the weekly Dead Alert newsletter.
Read More