Press
Dead Makes a Splash, Meets Conan at Comic-Con; Scott Gimple on Threats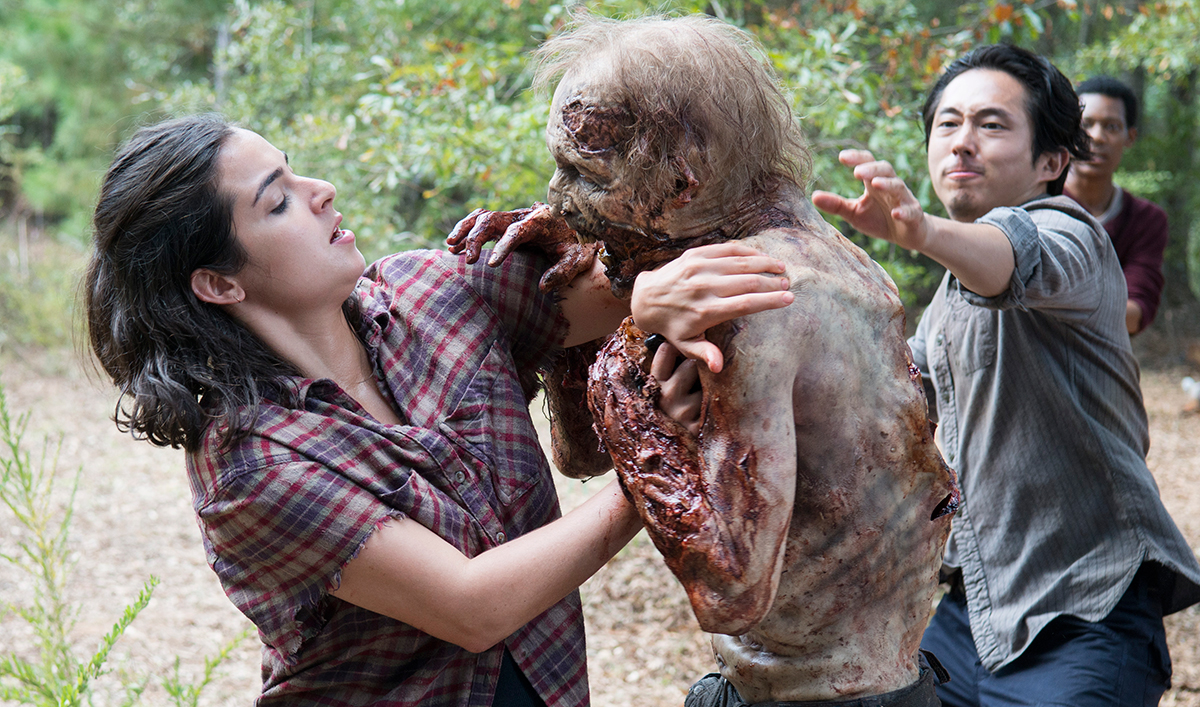 This week, The Walking Dead makes a splash at Comic-Con and meets up with Conan O'Brien, while Scott Gimple talks Season 6 threats to Entertainment Weekly. Plus, more wall-to-wall coverage from the San Diego convention. Read on for more:
• "The major reason for fans to get excited looks to be a brewing confrontation between Rick and Morgan," Vanity Fair enthuses after watching the Season 6 trailer at Comic-Con. Adds CarterMatt, "What this promo is really effective at is showing us that the show is really upping the ante when it comes to bringing zombies onto the screen."
• Geeks of Doom has clips from Danai Gurira, Steven Yeun and Norman Reedus' appearance on Conan, including which one plays the most "badass" character (courtesy of Uproxx). Yahoo TV has an account of the cast's turn on the show.
• Scott Gimple teases to Entertainment Weekly, "There are multiple threats, even in the first half of the season. And sort of different versions of threats we've seen before."
• At the show's Comic-Con panel, Scott Gimple reveals that, in Season 6, "Rick absolutely is faced with challenges to the way he does things and also including these people in the way that he does things," according to TVLine. ComicBook.com, Entertainment Weekly, /Film, Geeks of Doom, HitFix, io9, the Los Angeles Times, MTV, TV.com, TV Guide, Us Weekly, USA Today and Zap2it also attended the packed panel. CarterMatt has a video of the panel.
• Members of the cast share with MTV  "which fallen costar they'd want to bring back from the dead."
• Rick enters Season 6 "coco-loco crossed with a little bit of bats— smeared with a side portion of really not well," Andrew Lincoln tells Entertainment Weekly.
• Scott Gimple warns TVLine, "This is a group that knows how to survive in a world where a lot of people don't. They've reached a place of safety. They have the power to survive. What are they gonna do?"
• In a Comic-Con interview, Danai Gurira looks ahead to Season 6, asking MTV, "Is this the same Morgan that we met in 'Clear'? Maybe not. Is this the same Rick that was in 'Clear'? Maybe not."
• Norman Reedus, Lennie James and Chandler Riggs recount to Yahoo TV their "coolest moments" on set.
• MTV documents the 16 times Norman Reedus was Comic-Con's "most lovable oddball."
• ComicBook.com learns from Andrew Lincoln that the "thing that I love about playing scenes with Danai as Rick and Michonne is that they have a kind of jokiness to them; there's a gallows humor that's a bit cowboy, because they're both warriors, all the rest of it…"
• For her part, Danai Gurira says about Michonne and Rick, according to Cinema Blend, "He really was the one who challenged her to step out of who she was being and what she was becoming."
• Looking at Comic-Cons past, MTV reviews a "timeline of the most awesome Walking Dead moments yet, in pictures."
• Business Insider reports that The Walking Dead's Comic-Con booth "re-created the infamous season 5, episode 14, scene in which Noah (Tyler James Williams) meets his demise."
• AMC's vice president of promotions reveals to The Huffington Post that the most important part of being a convincing zombie is the walk: "You have to loosen up. Your spine gets kind of serpentine and your mouth gets a little [slack-jawed]. You have to kind of drag your foot as well."
• Entertainment Weekly debuts the first Season 6 photo of Andrew Lincoln as Rick, commenting that it "appears Rick is at a crossroads in his life." ComicBook.com also has new images of Rick, Michonne and Morgan, with each one "separated from hungry zombies by a paper-thin door."
• Flickering Myth highlights the new poster for Air, a movie starring Norman Reedus that opens Aug. 14. Entertainment Weekly has the movie's trailer.
• According to The Hollywood Reporter, Gale Anne Hurd, Warren Ellis and Universal Cable are adapting a vigilante crime drama called El Pantera.
• TODAY spotlights several TV-themed tours, including a zombie-themed one in Atlanta and one fully devoted to The Walking Dead in Senoia (which doubled as Woodbury).
To stay up-to-date on all the latest news about The Walking Dead, sign up for the weekly Dead Alert newsletter.
Read More