Q&A
The Walking Dead Q&A – Lennie James (Morgan)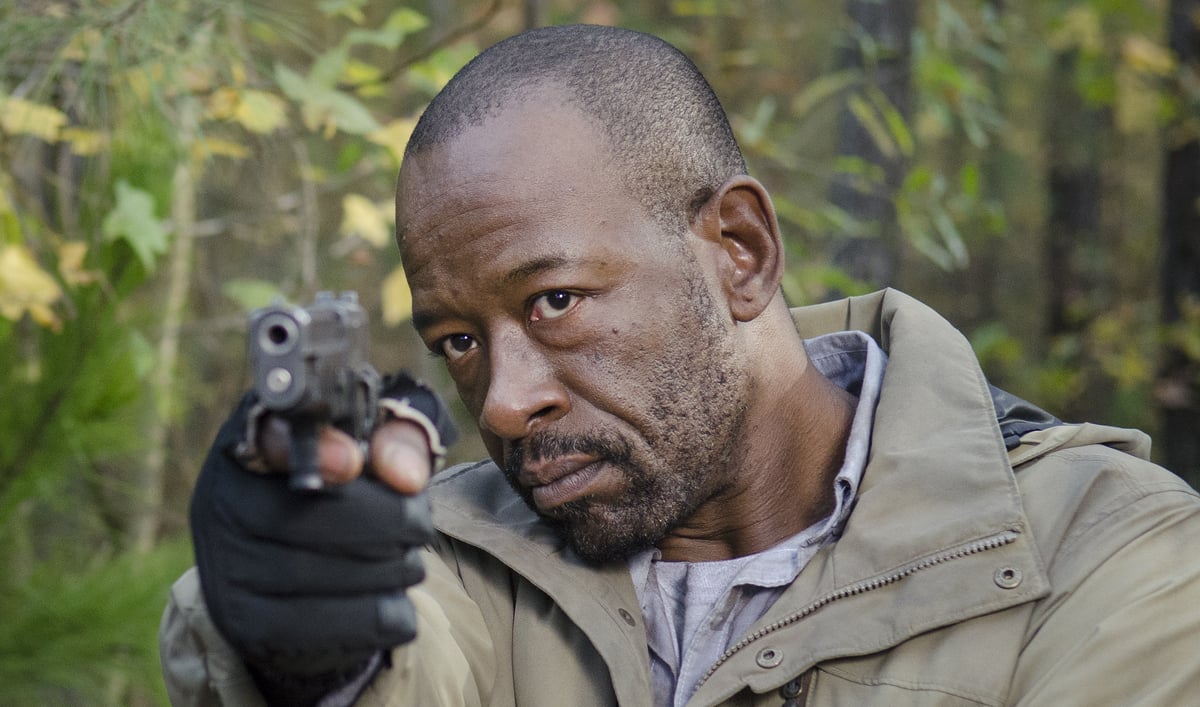 Lennie James, who plays Morgan on AMC's The Walking Dead, talks about how fans helped to bring his character back and what it was like to reunite with clean-shaven Rick.
Q: When did you find out, for sure, you would be returning? What was your reaction when you heard the news?
A: I knew it was a possibility over a year ago and I was very happy once it became a reality rather than a hope and a wish.
Q: Fans have been very interested in your character since we first met him . What is it about Morgan that people enjoy so much? 
A: I'm very glad [the fans] see something. They are, by far, the main reason why Morgan is there. It's their voices that have been heard by production to bring him back. As for me, I enjoy playing him because he's an interesting guy. A lot of the major events that's happened to him have shifted him forward or backward – and they've happened away from the audience. The difference between the man you see in the first episode and the man you see in Episode 312, "Clear" are hugely different. That transition has happened away from the audience. So, it's always exciting for me to reintroduce Morgan in his new state, wherever that may be.
Q: Every time we meet Morgan, he seems to be in a different place than the last time. Did you think Morgan had lost it when we last saw him?
A: That was possibly rock bottom. That was a man you were seeing at his worst. He had lost all semblance of himself in the fact that he had lost his wife and son. Both of those relationships were defining attributes of who Morgan was. He was a husband and a father, so he lost himself. What you saw was a man who had nothing left to live for, but couldn't find solace in dying. I jokingly describe it as him totally going cray cray. [Laughs]
Q: Morgan has certainly been through a lot. How do you get inside his head when you're playing him?
A: I've been very lucky on the show in that the journey of this man is so well mapped out in the scripts… A lot of the work was done for me and all I had to do was be true to what was written and let the moments play out. In that way, my job was made very easy.
Q: Did you enjoy returning to Atlanta? How did the cast and crew greet you and welcome you back?
A: I'm always staggered when I go back to the set because people don't leave that show. Cast members come and go because that's the nature of the story, but crew-wise, it's like returning to a place that you regularly go to on holiday with your family. You return to the village. There are crew members who were there when we first did the pilot and are still there. They are proud of the product they're putting out. Going back to familiar faces is always good.
Q: What do you think of the newly clean-shaven Rick? How does he compare to the Rick we met in the Pilot?
A: You see Rick with the big beard and you think, "wow, it's really taken a toll on him" and when he shaves it all off, he's in good shape. It literally took years off of him. He was fresh face Rick again and it was slightly startling, but good to see.
Q: There have been some comparisons made to Rick's character and Morgan's, and their struggles. Do you see any similarities?
A: I very much do. You meet the two of them in the first episode and then Morgan goes in one direction and Rick in another. The difference is you follow Rick and you don't follow Morgan, but each time I reappear, I have to fill in the gaps. With "Clear," I had to be the person who had gone on the journey and be aware of why he's in the state that he's in now. You're walking with Rick and every now and then, you bump into Morgan and realize there's another journey going on in this world.
Q: When we first spoke to you, way in back in 2010, you listed the rifle as your favorite post-apocalyptic weapon. Is that still your pick, or has your preferences changed since then?
A: I still like the rifle, but my weapon of choice in this world has changed to the staff.
Q: Morgan takes out walkers and human alike with relative ease. Is it fun to play a character who is such a bad-ass?
A: I've had to train and that's one of the exciting things about coming back. One of the things I love most about my job is learning new skills. For the new incarnation of Morgan, I've had to learn the skills of stick-fighting and I enjoyed it immensely.
Q: Morgan has finally found Rick and arrived in Alexandria. Do you think he's cut out to live in a (relatively) normal society?
A: I don't know. We may find out. There has been a transition in him and we have yet to find out where that transition came from, what caused it and what effect it might have now that he's caught up to Rick and the rest of the survivors.
Click here to read an interview with Tyler James Williams (Noah).
Read More