Press
Lennie James On Morgan's Return; Norman Reedus, Andrew Lincoln Talk Finale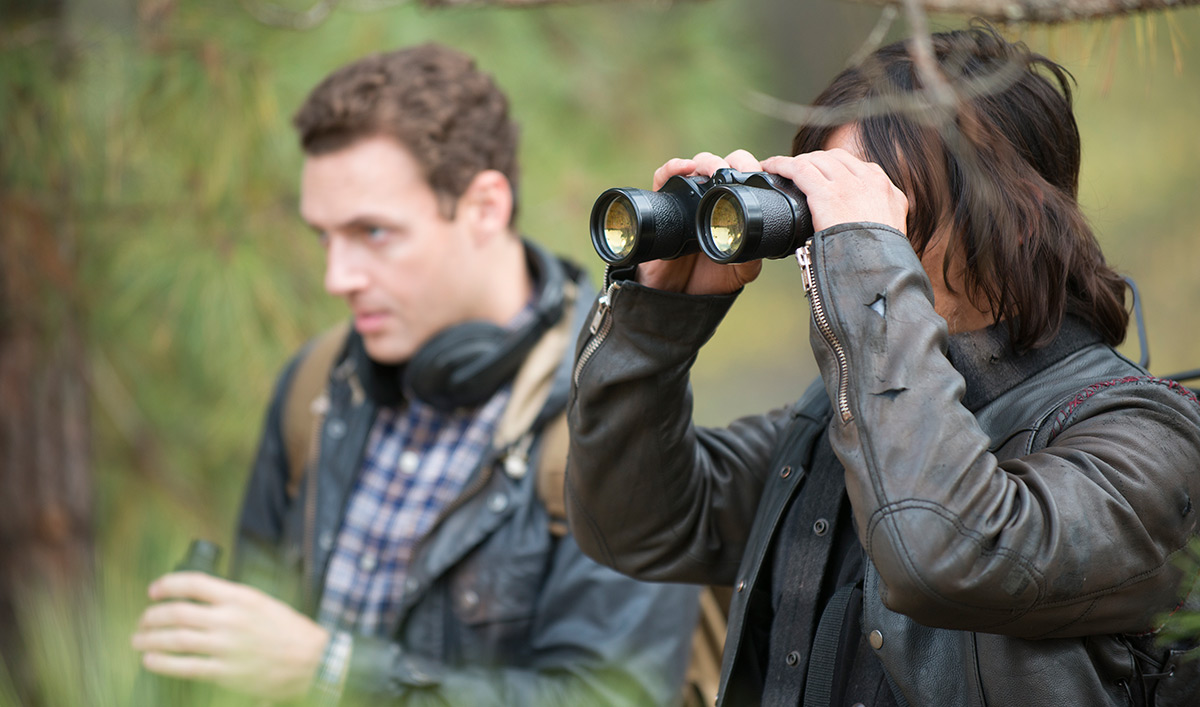 This week, Lennie James discusses Morgan's return, while Norman Reedus, Andrew Lincoln, Gale Anne Hurd and Steven Yeun break down the Season 5 finale. Plus, the finale ratings break a new record. Read on for more:
• Lennie James, interviewed by USA Today, points out that Rick is the "only person on the planet Morgan knows" because he "lost his wife and child, the only other people he had a connection to in the post-apocalyptic world."
• Lennie James teases to TVGuide.com that there's "an origin story to the Morgan we meet in the season finale. I don't know which way it's going to be told, but I am pretty sure that origin story will in some way, shape or form will come to light in Season 6 and explain who this Morgan is."
• Talking to Variety, Lennie James says that Morgan's "never been part of a group. The biggest his group ever got was him and his son. It will be very interesting to see who he is, who he'll become, what he might do and what he might not do in the company of others."

• Entertainment Weekly learns a little more from Lennie James on Morgan's origin story, "that Morgan meets a particular person who had an effect on him and he [Scott Gimple] explained to me in very broad terms the specifics of that meeting."
• The "change of weapon of choice is as much about the change in Morgan as his appearance and his sense of himself now," Lennie James explains to Yahoo TV.
• Speaking to Deadline, Gale Anne Hurd adds that "with Morgan now having eschewed violence and become like a Zen warrior we'll see what kind of impact that has on Rick as well as Deanna and the new group that's a combination of Alexandria and our survivors."
• Norman Reedus says to Entertainment Weekly that Daryl and Ross' moment in the car, while surrounded by walkers, is a "really good Butch Cassidy and the Sundance Kid moment."
• For Season 6, Norman Reedus tells The Wall Street Journal, "I would like for all of us to recharge our batteries for a bit and get back to the fight, get back to the war. I love it when Daryl is Daryl." Reedus also tells Yahoo TV he wants Daryl "to get mean again. I want him to get super angry at something, which I'm pretty sure, it will happen eventually."
• Asked by The Hollywood Reporter if Rick is too far gone, Andrew Lincoln answers, "I defend my character, and I don't see him as too far gone; I see him as realistic in terms of his own experience of the world."
• Steven Yeun, talking Morgan with Variety, thinks Glenn and Morgan will get along since they "might have that common bond of 'all life is precious.' We shall see though, I don't know if Glenn has those bow staff skills that Morgan has."
• Andrew Lincoln tells Entertainment Weekly that Morgan showing up is "like a mirage. This guy keeps showing up every two seasons. It was a beautiful ending and I think that it opens the door to so many questions. He seems like a changed man."
• Yahoo TV has Andrew Lincoln's assessment of Season 5: "For me, this was one of the most enjoyable seasons. Certainly for a while, I mean, it was just so… it just kept ahead of the curve, you know? It just kept changing."
• The Daily Beast asks Andrew Lincoln about Jessie, and he says she's "the first woman that makes this place feel real for Rick, and makes a future there seem possible."
• Speaking with International Business Times, Andrew Lincoln compares Rick and Shane, saying, "I was thinking about Jon Bernthal all the time this season. The echo of the barn scene with Sophia coming out was very much like [episode] 15."
• Why didn't Glenn kill Nicholas? Gale Anne Hurd tells The Hollywood Reporter it's because Glenn "would have become Nicholas — not a cowardly Nicholas — but someone who could kill someone else."
• Entertainment Tonight gets Gale Anne Hurd's take on why Michonne strapped her katana back on: "I think that as much as Michonne loved that sense of relief that she was finally in a safe zone, there was probably a part of her who was thinking this couldn't last."
• Questioned about Carol, Gale Anne Hurd tells Entertainment Weekly that Carol "really can see everything in black and white; there aren't very many shades of gray for her, so in that sense she and Rick are closest in how they now see the world and what it takes to survive."
• Gale Anne Hurd talks to TVGuide.com about the Wolves, saying, "There have always been sociopaths and I think in this new world, sociopaths have free rein. Whatever twisted fantasies they have, they can live them out."
• Norman Reedus characterizes the Wolves to The Hollywood Reporter as "a whole bunch of Daryls gone south, who have gone really bad and turned into wolves. They're probably on the move; I don't think they're afraid to butcher people right out in the open."
• According to The Hollywood Reporter, the Season 5 finale was the highest-rated finale in the show's history, with 15.8 million total viewers and 10.4 million adults in the 18-49 age demographic.
• In Entertainment Weekly, Nathan Fillion pens a love letter to the show: "Thank you, Walking Dead. Thank you for enduring the heat in Atlanta. Thank you for the sacrifice of displacing yourselves from your homes. Thank you, cast and crew, writers and producers, casting and costumes. Thank you, make up and hair departments, PA's and all the artists who play walkers. All of you, thank you."
• Denise Huth says to Entertainment Weekly that one of her favorite Season 5 scenes was the throat-slitting in the premiere, "one of those epic moments where we were all looking at each other going 'Are we really doing this? Is this really going to happen?'"
• Entertainment Weekly highlights Scott Gimple's comments that "we're currently putting into motion some of our most ambitious stuff yet, and things are going to get very big, loud and scary." Also, Us Weekly rounds up the "five things we learned from the Talking Dead season finale to tide us over until we get more TWD."
• Michael Cudlitz explains Abraham's view of Alexandria at the end of Season 5 to MTV: "The place is the pot of gold, not necessarily the people. The people can be removed if they don't fit our world view."
• Josh McDermitt, interviewed by USA Today, is excited that Eugene finally started killing walkers, saying, "Eugene isn't anywhere near Daryl or Michonne in terms of his survivability at this point, but I think he's taken a step in that direction."
• The Washington Post applauds the embrace of Shane's world view, that "in the zombie apocalypse, it's the men of action you need. Shane always understood that. It's good to see that Rick has fully come around, too."
• Cleveland.com contends that Season 5 "was undoubtedly the best season of AMC's cable juggernaut to date."
• Uproxx calls not killing Carol in Season 3 "the single best decision anyone has ever made on The Walking Dead."
• Fansided compiles a list of all the named characters that died during Season 5, "starting with the first to go, 'Hippie' Sam."
• Uproxx traces Carol's transformation and makes the case "for why she is — like Daryl, Michonne, and Rick — unkillable."
• Entertainment Weekly reports that the Alexandria Safe Zone is a real place, "an actual development known as the Gin Property in Senoia, GA., and, yes, people do live in some of the houses."
• Lennie James tells the Sunday Express that his favorite TV show is Hill Street Blues (1981-1987) because it's "the one that spawned every other show. It's the Muhammad Ali or Pelé of television shows."
• Talking to Forbes, Chris Hardwick calls himself "the Cousin Oliver of The Walking Dead. I'm not on the show but I feel like I'm part of it. I'm not officially a Brady."
• Scott Wilson talks The Walking Dead with Georgia Straight and how he "wanted Hershel to represent the better parts of humanity."
• The Cherokee (Ga.) Ledger-News interviews Katelyn Nacon, a local teen, about playing Enid: "With Enid, I know who she is, so it is really easy for me to be her."
• ComingSoon.net reports that Season 5 will be available on Blu-ray and DVD on Aug. 25.
• For recaps and reviews of the Season 5 finale, "Conquer," check out Boston Herald, CNN, ComicBook.com, The Daily Beast, Den of Geek, Entertainment Tonight, Entertainment Weekly (recap and review), E! Online, Forbes, The Hollywood Reporter, IGN, Los Angeles Times, New York Post, People, Rolling Stone, TV Guide, TVLine, Us Weekly, Vulture, The Wall Street Journal and The Washington Post.
To stay up-to-date on all the latest news about The Walking Dead, sign up for the weekly Dead Alert newsletter.
Read More