Press
Steven Yeun, Tyler James Williams Discuss Noah's Demise; E! Online Ranks Dead's Deaths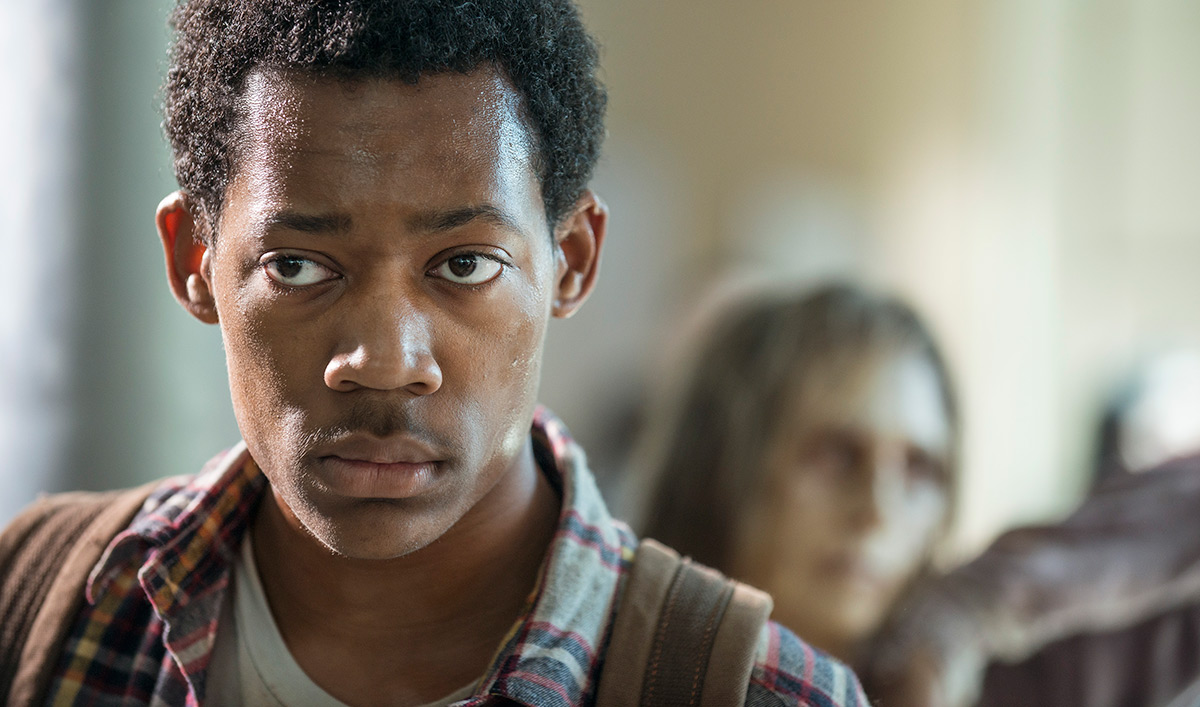 This week, Steven Yeun and Tyler James Williams discuss Noah's exit, while E! Online ranks the show's horrifying deaths. Plus, Entertainment Weekly declares "Spend" the show's most ambitious episode. Read on for more:
• Entertainment Weekly gets the scoop from Steven Yeun on Noah's death scene, "a gnarly thing to prepare for. Tyler [James Williams] was so great being right there connected with me the entire time."
• EW also talks to Tyler James Williams, who says that "what I loved about Noah is there was nothing that he actually did wrong. He was just getting terrible breaks in the world."
• Talking to The Hollywood Reporter about Noah and Glenn's camaraderie, Tyler James Williams says, "Noah's death gave Steven [Yeun] everything he needed to take Glenn to where he needs to go next."

• Tyler James Williams expresses surprise to Yahoo TV that Noah's death "really landed with people. It's crazy it made that much of an impact that close to the finale. And especially because two or three weeks earlier, everyone hated Noah, blamed him, for Tyreese's death."
• Tyler James Williams speaks with Access Hollywood about the nature of Noah's death, saying, "The idea of going out in a way that could possibly be iconic was crazy, and having been a fan, I was really kind of looking forward to it."
• E! Online ranks the show's latest "horrifying" deaths, declaring Noah's demise "perhaps the most gruesome death the show has ever done. Seriously. Hey, if you're going to go, you might as well go big."
• Speaking of which, ComicBook.com has photos of Noah's death, which "took horrible onscreen deaths to a whole new level, when one of our recurring characters was torn literally to pieces before viewers' (and Glenn's) very eyes."
• For more blood, Forbes lists Season 5's "goriest and most troubling moments."
• Entertainment Weekly calls "Spend" one of "the most ambitious episodes of the season, with five different storylines all working at once. And the haunting image of Noah being consumed by a pack of zombies in a revolving door…has to be one of the most brutal deaths in Walking Dead history."
• Cleveland.com checks out Daryl's new motorcycle, "which embodies both [Norman] Reedus' personality and Daryl's character perfectly."
• In an interview with The Wall Street Journal, Robert Kirkman clarifies that Daryl was not in love with Beth, that "there was a camaraderie, there was a friendship, there was an understanding, but, it's not like there was this great romance that didn't happen because she died."
• Radio.com talks to Music Supervisor Thomas Golubi? about Aiden's choice of music in the van.
• Speaking with ComicBook.com, Gale Anne Hurd calls Carol "fascinating," adding, "Where she started to where she is now, I think is the most remarkable journey of any character in the series. And especially what she's doing now in Alexandria, when you think about it."
• Access Hollywood learns from Josh McDermitt that he pictured Pre-Apocalypse Eugene "living in a dark apartment, by himself, maybe with his mom, and not so much a hoarder of everything, but just a hoarder of just like weird items that mean something to him that would mean absolutely nothing to someone else."
• Josh McDermitt also chats with Bustle, which says the comedian has "certainly gotten the hang of dramatic acting." McDermitt tells FOX411 that his walker-killing weapon of choice would be a machete because you would "just stab them in the brain – that's all you've got to remember."
• Ross Marquand talks to Access Hollywood about Daryl and Aaron's dynamic, how "Aaron puts his trust in Daryl because he believes he's a good guy, and Daryl, at least for the time being, is putting his trust in Aaron as far as he can, as much as he can."
• Us Weekly highlights the ways that The Walking Dead cast (past and present) and crew is helping out Gale Anne Hurd's Kickstarter campaign for a documentary called Mankiller (about Wilma Mankiller, the first woman elected Principal Chief of the Cherokee Nation).
• MTV explains why "the zombie apocalypse is pretty much the worst place to date, ever."
• SheKnows.com examines "Carol's unforgivable moments and why we let them slide."
• Talking to the Fort Worth (Tex.) Star-Telegram about The Walking Dead, Christian Serratos says, "Once you get past the zombies, I think it's one of the most real and most honest shows on TV."
• Fansided takes a look back at Bunny Slipper Girl, "the first walker we meet on The Walking Dead."
• In honor of March Madness, Fansided sets up an edition for The Walking Dead where "16 of the most popular characters will face off in head to head matchups."
• For recaps and reviews of Season 5, Episode 14, "Spend," check out The Atlantic, A.V. Club, the Boston Herald, Cleveland.com, Entertainment Weekly, Forbes, HitFix, The Huffington Post, IGN, MassLive.com, the New York Daily News, The New York Times, Paste, Time, USA Today, TVLine, Vulture, The Wall Street Journal, The Washington Post and Yahoo TV.
To stay up-to-date on all the latest news about The Walking Dead, sign up for the weekly Dead Alert newsletter.
Read More