Press
Andrew Lincoln Discusses Rick's Fight With EW; Jimmy Kimmel Hosts Dead Trio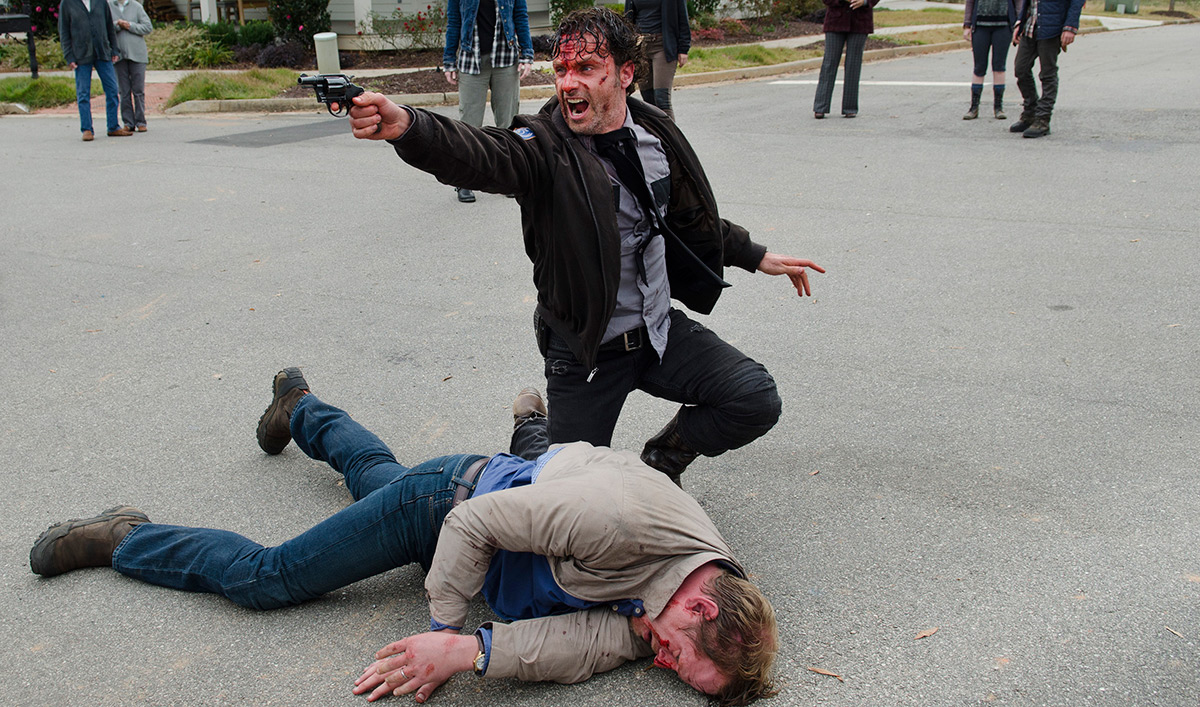 This week, Andrew Lincoln and Corey Brill discuss Rick and Pete's knockdown, drag-out fight with Entertainment Weekly, while Jimmy Kimmel hosts Norman Reedus, Melissa McBride and Steven Yeun. Plus, Greg Nicotero signs a new deal with AMC. Read on for more:
• Andrew Lincoln speaks with Entertainment Weekly about Rick's "epic" fight with Pete, a scene that "could have been, and we spoke about it, it could have been the season finale just because of what happened in the context of the story."
• Entertainment Weekly also talks to Corey Brill, who's says that shooting Pete's fight with Rick "was like the best day of my working life. I've never had so much fun and worked so hard at the same time—fantastic."
• ComicBook.com posts clips of Norman Reedus, Melissa McBride and Steven Yeun on Jimmy Kimmel Live!, including Reedus saying that it's easy to eat on set despite the show's gruesomeness because "you're starving. You get used to it. And plus there's zombies around you eating too."

• Deadline reports that Greg Nicotero has signed a new two-year deal with AMC, where he'll continue as executive producer and director on The Walking Dead and its spinoff and also develop new projects.
• On Good Morning America, Norman Reedus says, "The finale's great. There's a lot of twists and turns in the finale. A lot happens, for sure."
• Ahead of the Season 5 finale, Gale Anne Hurd tells Entertainment Weekly, "You can rest assured that not only walker blood will be spilled, but there will be a few surprises and some sad losses that no one, I think, will be able to predict."
• Yahoo TV interviews Melissa McBride, who says Carol is on Rick's side, that she is "in total agreement of what he was saying to the group when he was waving that gun around. It was the reason he went back into Jessie's house."
• Discussing Carol's domestic violence storyline with MTV, Gale Anne Hurd says, "Melissa McBride is resplendent in her portrayal of Carol. It's so nuanced, it's so powerful, even when she does things that you just have to scratch your head at."
• Speaking with Variety, Gale Anne Hurd addresses Michonne punching Rick: "Did she do that because she's embraced Deanna's approach? Or is she doing it to protect Rick from himself? Or a little of both?"
• Meanwhile, The Hollywood Reporter interviews Danai Gurira, who characterizes Michonne hitting Rick as "a new place they've arrived at as friends. It's new territory. How they handle it, that we'll have to see!"
• TVLine honors Andrew Lincoln as its performer of the week, as does Hypable. Meanwhile, Lincoln is Entertainment Weekly's runner-up MVP of the week because of Rick's trajectory in last week's episode: "Right up to the moment when Michonne hit him, the audience is completely invested in this character turn. Well done, Mr. Lincoln. Well done, indeed."
• Yahoo TV gets Tovah Feldshuh's take on Deanna, a person who she says is "trying to weigh the scales of risk/benefit, truth and lie. She's faced with a lot of lies in this past episode… pretty rough. That's why she videotapes things."
• Entertainment Weekly learns from Steven Yeun that Glenn is "having a crisis of conscience at this point. He's wavering up and down between whether he wants to accept the world as it is."
• Sonequa Martin-Green talks to Yahoo TV about Sasha's fear of connection, that she views it "as very high-risk, because there's been a constant cycle of connecting and then being punished for it."
• Michael Cudlitz opines to Uproxx that the Season 5 finale is "extremely satisfying and sets up almost a new beginning for moving forward in Alexandria."
• Entertainment Weekly wonders if Rick went too far when "a bloodied Rick pulled a gun on an intervening Deanna and other Alexandrians."
• Members of The Walking Dead cast share their favorite episodes from Seasons 1 through 4 with Entertainment Weekly.
• ComicBook.com highlights Gale Anne Hurd's Season 5 finale pronouncement on Talking Dead that "there will be blood, and not just walker blood."
• Going into the Season 5 finale, The Hollywood Reporter and International Business Times pose some questions they want answered.
• The Huffington Post argues that Michonne must live because she "gives us exactly what we need right now."
• Michael Cudlitz teases the Season 5 finale to Yahoo TV, that there "will be tears, but also, once again, like the writers have been doing pretty consistently, it tees up a new beginning in a very, very different way."
• Entertainment Weekly interviews Josh McDermitt, who says, "Eugene has this newfound courage and confidence. The one thing we haven't seen—Eugene and Abraham have not spoken since the big debacle in episode 5 and hopefully we get to see some sort of reunion there."
• Josh McDermitt jokes to E! Online that, in the Season 5 finale, "Eugene kills everyone now that he has some newfound courage."
• Alanna Masterson speaks with Entertainment Weekly about losing cast members and how "we accept everyone right as they come because you really don't know how long they're gong to be there for."
• Christian Serratos shares with Hello! that "Abraham's army is definitely finding their place now. There's a solid force now between all of them. They're all looking out for each other and have each other's backs and Rosita is starting to trust them more."
• Fansided checks out Josh McDermitt's Reddit Ask Me Anything, where he reveals that he based Eugene's voice on his brother.
• Tyler James Williams talks to Under the Radar about Noah's death, how it was "weird. Watching yourself essentially get torn apart is not something that is on the top of anyone's list, I believe."
• The West Orange (Fla.) Times & Observer profiles Jordan Woods-Robinson, a local resident, about the relationship between Eric and Aaron (played by Ross Marquand) and how "Ross and I decided that our story was one about love. It's a universal truth, no matter what your beliefs are."
• Moviepilot spotlights an "incredible four minute summary of The Walking Dead Seasons 1 & 2 in evergreen 8-bit (and a cheeky bit of 16-bit too, I see you) video game style."
• WhatCulture wonders what The Walking Dead would be like from the perspective of Daryl, "the ultimate man; a primal hunter with both a bad side and a soft side."
• Take SundanceTV's quiz to find out "which character you are from The Walking Dead."
• For recaps and reviews of Season 5, Episode 15, "Try," check out Atlanta, A.V. Club, Big Shiny Robot, Bloody Disgusting, Boston Herald, The Daily Beast, Entertainment Weekly, Geeks of Doom, HitFix, IGN, The Independent, The New York Times, The Oregonian, People, TV Guide, TVLine, Us Weekly, USA Today, Vulture, The Wall Street Journal and Yahoo TV.
To stay up-to-date on all the latest news about The Walking Dead, sign up for the weekly Dead Alert newsletter.
Read More