Q&A
The Walking Dead Q&A – Lauren Cohan (Maggie Greene)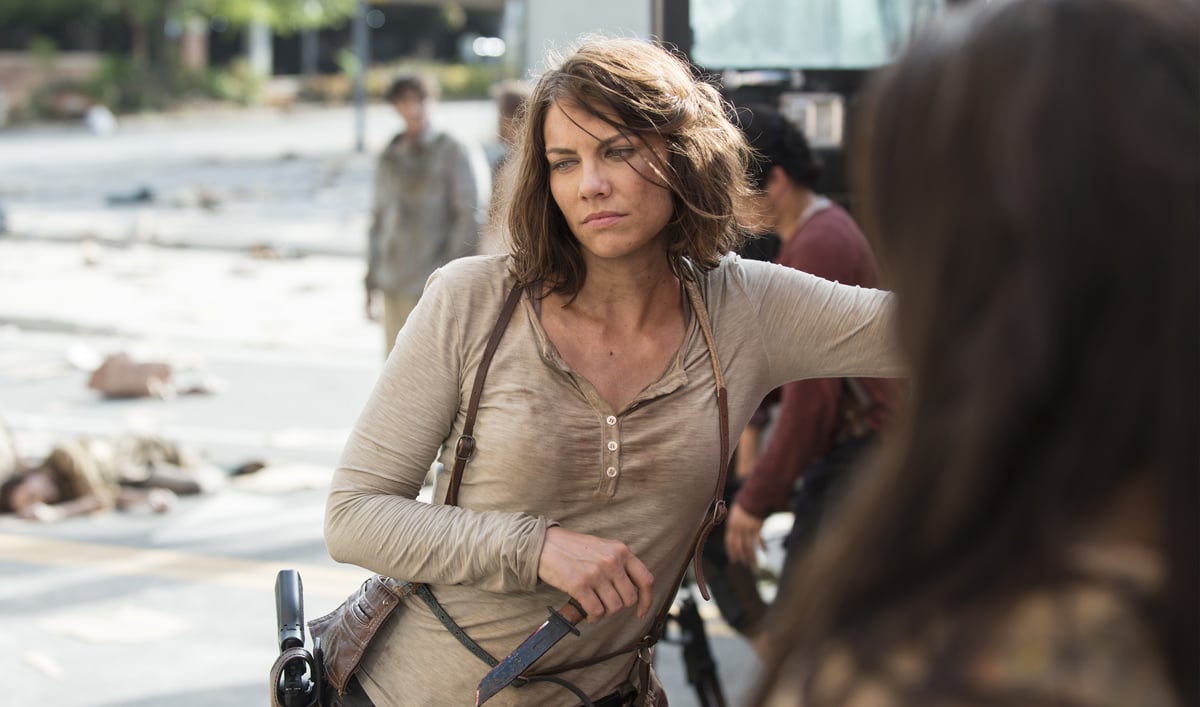 Lauren Cohan, who plays Maggie Greene on AMC's The Walking Dead, talks about losing her on-screen family and her brilliant plan for outsmarting walkers.
Q: You've totally abandoned the farm girl look! How do you feel about that?
A: She's becoming more utilitarian. When you're out on the road, you can't wear farm girl blouses and it's hard to keep your whites white. [Laughs] It's been a good evolution in that she's become more action-centered. It's fun to show the development of her character through all of these things, both overt and the subconscious. It's about creating a consistent feeling which works in conjunction with set designers, colors, etc. The sweat and dirt are all characters of the show to help communicate that. Being dirty and sweaty is completely essential for the role.
Q: After spending several years on this show, how much has Maggie become a part of you? 
A: It becomes hard to look at Maggie objectively. I think I bring pieces of myself to the character, but I'm definitely different. My life's completely different, but at the core, what we want as human beings and what we're striving for isn't that different from what all of us as human beings strive for. I try to bring my own life experiences to her. This show makes me ask questions about life. It's a role that I play, but it affects me in both directions.
Q: What was the hardest thing about shooting the Season 5 Mid-Season Finale where Beth dies?
A: As a group and definitely for Maggie, it's the powerlessness – finding out she's alive and then getting there too late. It's the sheer tragedy of being moments too late and seeing Daryl bringing Beth outside like a helpless, little broken doll. Beth's character is so pure and for it to happen to her – it completely crushes your hopes in that world.
Q: You've mentioned really appreciating your father-daughter relationship with Scott Wilson on-screen. Was it hard to say goodbye to Hershel?
A: Definitely. Beth and Hershel are these pillars of light that are ripped from the group's lives and you don't understand why. It's really hard to process the loss of these characters and we all get so close in these extreme situations together. As actors, we go through these big journeys and we are a family, no matter what, even when people leave the show.
Q: Did you think Glenn was a goner when he caught that virus last season?
A: Yeah, definitely! Especially when you first get that script and you don't know.
Q: Glenn and Maggie have joked about taking a vacation. Where would you go on vacation during the zombie apocalypse?
A: I would think it's this couple going to a fantasy land where they can pretend they have no worries. I really think any moment where you're living in a safe hold and you don't have your life immediately threatened is something precious. It's a different reality now and it's all relative. A vacation is supposed to be somewhere where you can forget about your worries, but in the apocalypse, your only worry is day-to-day survival. You're not worrying about taxes and work and things like that; and in our society, that's what we take vacations from. For Maggie and Glenn to be with their friends somewhere safe feels like vacation enough – but if I could, I would go to an island where walkers couldn't get onto.
Q: That seems to be everyone's plan!
A: Or maybe we'd need something like the Jetsons where we could hover over them. Zombies may be able to swim, but they can never fly! [Laughs]
Q: You spend a lot of time with your cast mates off-set. How is the dynamic different when you're not filming with them?
A: The dynamic on set is 90% just us and then we're performing. I can say how lucky we are that we're all genuinely such great friends. Now that we have it this way, I can't imagine it any other way. We see each other all the time. We're so bloody fortunate! So many parts of the show are action-filled and courageous and other parts are really emotionally-challenging – and we're all there for each other. It's incredible and I give thanks every day to our producers for putting amazing people on our team. The love is real and the bond is real.
Q: What has been most surprising about this season for you personally? What about most challenging?
A: The challenge was definitely losing Emily Kinney (Beth). That was both surprising and challenging for all of us. I always try to find the happy things to talk about, but there are huge losses all the time. It just keeps getting more and more intense. There are definitely still surprises to come!
Read More