Press
Scott Gimple, Cast Tease Dead in NYTimesTalk; Jimmy Kimmel Live! Spoofs Dead for Slim Jim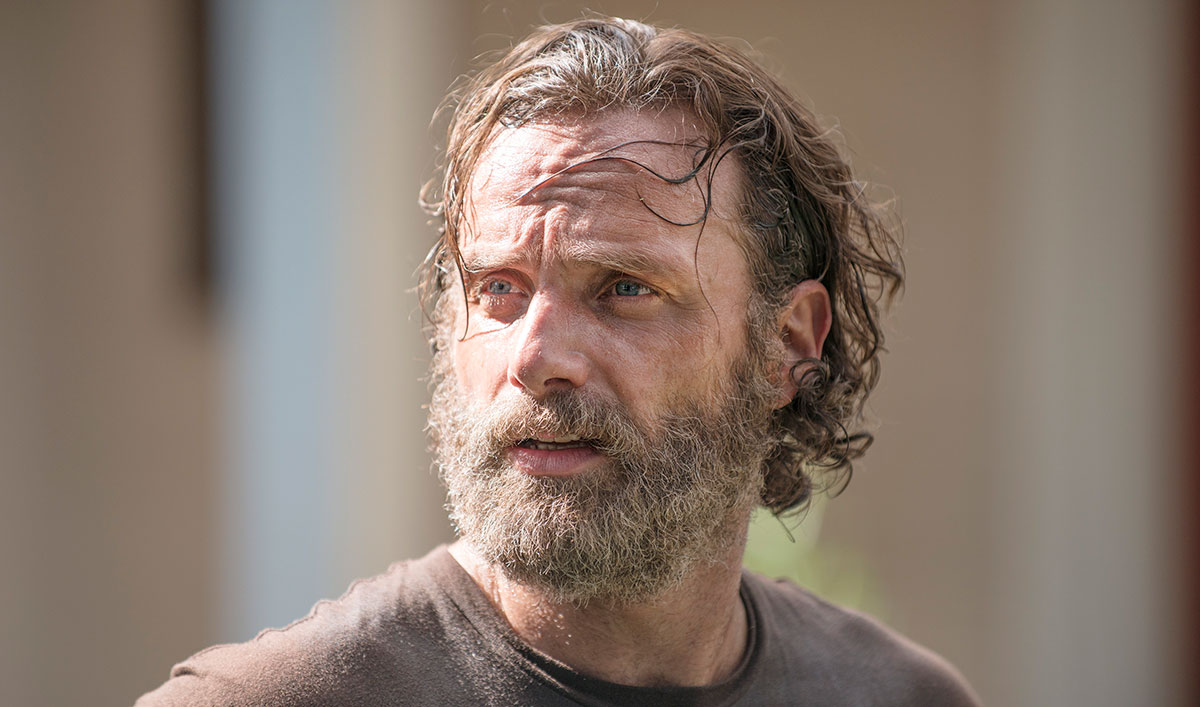 This week, the cast of The Walking Dead sits down for a conversation with the New York Times TimesTalks series, while a Jimmy Kimmel Live! sketch spoofs the show to promote the limited-edition Dead-themed "Carnage Asada" Slim Jim. Plus, Entertainment Weekly's new cover features Norman Reedus. Read on for more:
• ComicBook.com has the highlights of The New York Times discussion with Scott Gimple, Andrew Lincoln and Steven Yeun, with Yeun sharing, "There's some stuff coming up that we had so much fun choreographing. We are just idiots, smiling idiots! We're so happy to hack and slash!" Blastr, The Daily Beast and Fansided have tidbits from the talks. Ahead of the panel, BuzzFeed gets tips from the trio on surviving a zombie apocalypse.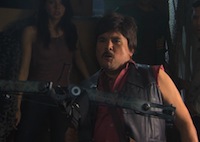 • Jimmy Kimmel Live!'s Guillermo, complete with Daryl-esque crossbow, stars in a sketch spoofing The Walking Dead and highlighting limited-edition Slim Jim "Carnage Asada" Steakhouse Strips.
• Norman Reedus appears on Entertainment Weekly's cover this week, as part of a The Walking Dead-themed package where Robert Kirkman calls the midseason premiere "somewhat brutal. But there's a lot of magic in that as well. It's going to be very unique."
• Today visits The Walking Dead set and meets with Andrew Lincoln, Norman Reedus, Steven Yeun and Greg Nicotero.
• E! Online learns from Gale Anne Hurd that "there will be a lot of action, there will be a few tears, and we'll be seeing an entirely new aspect of the world that we've seen thus far" when the midseason premieres on Feb. 8.
• The Hollywood Reporter speaks with Scott Gimple, who teases storylines involving the Alexandria Safe-Zone and Negan.
• Andrew Lincoln tells Entertainment Weekly Radio that Season 5's final eight episodes are "my favorite back eight we've done since we started the show, for many reasons, mainly because it's almost like a reset." Lincoln, talking to MTV, also says the midseason premiere "reminded me of Terrence Malick, it was so dream-like and visually intoxicating."
• Scott Gimple and several cast members — Andrew Lincoln, Lauren Cohan and Michael Cudlitz — did a Google+ Hangout, and ComicBook.com has a video of the entire session.
• Lauren Cohan visits Jimmy Kimmel Live and talks about getting pulled over by a policeman after a long day of shooting The Walking Dead.
• E! Online spotlights the first two minutes of the Feb. 8 midseason premiere. Cinema Blend calls the clip "pretty somber."
• Scott Gimple tells TV Guide that, as Season 5 resumes, "Everybody has been ground down, so they're going to have to decide who they are exactly." TV Guide recommends The Walking Dead as one of the top 10 must-see shows, observing that the survivors are "charting a new path toward a presumably treacherous future. Is there any other kind?" [No link]
• Entertainment Weekly teases that, when the show returns, "there may be hope on the horizon for Rick & Co. after they set out to find new sanctuary and run into a few familiar faces along the way."
• Moviepilot showcases all the new Season 5 survivor portraits. Mashable also has an image of Glenn and Sasha teaming up and Comic Book Resources takes a first look at "a tad more contemplative" Michonne, while E! Online shares a photo of Rick "in an intense standoff" and Zap2it debuts a photo of Abraham seemingly "getting ready for some colder weather."
• The Oregonian updates viewers on where The Walking Dead left off back in December.
• Josh McDermitt answers 20 questions from Uproxx.
• According to Bleeding Cool, Michael Rooker says that "viewers loved the relationship between Merle and his brother and could really relate to that."
• Blogcritics examines Daryl's journey and observes that Norman Reedus' portrayal is "one of those rare, beautiful marriages of actor and role."
• NJ.com reports on Seth Gilliam's visit to a New Jersey high school where he discussed his role on The Walking Dead and revealed that the "blood" on the show is a mixture of Hershey's syrup and food coloring.
• Fansided interviews Amber Dawn Fox (Officer Bello), who says that Beth's death was "a very hard secret to keep! That scene was so intense and such a huge part of the mid season finale."
• Zimbio looks back at how the characters have changed physically, asserting, "This is what 5 seasons of The Walking Dead does to your face."
• Moviepilot features 20 films where viewers can watch The Walking Dead actors, past and present.
• WGN Radio includes Greg Nicotero (the "modern day hotshot of FX makeup") on its list of the best FX make-up artists of all time.
To stay up-to-date on all the latest news about The Walking Dead, sign up for the weekly Dead Alert newsletter.
Read More