Press
Scott Gimple Teases What's Ahead; Greg Nicotero, Chad Coleman On Midseason Premiere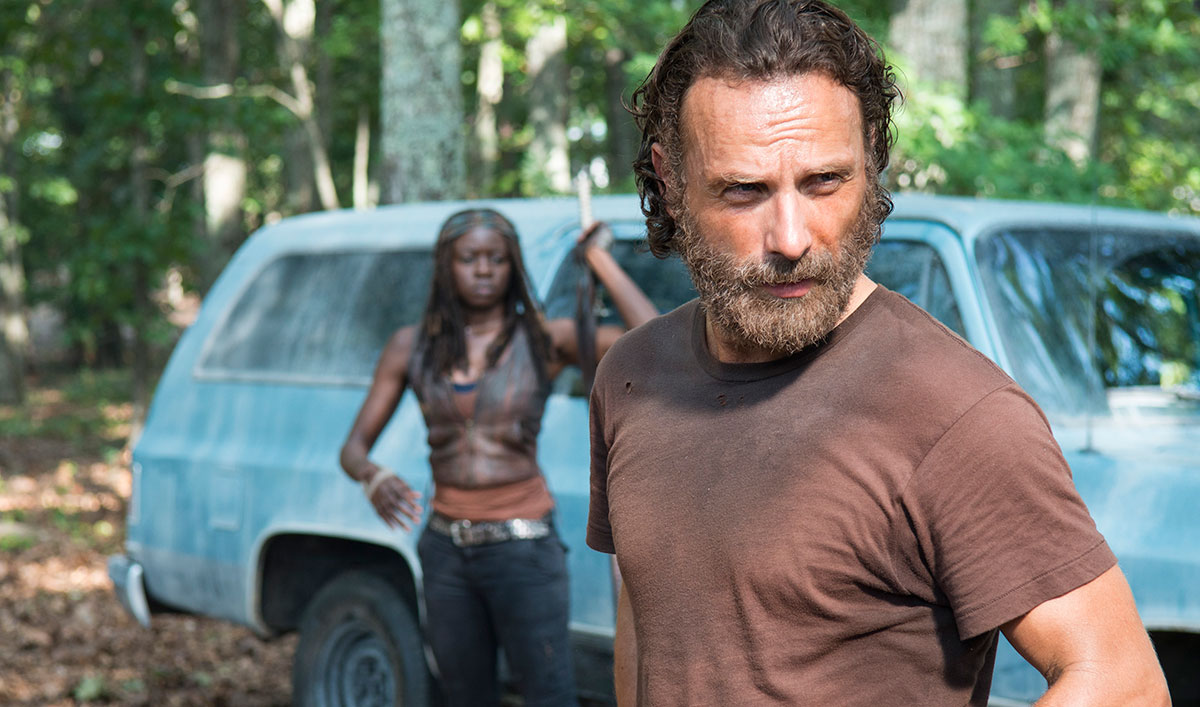 This week, Scott Gimple teases what's ahead for the survivors, while Greg Nicotero and Chad L. Coleman discuss the midseason premiere. Plus, Gale Anne Hurd talks about Noah's guilt and says, "a certain kind of love" will develop between Rick and Michonne. Read on for more:
• Looking ahead, Scott Gimple says to Entertainment Weekly that the survivors have "made the decision to go somewhere, but like we have seen, nothing is just simple and easy so they have a fight in a real, practical, physical way and they have a fight in an emotional way."
• Greg Nicotero talks to Variety about Tyreese's death affecting Sasha, how there's "one beautiful moment at the end of the script when everybody is shoveling dirt into the grave and you see Daryl hold up the shovel to Sasha — the look on her face, you can tell something has died in her."
• Gale Anne Hurd, also interviewed by Vulture, talks about Rick and Michonne, that viewers will "see something very interesting develop between them. Very interesting, and incredibly unexpected. You'll see a certain kind of love."
• The Hollywood Reporter speaks with Scott Gimple, who reveals that the "one-two punch of losing Beth and Tyreese will absolutely affect them [the survivors]. I mean just Beth alone destroyed this group."
• Greg Nicotero gives Entertainment Weekly the scoop on its so-called Terrence Malick episode, which included "these evocative images that tell the story about what Tyreese has been through."
• Yahoo TV interviews Greg Nicotero, who says viewers will "discover through the next couple of episodes that living out there exposed takes its toll, emotionally and physically, and our group's going to get put through the ringer in the next few episodes."
• Greg Nicotero talks to MTV News about David Morrissey's return, how "the fact that David got to come back, put on the outfit, do the accent, put on the patch again… He was so excited. I've never seen somebody so giddy about getting a chance to step back into a role that they love so much."
• Chad L. Coleman tells The Hollywood Reporter, "If Tyreese has to go, at least he went out on his terms and in a valiant way — clinging to his core beliefs and character and integrity uncompromised, regardless of the wreckage around me. That's a very noble thing."
• According to Variety, Chad L. Coleman says that Scott Gimple believes there's meaning in Tyreese's and Hershel's deaths, that they're "beloved people because of what they stand for. We need to see the world without them to see what the other people are going to do."
• Chad L. Coleman, talking to TVLine in the wake of his character's death, calls Tyreese "the most super human being and a person — not a comic book cut-out, a real person."
• Chad L. Coleman speaks with Entertainment Weekly about Tyreese's place in the zombie apocalypse, that it's "an unapologetic world. Just because you have virtue and morals and integrity doesn't mean that you're exempt from the graphic and violent nature that's around you."
• TV Guide gets Chad L. Coleman's take on Tyreese's death, that it's "an unrelenting world. It's cruel and it's unrelenting. Something's always right around the corner. Keep your guard up, don't get too nice, all of that."
• New York Daily News speaks with Chad L. Coleman, who says Tyreese's death was "the most perfect way I could have envisioned. It's a ballad. It's an homage. It's a love song to the man. If you don't know who Tyreese is, and you watch that episode, you'll know."
• The Wall Street Journal chats with Chad L. Coleman, who shares his reaction upon learning from Scott Gimple that Tyreese would die: "I thought he was joking at first. I just sat there, said 'wow, wow, wow.'"
• Chad L. Coleman tells TheWrap he'd love to return to the show: "What I'm hoping for — I have no idea, but this is what I would love – if you did something with Sasha, some type of flashback with her, and had me in that. A different time in our lives for whatever reason."
• Us Weekly learns from Chad L. Coleman that shooting his last scene was "intense and exhausting and I was torn inside out. It was all of that and then some."
• According to Yahoo TV, Chad L. Coleman is proud that Tyreese "never loses sight of what he knows to be the most important thing in this crazy, crazy world: to not lose your humanity."
• Chad L. Coleman speaks with Extra about shooting scenes with actors who had already died on the show, how "I was operating on so many different levels because so many of the characters I love, admire, came back and were able to be in the scene with me…"
• Gale Anne Hurd shares with Access Hollywood that the "one-two punch of Beth and Tyreese really brings home what Rick's character was already beginning to understand, which is that you have to be willing to be ruthless. At the same time, you don't have to become a villain."
• TV Guide interviews Gale Anne Hurd, who notes that Noah now has "two characters' blood on his hands. He's got a heavy burden to carry."
• Sonequa Martin-Green talks to The Hollywood Reporter about Sasha losing Tyreese, observing, "We'll see what happens when the last bit of her security and her identity is gone. It's like the last fabric that was holding her together."
• Andrew Lincoln, in USA Today, says, about the midseason premiere, "What made the episode more harrowing and upsetting is it's dreamlike and beautiful and ethereal for Tyreese and then, with us, we're just in a war zone."
• Discussing Chad L. Coleman's work in the midseason premiere, Andrew Lincoln tells MTV News, "Watching Chad work was like a master class, it was a real honor. I was just a fan watching it, basically."
• If viewers guessed that Andrew Lincoln ("with his normal British accent") provided the voice on the radio in the midseason premiere, then they would have been right, according to ComicBook.com.
• Forbes calls the midseason premiere "the best episode I've seen of the show in years, a tremendous tour de force that opened strong and finished with a bang."
• Radio.com talks to Thomas Golubic about choosing Jimmy Cliff's "Strugglin' Man" for Tyreese's hallucinations in the midseason premiere.
• ComicBook.com reports that a zombie in the midseason premiere was "an homage to the classic Tales From the Crypt ghoul known as Grimsdyke."
• Christian Serratos, interviewed by Nylon Guys, says her favorite part of acting on The Walking Dead is doing "stunts and killing and working with guns and weapons—that's what I live for on the show."
• Under the Radar has seven questions for the second half of Season 5.
• The Mary Sue examines the psychology of Michonne and Carol, who are "the most inspirational characters in the show."
• Playbill reports that Familiar, a play by Danai Gurira, had its world premiere at New Haven, Conn.'s Yale Repertory Theatre on Feb. 5. The New Haven Register's review says the play "resonates and illuminates at once." Broadway.com says that Familiar will have its New York premiere at Playwright Horizons in Feb. 2016.
• For recaps and reviews of Season 5, Episode 9, "What Happened and What's Going On," check out Access Hollywood, The Atlanta Journal Constitution, The Atlantic, A.V. Club, Entertainment Weekly, Forbes, HitFix, Huffington Post, New York Post, The New York Times, The Oregonian, People, Time, Toronto Star, TVLine, USA Today, Vulture and The Washington Post.
To stay up-to-date on all the latest news about The Walking Dead, sign up for the weekly Dead Alert newsletter.
Read More