Press
Lauren Cohan, Sonequa Martin-Green Discuss Grieving; Ross Marquand Talks Aaron With EW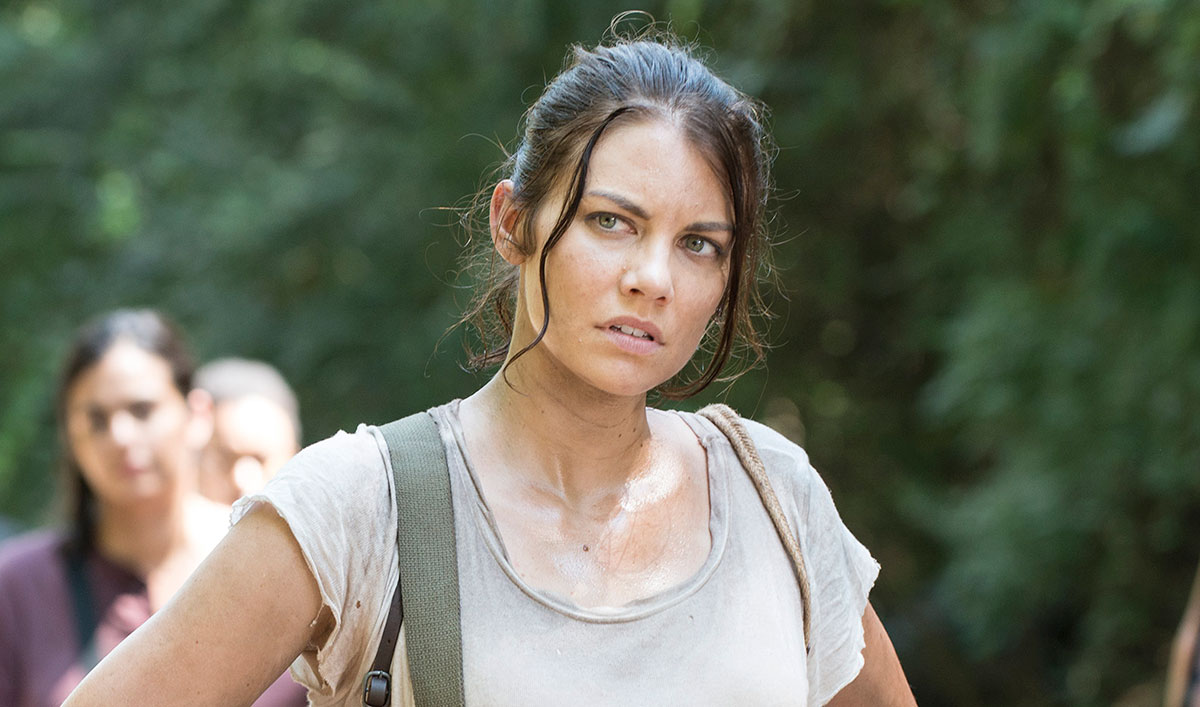 This week, Lauren Cohan and Sonequa Martin-Green discuss last Sunday's episode, "Them," and grieving for their on-screen siblings, while Ross Marquand talks about Aaron with Entertainment Weekly. Plus, MTV is moved by Rick's "We Are The Walking Dead" speech. Read on for more:
• The Hollywood Reporter talks to Lauren Cohan, who says Aaron's introduction "brings about some unexpected sides of characters you think that you already knew. Those who are skeptical definitely put Aaron to the test and…we still have members of the group that are reticent to trust."
• TV Guide interviews Sonequa Martin-Green about Sasha's grief and learns from her that "the only thing that she has is this present moment, and she's going to go all the way in the opposite direction of her brother because it's the only thing that she thinks she can do."
• Ross Marquand talks to Entertainment Weekly and says Aaron's "been tracking the group for a while and getting a vibe from them and getting the dynamics of leadership from them and how they work together—and that's extremely important to him."

• MTV characterizes Rick's fireside speech in "Them" as one that "embodies not just how he and his allies must approach survival in an unsurvivable world, but also embodies the show itself."
• People has a video of Steven Yeun visiting a Korean spa with Conan O'Brien.
• Andrew Lincoln tells Entertainment Weekly that "Them" reminds him of Cormac McCarthy's The Road, saying, "I think there's a simplicity, a directness, and a poetry in that book. Certainly the script had it and I hope we've managed to capture that in episode 10."
• Talking to Yahoo TV, Greg Nicotero reveals that, in "Them," Norman Reedus "ate a real worm, and I think he was gung-ho for doing it when we stepped out of the gate."
• Variety says the first two episodes back "have been particularly somber and philosophical, contemplating grief, death and loss in a more inward-looking way than Rick's sort-of breakdown in response to the death of his wife Lori."
• E! Online speaks with Gale Anne Hurd, who says that the survivors "need a goal. And as Michonne said, they need to find a place to rebuild a community."
• Forbes also speaks with Gale Anne Hurd, who warns, "You have to be on your guard every moment. Even when you're devastated by grief. Sasha and Maggie especially."
• Norman Reedus pays a visit to Jimmy Fallon and responds to viewer demands that Daryl pair up with Carol ("Yeah, and also Beth, and also Michonne and also Rick and also Steven [Yeun]") and plays a game of "Facebreakers."
• TheWrap reports that the Make-up Artists and Hair Stylists Guild awarded The Walking Dead's Greg Nicotero and Jake Garber the prize for Best Special Make-up Effects.
• ComicBook.com has the highlights from Chad L. Coleman's Reddit Ask Me Anything.
• Robert Kirkman, interviewed by Entertainment Weekly, teases that "while I will not confirm that Morgan will eventually meet up with our characters, I will say that it would be a misstep on our part if he didn't."
• Entertainment Weekly chats with Norman Reedus, who explains the survivors' collective grief, how "certain characters have more to live for than others, but everyone is super low at this point. We're in a dark phase—a dark depressed phase."
• Lauren Cohan tells Entertainment Weekly that, with Beth's death, "For Maggie, you see her really without any hope, and you see her at a place where she is actually ready to give up."
• Entertainment Weekly also interviews Josh McDermitt, who says "it's going to be fun exploring how [Eugene]'s going to kind of fit himself back into the group. He certainly needs to do that because that's going to be his best hope for survival."
• Christian Serratos, speaking with Canada.com about playing Rosita, says, "I just feel like Rosita comes out of me naturally. I feel that she has a sass that maybe I always wanted to live out on a day-to-day basis."
• Danai Gurira, interviewed by New Zimbabwe, says one of her most memorable scenes was the moment where Beth asked Michonne to hold Judith: "She handed me the baby, I held her in my arms and then I just cracked. Everything came pouring out of me. And I let it happen."
• Fansided characterizes the Governor's return (in the midseason premiere) as "lucid, engaging and chaotic. Most of all… Immensely charming."
• One of Michonne's quotes ("Don't you want one more day with a chance?") from the midseason premiere is one of Hypable's best TV show lines of the week.
• RIP Tyreese. ComicBook.com spotlights AMC's tribute video to Tyreese, as well as Chad L. Coleman, and observes, "Tyreese may be gone, but his presence is far from forgotten to The Walking Dead's cast and crew."
• Philadelphia Daily News previews Lauren Cohan's upcoming cover appearance on Philadelphia Style magazine.
• For recaps and reviews of Season 5, Episode 10, "Them," check out Celeb Dirty Laundry, Forbes, HollywoodLife, io9, New York Daily News, The Oregonian, Palm Beach Post, People, Slant Magazine, TVLine, USA Today, Variety, Vulture, The Wall Street Journal and Zimbio.
To stay up-to-date on all the latest news about The Walking Dead, sign up for the weekly Dead Alert newsletter.
Read More