Press
Andrew Lincoln, Danai Gurira Discuss Alexandria; Flaunt Features Norman Reedus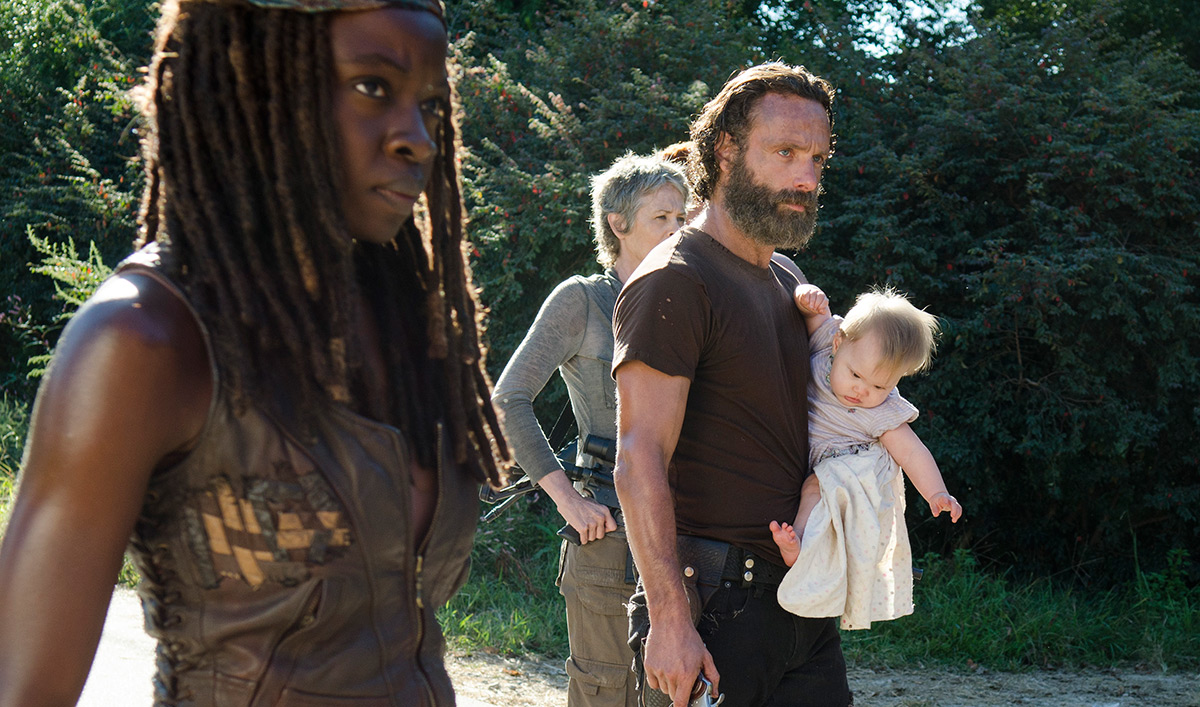 This week, Andrew Lincoln and Danai Gurira discuss Alexandria, while Flaunt features Norman Reedus in a photo shoot. Plus, Ross Marquand provides some insight into Aaron and talks about playing the show's first gay male character. Read on for more:
• Talking to The Hollywood Reporter about the group's ability to fit into Alexandria, Andrew Lincoln says, "That's the landscape that we're investigating: whether these people are able to integrate anymore. Whether they are social animals; whether they can be recognized as social human beings anymore."
• TV Guide interviews Danai Gurira, who points out that Michonne trusted Aaron because the group is "in a dire circumstance and she can see that. It's dire in terms of the literal conditions, but aspects of the humanity of the group were also starting to concern her."
• For a Flaunt photo shoot, Norman Reedus explains, "I have to say that as far as my working life, I became really at ease and comfortable and proud of my work when I got to Georgia. It all kind of fell into place there."

• Entertainment Weekly gets some insight from Ross Marquand on Aaron, who says his reactions to Rick on the show were "absolutely genuine—genuine fear and genuine concern over whether or not he was going to stab me at the base of my skull."
• Ross Marquand also talks to The Daily Beast about Aaron's motivations, how "I think at the end of the day, Aaron is, for whatever reason, just absolutely desirous of helping people out," while he tells Yahoo TV that "at the end of the episode, there's still a great deal of uncertainty about who Aaron is, whether or not he can be trusted, and also what sort of realm is he introducing them to."
• Ross Marquand discusses playing the show's first gay male character with Variety: "I think for Rick and also for the audience it's nice to see that relationship between Eric and Aaron. It's clear to anybody watching this that these two absolutely love each other and they're not afraid to express that."
• Moviepilot lists five callbacks in "The Distance," which it calls "a brilliant hour of television," to previous episodes in the show and storylines in the comic.
• Danai Gurira talks to Self about staying in shape, noting, ""I've always been a bit of a tough chick. That's what made me work for the part of Michonne."
• Fangoria nominates Norman Reedus for a best supporting actor Chainsaw Award because he plays Daryl "with a subtle vulnerability that offers a human side to his stoic, crossbow-wielding zombie killer."
• Mashable talks a little about the Alexandria Safe Zone, "an iconic destination from The Walking Dead comics."
• Chicago Reader interviews Josh McDermitt, who says Eugene is "looking for ways to insert himself back into the group and show that he has some value, even though he probably doesn't believe it himself."
• Under the Radar gets Christian Serratos' take on Rosita, saying she's "very independent and brave. I think she's really strong and capable and unassuming. It wouldn't look like a small girl like her would be able to handle herself, but I think she's smart and she picks up what she knows from people around her."
• Bustle provides some insights on Ross Marquand, spotlighting his earlier work and his particular mastery at impressions.
• Moviepilot highlights Andrew Lincoln's answer to this question: "What would you do if your friend was bitten by a walker?"
• Fansided talks to Meyrick Murphy, who says she's a horror fan who was "brought up around classic horror movies and Dracula picture books. I've always had a soft spot for fiends and monsters."
• ComicBook.com and Unreality TV feature Lauren Cohan's interview with AMC.
• ComicBook.com checks out behind-the-scenes photos for "The Distance."
• For recaps and reviews of Season 5, Episode 11, "The Distance," check out Atlanta, A.V. Club, Boston Herald, Cleveland.com, Entertainment Weekly, E! Online, Forbes, The Huffington Post, Indiewire, The New York Times, The Oregonian, Paste, People, USA Today and Variety.
To stay up-to-date on all the latest news about The Walking Dead, sign up for the weekly Dead Alert newsletter.
Read More