Press
Norman Reedus Talks to TV Guide; CarterMatt, Zap2it Extol Melissa McBride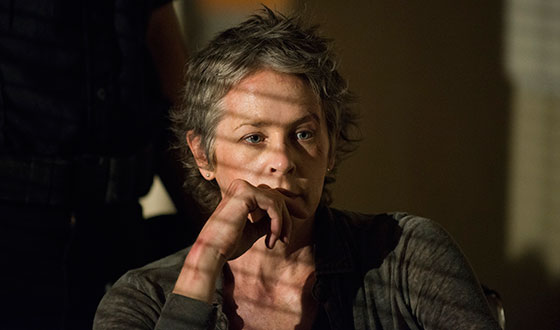 This week, Norman Reedus talks to TV Guide about the Daryl/Rick dynamic, while CarterMatt and Zap2it extol Melissa McBride's performance. Plus, The Walking Dead wins a SAG award nomination. Read on for more:
• Norman Reedus tells TV Guide that Daryl has Rick's back, saying, "Daryl always has Rick in his peripheral vision. Always."
• CarterMatt nominates Melissa McBride for best drama actor because she turned Carol "into quite possibly the series' most captivating and interesting character. She is deeply sympathetic, but at the same time awesome like an action hero."
• According to Vulture, The Walking Dead has been nominated for a Screen Actors Guild award in the category of Outstanding Action Performance by a Stunt Ensemble in a Comedy or Drama Series.

• Zap2it deems Melissa McBride a deserving long shot in the Golden Globes best supporting actress category, calling her journey as Carol "one of the most remarkable things in recent TV history."
• Hypable honors Emily Kinney, praising Beth who "learned to be strong and to stand up for herself in a completely inhospitable world. We will miss Beth, and the brilliant actress who played her, for many seasons to come."
• The Huffington Post credits The Walking Dead's premiere as "a significant milestone on the path toward the blockbuster-ization of television."
• The Guardian observes that The Walking Dead "remains compelling, compulsive stuff."
• FanSided uncovers video of Steven Yeun's pre-The Walking Dead appearance on CBS' The Big Bang Theory.
• MTV takes a look at all the times The Walking Dead "ripped your heart out and ate it."
• Moviepilot spotlights a "perfect" mash-up of The Walking Dead and Ace Ventura: Pet Detective and asks, "How awesome would Ace Ventura look as a Walker?"
• Teri Wyble, interviewed by The Global Dispatch about her experience on The Walking Dead as Officer Shepherd, says, "I can honestly say that this was the best cast and crew that I've ever worked with."
• Blogcritics examines how deaths on the show "propel the survivors' story arcs into new directions as they react to the deaths of loved ones and friends."
• Are you a The Walking Dead fanatic? Moviepilot lists some ways that you can tell.
• Fansided wonders if Rick is "slowly turning" into Shane, "the man he felt was putting the group in danger."
• Steven Yeun, talking to The Fresno Bee about I Origins, says that director Mike Cahill's "style is that perfect kind of happy medium of letting an actor perform and steering them to his vision. He knows the ins and outs of acting and has an eye for making everything work."
To stay up-to-date on all the latest news about The Walking Dead, sign up for the weekly Dead Alert newsletter.
Read More