Press
Norman Reedus, Emily Kinney on Midseason Finale; TheWrap Celebrates Morgan's Return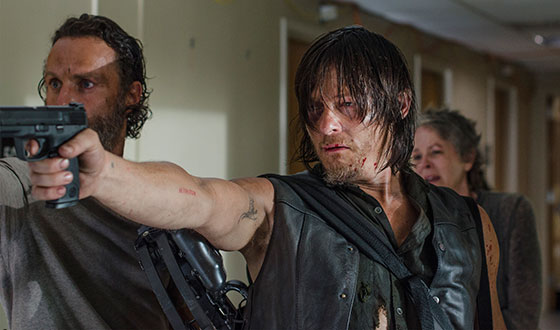 This week, Norman Reedus and Emily Kinney discuss the midseason finale, while TheWrap and Entertainment Weekly are excited by the reappearance of Morgan. Plus, The Washington Post, TV Guide Magazine and Vox applaud The Walking Dead. Read on for more:
• Entertainment Weekly asks Norman Reedus about the rest of Season 5 and he says, "You see us in a very different circumstance and it becomes very desperate. And there's a false level of security that really messes with everyone."
• Emily Kinney, interviewed by TVLine, says that Beth "started to become fearless, like, 'I could die at any moment! Whatever!' She would rather be the person she wants to be, strong and fighting for herself, then play the game. She didn't have anything to lose." Kinney also talks to Entertainment Weekly, Us Weekly, The Wall Street Journal, Access Hollywood and The Daily Beast.
• Morgan returns in the midseason finale, and TheWrap notes, "Despite only a few appearances, Lennie James remains one of the most enduring and popular guest stars" on the show. Entertainment Weekly highlights Morgan's reappearance too, calling it "a welcome surprise."

• The Walking Dead wins TV Guide Magazine's Fan Favorites Awards in the Favorite Horror Show category.
• The Walking Dead is one of The Washington Post's best TV shows of the year, noting that the show's "characters (and the actors who play them) began to show their real and deeper selves when they were on their own or in smaller groups."
• Gale Anne Hurd, asked by Entertainment Tonight about the effect of Beth's death on Daryl, says, "When you lose that spark, and you see that such a genuine and trusting character, and the fact that the zombie apocalypse even got to her, it's going to be a long road back for Daryl."
• Scott Gimple tells USA Today that Beth's demise was "devastating, crushing. It was painful and will be painful for these people for some time." Gimple gives some more insight, including a little detail about Morgan, to Variety, The Hollywood Reporter, Vulture, Entertainment Weekly, Deadline, The Daily Beast and TV Guide.
• Andrew Lincoln tells Entertainment Weekly that, in the aftermath of Beth's death, "I think Rick is one of these people that can partition and put it aside and actually use it for fuel to push him and the rest of the group forward. I think he has to because everybody is yet again lost."
• The Daily Beast speaks with Danai Gurira about writing plays, activism and how she "had to create plays out of necessity, because African women deserved a voice and a place on the stage."
• Asked by USA Today if Sasha or Michonne would win a UFC bout, Sonequa Martin-Green says, "Season 3, Michonne would've won because she was going through more at the time. Season 5, Sasha would've won because she's got a lot she's going through and she's really unpredictable."
• Tyler James Williams takes Entertainment Weekly's Pop Culture Personality Test, where he "spills on his once-in-a-lifetime Episode VII audition, justifies his Lannister love, admits to his TV crush, and name-checks the out-of-this-world action flick that inspired him to become an actor."
• Cinema Blend relives the show's most "gut-wrenching" moments, from Andrea losing Amy to Lizzie looking at the flowers.
• MTV considers Daryl one of TV's most "ship-able" characters since Norman Reedus "just has amazing chemistry with whoever he's acting with that particular day."
• Melissa McBride is one of the comic book TV show actors that ComicBook.com is most thankful for because she's "delivering one of the best performances on television."
• Tyler James Williams, speaking with Canada's QMI Agency, says, "Noah knows things have taken a turn, and the only way to make it is to adjust to the fact that you live in hell."
• IGN highlights The Walking Dead's "least appetizing moments."
• The Tennessean notes the appearance of Goo Goo Cluster on the midseason finale and talks to the Nashville-based maker of the candy.
• Digital Spy commends Andrew Lincoln as "absolutely spectacular. His work as Rick is one of the finest acting performances on television right now, making certain you feel each and every moral crisis, each compromising decision."
• Talking to Filler Magazine, Alanna Masterson credits her brothers for preparing her for Dead, saying, "I have four brothers. I've been fighting zombies my whole life: zombies with slingshots, hockey sticks, BB guns and the like. I guess I can thank them for my aim."
• TECHTIMES.com talks to Michael Rooker, who says, "Playing Merle Dixon on The Walking Dead has literally changed my life."
• Catch Norman Reedus in a commercial for Apple's new Beats Solo2 headphones at BGR.
• For recaps and reviews of the Season 5 mid-season finale, "Coda," check out The Atlantic, Big Shiny Robot, CBS News, The Daily Beast, Den of Geek, Entertainment Weekly, Forbes, The Hollywood Reporter, The Huffington Post, Los Angeles Times, Rolling Stone, USA Today, Variety, Vulture and Yahoo TV.
To stay up-to-date on all the latest news about The Walking Dead, sign up for the weekly Dead Alert newsletter.
Read More