Press
Andrew Lincoln Talks to TV Guide; Norman Reedus Chats With THR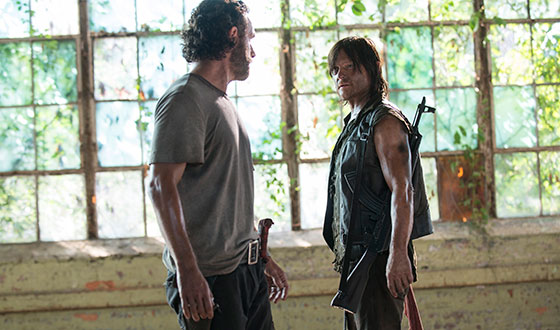 This week, Andrew Lincoln talks to TV Guide about the possible fate of Father Gabriel, while Norman Reedus discusses Daryl's mental state with The Hollywood Reporter. Plus, The Wall Street Journal ranks the "Tainted Meat" scene as one of the best TV moments of 2014. Read on for more:
• TV Guide asks Andrew Lincoln and Scott Gimple whether Father Gabriel will stay with the group.
• Asked by The Hollywood Reporter about Beth's death, Norman Reedus replies, "I think it puts him into a depression."
• The Wall Street Journal's best TV moments of the year includes when "Gareth had a few human-flesh recipes up his sleeve and tried one out on Bob."

• Canada.com names The Walking Dead one of the year's five best dramas, describing it as "a living, breathing testament to humanity, and to the power of the small screen to move and entertain."
• Talking to IGN, Emily Kinney explains what Beth meant when she said "Now I get it" to Dawn.
• Robert Kirkman talks to CNN about killing characters off the show and notes, "No, no one is safe, definitely not. Looking at you Norman Reedus."
• On the occasion of Steven Yeun's 31st birthday, MTV lists 31 ways that Glenn is the perfect TV boyfriend.
• Emily Kinney tells Access Hollywood how Beth influenced a song, "Last Chance," on her new album.
• TheWrap has 10 revelations from Norman Reedus' Reddit Ask Me Anything.
• Under the Radar announces that its Best of 2014 issue features an article on The Walking Dead that has interviews with Robert Kirkman, Gale Anne Hurd, Andrew Lincoln, Melissa McBride and other cast members.
• TheWrap reports that The Walking Dead was the most-Tweeted show in 2014, according to the Nielsen Twitter TV Ratings.
• UPI has an image of The Walking Dead-themed holiday card mailed out by Gale Anne Hurd's production company.
• Moviepilot looks back at the five things viewers may have missed in the first half of Season 5.
• Beth's demise is one of IBTimes UK's most shocking TV deaths this year.
• Media Mikes interviews Greg Nicotero, who says the trough scene in the Season 5 premiere is "so uncomfortable and it's so brutal and it's so relentless. But the truth is, Terminus had to be portrayed that way otherwise it wouldn't have felt authentic so I'm really really proud of that."
• The Huffington Post's last-minute gift suggestions include the Pop Rides version of Daryl on his motorcycle ("Only Daryl Dixon could manage to look quite this badass as a plastic toy with an oversized head").
• In a similar vein, Fansided presents its ideas for the characters on The Walking Dead.
To stay up-to-date on all the latest news about The Walking Dead, sign up for the weekly Dead Alert newsletter.
Read More