Press
Norman Reedus Previews Midseason Finale to THR; Chad Coleman Takes EW Pop Culture Test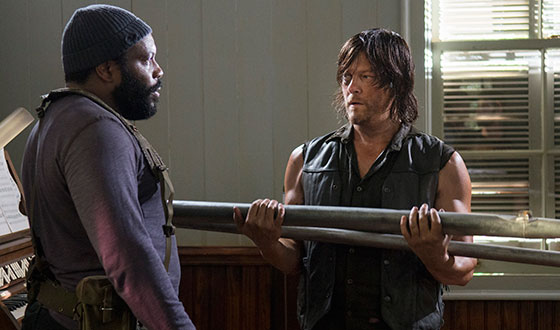 This week, Norman Reedus previews the midseason finale to The Hollywood Reporter, while Chad L. Coleman takes Entertainment Weekly's Pop Culture Personality Test. Plus, Gale Anne Hurd talks to IGN. Read on for more:
• Talking to The Hollywood Reporter, Norman Reedus likens the midseason finale to "the difference between a really hard rock Led Zeppelin song and a really soft one. There are those two opposites that get blended in before the midseason ends."
• Chad L. Coleman takes Entertainment Weekly's Pop Culture Personality Test and reveals that Shrek is the movie that scared him even though it wasn't supposed to.
• IGN asks Gale Anne Hurd about Sasha being duped by the police prisoner and she says that he "really knew how to play her like a violin, because if you find that someone does have compassion and wants to do the right thing, that makes that person vulnerable."

• Seth Gilliam theorizes to Entertainment Weekly that Father Gabriel's departure from the church in "Crossed" was "more of an exploratory mission than an escape."
• Speaking with Zap2it, Melissa McBride teases the midseason finale with one word: "heartbreak."
• Norman Reedus, speaking with Yahoo TV about using a walker's skull as a weapon, says, "That was so funny walking around with that in my hand all day long. It's kind of awesome. It was particularly disgusting, but kind of fun at the same time."
• Dave Chappelle tells GQ he wants to guest-star as a zombie on The Walking Dead.
• The Walking Dead's stunt coordinator explains to MTV how the show pulled off Daryl's "eye-popping" fight scene in the latest episode.
• The Brisbane Times interviews Gale Anne Hurd, who says, "I was a fan of science fiction – of comic books, literature and films – since I was a kid, since I first started reading. What you discover is that it's about the characters."
• Chad L. Coleman, talking to Yahoo TV about his Law & Order: SVU appearance, teases that The Walking Dead viewers can expect "some dynamic acting, some amazing action, and some gory, out-of-this-world goriness."
• MTV offers proof that Daryl has "ridiculous sexual chemistry with literally everyone and everything" on The Walking Dead.
• According to Unreality TV, Christian Serratos tells Latina about Rosita, that a lot of people "who don't know the comic book or the character think that she relies on Abraham, but she's a full-fledged, capable, strong woman."
• MTV explores how Maggie became such a badass.
• Variety reports that Chad L. Coleman has joined the cast of Syfy's The Expanse, a 10-episode drama that premieres next year.
• For recaps and reviews of Season 5, Episode 7, "Crossed," check out The Atlantic, A.V. Club, Boston Herald, The Daily Beast, Details, Entertainment Weekly, Forbes, The Guardian, HitFix, The Huffington Post, MTV, The Oregonian, Time and Vulture.
To stay up-to-date on all the latest news about The Walking Dead, sign up for the weekly Dead Alert newsletter.
Read More