Press
Michael Cudlitz, Josh McDermitt Deconstruct Newest Episode; EW on Dead's "Best Season"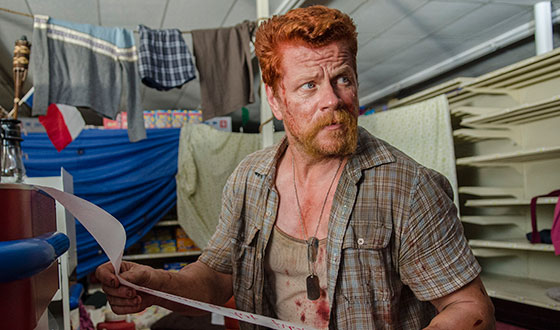 This week, Michael Cudlitz and Josh McDermitt deconstruct the latest episode, "Self Help," while Entertainment Weekly speculates that this season may be The Walking Dead's best ever. Plus, Danai Gurira is this month's Bello cover story. Read on for more:
• Michael Cudlitz and Josh McDermitt give TVGuide.com the scoop on "Self Help," with Cudlitz noting Abraham and Eugene's "very interesting symbiotic relationship. Let's not forget that Eugene saved his life. At some point, I'm hoping Abraham will realize that."
• Entertainment Weekly gets intel from Michael Cudlitz about Abraham's flashbacks and how "I think we've successfully captured the emotion of what went down with his family, and then also what has spurred him into action from taking his own life, when he has nothing left to live for."
• Entertainment Weekly speculates that Season 5 "could be shaping up to be the best Walking Dead season ever" and explains why.

• Danai Gurira appears on Bello's cover and, according to Just Jared, says playing Michonne was challenging since she's "someone who did not want to connect with other people. And that's a weird and interesting thing to play, because usually that's what you're trying to do as an actor."
• The Hollywood Reporter interviews Josh McDermitt and Michael Cudlitz about the events of the latest episode. McDermitt calls Eugene "a broken man at this point," while Cudlitz remarks, "We'll have to see what he [Abraham] has to live for now — if anything — and what can pull him forward, if anything."
• CNN asks Josh McDermitt about Eugene's motivation and he says, "I will defend the guy in terms of wanting to survive. I don't know if I would lie like that, but I'm just happy I didn't get Daryl killed or anything — then everyone would hate Eugene for sure."
• MTV hangs out with Gale Anne Hurd and chronicles how she went "from B-movies to Hollywood royalty."
• Josh McDermitt, talking to Yahoo TV along with Alanna Masterson, teases,"Everyone's going to have to pick up the pieces now that Eugene [confessed]. They need to figure out what the mission is now, and they figure it out right away and get after it."
• The New York Daily News spotlights Lauren Cohan's turn on the December cover of Women's Health.
• Josh McDermitt breaks down "Self Help" for toofab and reveals, "I knew the moment I got hired what was gonna happen, so that was definitely a secret I was carrying around. Please don't hate me! Don't like Eugene, that's fine. But don't hate me."
• The Los Angeles Times interviews Michael Cudlitz, who says the cast's job is "to bring these massively complicated characters to life. They are super heroes, even though they don't have any powers."
• Metro lists eight reasons why the audience loves Daryl.
• Alanna Masterson takes Entertainment Weekly's Pop Culture Personality Test, revealing deep love for Star Wars and Harry Potter.
• Jezebel talks to casting director Sharon Bialy about casting the show and how every actor reads for it so "the writers can see what they bring to the audition and start to think about how they want to write for that character later on, 'cause they've already heard the voice in their head and how they handle the language."
• Laurie Holden speaks with Men's Fitness, saying that when viewers watch The Walking Dead, "your heart's gonna break many, many times, and I think that's why people get so invested in the show. We play it for real."
• Film tourism is alive and well in Georgia, thanks to the zombie apocalypse, according to CNN.
• The Boston Globe ranks Rick's mustache at No. 4 on its list of the year's best mustaches, noting the "thickness and wildness symbolizing the untamed world they face."
• According to The Hollywood Reporter, David Morrissey has formed a film and TV production company.
• Jon Bernthal and Scott Wilson talk to Wizard World Tulsa about dying on The Walking Dead, according to Tulsa World.
• The Dallas Morning News dissects the new social fascination with the zombie apocalypse.
• TakePart discusses diversity on screen and observes that The Walking Dead is "one of the most diverse shows on TV" and is getting about 13 to 14 million viewers a week.
• For recaps and reviews of Season 5, Episode 5, "Self Help," check out A.V. Club, Entertainment Weekly, Forbes, GQ, HitFix, The Huffington Post, IGN, Los Angeles Times, MTV, SFX, Time, TVLine and Vulture.
To stay up-to-date on all the latest news about The Walking Dead, sign up for the weekly Dead Alert newsletter.
Read More