Press
Melissa McBride Chats With EW; Robert Kirkman Previews Midseason Finale to THR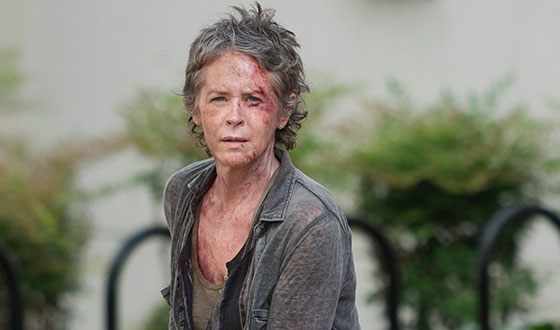 This week, Melissa McBride chats with Entertainment Weekly about last week's episode, while Robert Kirkman previews the midseason finale with The Hollywood Reporter. Plus, Steven Yeun does a Funny or Die skit. Read on for more:
• Entertainment Weekly interviews Melissa McBride, who says she loved the theme and title of "Consumed" because "I love what it symbolizes, and even the dreamy music of Bear McCreary was just beautiful. And I don't think I've seen an episode where so much of it is underscored."
• The Hollywood Reporter learns from Robert Kirkman that there will be "some pretty unexpected events in our midseason finale, which is as it should be. On a scale of one to 10, I'd say [the midseason finale] is pretty deadly."
• Steven Yeun shows up in his very own Funny or Die skit titled "What's Eating Steven Yeun," according to ComicBook.com.

• Melissa McBride, speaking with Zap2it, says Carol and Daryl "have an understanding, they have a bond they don't share with anyone else. That would be impossible. Nobody else shares the story, whatever that wonderful thing is that makes them compelling to watch when they're together."
• Robert Kirkman talks to The Hollywood Reporter about Maggie and why she doesn't seem focused on finding Beth, saying, "We will be dealing with it in upcoming episodes, and you'll definitely see where Maggie stands on this."
• Michael Cudlitz tells TV Guide that Abraham "responds to the passion with which Rick fights and with which Rick follows his convictions. He respects that. He responds to that. He sees it as a strength."
• Chatting with Zap2it, Michael Cudlitz says, "I would love to be involved with Negan. If they decide I'm going to go during that time, I would love to have some badass, hand-to-hand deal with Negan."
• Vanity Fair interviews Michael Cudlitz, who says Abraham is "an emotional basket case at this point. He really is just trying to hold it together. His past is eating away at him. His future is eating away at him. He's being sabotaged from within."
• Entertainment Weekly highlights Episode 4, "Slabtown"'s use of the song "Be Gone Dull Cage" by Kiev, noting that "TWD uses music sparingly, making the inclusion of a song all the more effective."
• The Wall Street Journal attends Walker Stalker Con, calling it "the convention for people obsessed with every detail of the hit cable TV drama."
• Inquistr calls The Walking Dead an "unstoppable force, and the rest of the networks are the ones struggling to fight them off."
• MTV quizzes loyal viewers, asking them to match official episode descriptions from Seasons 4 and 5 with the correct episode title.
• Fansided mourns the five characters from The Walking Dead it misses the most. In the same vein, Zimbio asks, "If you could magically bring back to life — actual life, not reanimated life — only one fallen Walking Dead character, who would it be?"
• Entertainment Tonight has behind-the-scenes footage from Lauren Cohan's Women's Health cover.
• The New York Post learns from Emily Kinney that she's having difficulty watching the show "because it's starting to lean toward human beings and how we treat each other, rather than scary zombies."
• Speaking with Zap2it about fans "shipping" character relationships, Emily Kinney remarks, "It's cool when people care so much about the characters that they do want to see them in love and they do want to see them do fun things beside just survive."
• MTV ranks the show's cast "in order of hairy greatness."
• The U.K.'s The Stage reports that Eclipsed, a play by Danai Gurira, will be performed next year at London's Gate Theatre.
• For recaps and reviews of Season 5, Episode 6, "Consumed," check out Access Hollywood, The Atlantic, A.V. Club, Bloody Disgusting, Boston Herald, Entertainment Weekly, GQ, The Guardian, HitFix, Los Angeles Times, New York Daily News, The Oregonian, Time, TVLine and Vulture.
To stay up-to-date on all the latest news about The Walking Dead, sign up for the weekly Dead Alert newsletter.
Read More