Press
Lauren Cohan, Steven Yeun Appear on Kelly and Michael; Emily Kinney Talks "Slabtown"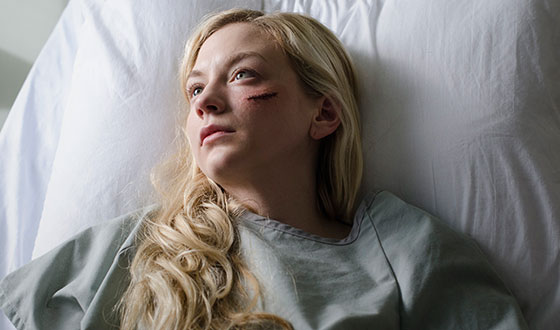 This week, Lauren Cohan and Steven Yeun show up on Halloween to rescue Kelly Ripa and Michael Strahan from the zombies, while TV Guide, The Hollywood Reporter and Entertainment Weekly get the scoop on "Slabtown" from Emily Kinney. Plus, Michael Cudlitz talks with Fortune. Read on for more:
• Lauren Cohan and Steven Yeun show up on Live With Kelly and Michael's Halloween special to warn the morning co-hosts of the zombie apocalypse.
• TV Guide interviews Emily Kinney, who characterizes Beth as a person who "can feel the emotions, but still fight to survive. She's got a very strong will to survive."
• Fortune interviews Michael Cudlitz, who says, "Playing a very iconic alpha male character on what happens to be the number one show in the world has brought a lot of eyeballs on me."

• Chatting with Entertainment Weekly, Emily Kinney says the lollipop scene shows that "you can understand why Beth is like, I have to get out of here. I'd rather be fighting zombies and barely alive than living in this situation."
• Emily Kinney tells The Hollywood Reporter that seeing Carol "flips this switch inside her [Beth], 'Oh, maybe the plan can be something different; maybe it's not just me depending on me. Maybe my family is closer than I thought.' It changes her mindset just by seeing Carol."
• ABC News asks Greg Nicotero about creating zombies, and he says, "The exciting thing about what we do is every person that comes into the [makeup] trailer, it's a new canvas."
• Meanwhile, Eulyn Womble talks to ABC News about the process of designing zombie clothing: "I first decide who they were before and then dress them accordingly and then kill it, so I get the costume together and then destroy it."
• Asked by Entertainment Weekly about Noah leaving Beth behind, Tyler James Williams says, "Noah has some loyalties to him and I don't know if this will be the last time they see each other."
• Entertainment Weekly speaks with Christine Woods, who says that Dawn "keeps a very tight ship, and she does it because she knows instinctively that if things get relaxed, she will lose control. So there's that tension between her and her former friends."
• HitFix reports that Gale Anne Hurd will be honored with the David O. Selznick Achievement Award in Motion Pictures from the Producers Guild of America.
• Entertainment Weekly reports that Episode 4, "Slabtown," beat NBC's Sunday Night Football in the coveted 18-to-49 year-old demographic, the second time a Season 5 episode has defeated the football juggernaut.
• Robert Kirkman tells IGN that Season 5 has "more comic book moments being adapted than there have been in any previous season, so there's a lot of cool stuff for the comic fans coming up and a lot of stuff they will recognize, but of course we'll be doing some stuff in different ways."
• Chatting with the Philippine Daily Inquirer, Robert Kirkman reveals that the best weapon to kill a zombie is a car because "if you are inside a car, it's going to take a lot for them to get to you, as long as you have gasoline."
• Alanna Masterson, talking to MTV, says the group is Tara's family, "so you'll start to see that Tara is a valued member in the sense that she's willing to help everyone — it's not just Glenn or Maggie anymore."
• The New York Post looks back at "the horrors Beth has experienced thus far" on The Walking Dead.
• The Washington Post's list of scary music for scary times includes Bear McCreary's theme for The Walking Dead, "the whirling string music that opens each episode of everyone's favorite undead soap opera."
• Robin Lord Taylor talks to Access Hollywood about how his death scene on The Walking Dead was put together, calling Greg Nicotero "a special effects genius and that whole team they have there is just amazing."
• Hypable honors Lawrence Gilliard, Jr., remarking, "Each moment that Lawrence Gilliard Jr. was on screen… was charged with his character's determination and strength."
• Danai Gurira introduces Gale Anne Hurd at the International Women's Forum's Hall of Fame gala, according to the Atlanta Journal Constitution.
• ComicBook.com points out that Keisha Castle-Hughes, who was Oscar-nominated for her role in Whale Rider, played Joan in "Slabtown."
• Zap2it discusses horror TV's boom on the small screen, using The Walking Dead as an example.
• The St. Louis Post-Dispatch is still haunted by The Walking Dead, which "opened Season 5 with a cannibal slaughterhouse, featuring a trough over which victims bled out after their throats were slashed. This followed a Season 4 finale in which hero Rick bit out a man's throat."
• ComicBook.com highlights Sonequa Martin-Green's conversation with AMC about playing Chad L. Coleman's on-screen sister.
• E! Online posits that The Walking Dead is one of the few shows that "everybody can agree on across party lines."
• MTV points out eight times that Rick "just straight up killed some people."
• The Atlanta Journal Constitution speaks with a former walker about playing a zombie and how their job is to "wander around aimlessly, hoping to find some fresh meat to chow on. That is pretty much what all the walkers do."
• Andrew J. West has moved on to his next target, portraying a man who hits on Valerie Bertinelli's character on TV Land's Hot in Cleveland, according to Entertainment Weekly.
• ComicBook.com reports that Norman Reedus, or "the rather gruesome scene of Daryl driving an arrow through the eye socket of a walker," is on the cover of Fangoria #338.
• For recaps and reviews of Season 5, Episode 4, "Slabtown," check out Basket of Kisses, Cleveland.com, The Daily Beast, Entertainment Weekly, E! Online, Forbes, HitFix, The Huffington Post, Moviepilot, The Oregonian, The Telegraph, Time, TVLine, Variety and The Washington Post.
To stay up-to-date on all the latest news about The Walking Dead, sign up for the weekly Dead Alert newsletter.
Read More