Story Sync
Watch The Walking Dead Along With Slash This Sunday at 9/8c, Using Story Sync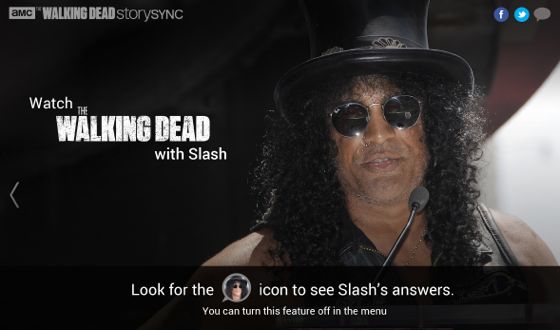 What's better than watching a brand-new episode of The Walking Dead this Sunday at 9/8c? Watching it along with legendary Guns N' Roses guitarist Slash. You can do just that thanks to "Watch Together," your chance to play Story Sync with a celebrity guest each week and see how their answers correspond with your own. This week, watch along with Slash during The Walking Dead Season 5, Episode 3, "Four Walls and a Roof," and be sure to test out this season's all-new features, including a results page that gauges your answers, telling you which character you're most like and whether you would have survived the episode.
To play Story Sync along with Slash, simply log on to thewalkingdeadstorysync.com via your tablet, smart phone or Internet browser — or download the Windows 8 The Walking Dead Story Sync app — when you tune in to AMC for the broadcast. The rest will take care of itself.
Don't miss Slash on Talking Dead, Sunday at 10/9c, immediately following The Walking Dead.
Read More