Ten Ways to Get Ready for The Walking Dead Season 5 Premiere This Sunday 9/8c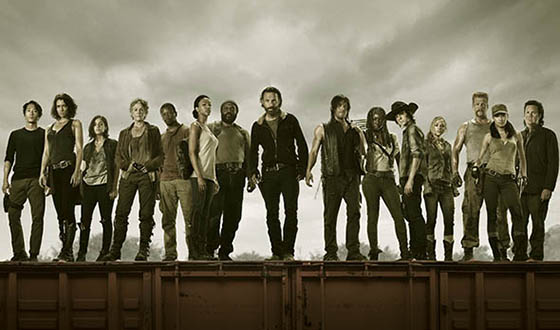 The Walking Dead is back! This Sunday, October 12 at 9/8c, the Season 5 Premiere, "No Sanctuary," airs on AMC. Here are ten ways to prepare yourself for the big day.
1. Catch up on the series with AMC's The Walking Dead Zombie Apocalypse Week Marathon, with every episode to date airing in primetime all week long.
2. Watch The Walking Dead Season 5 trailer and then check out ten sneak peek photos from the Season 5 Premiere.
3. Check out The Walking Dead digital press kit, which contains a comprehensive Season 5 package including trailers, motion portraits of the cast, interviews and more.
4. Watch a video interview with The Walking Dead cast and creators discussing what lies ahead for the characters in Season 5.

5. Bookmark The Walking Dead Story Sync, a two-screen experience that immerses you in the show, lets you interact with other fans and tells you which character you're most like each episode. (Sign on for the Premiere this Sunday at 9PM ET/PT.)
6. Play the The Walking Dead Ultimate Fan Games to test your devotion to the series.
7. Enter the Dead Meet sweepstakes for a chance to win a trip to San Diego to meet the cast and a year's supply of Slim Jim snacks.

8. Join Dead Alert: The Walking Dead Insiders Club for early and exclusive access to photos, videos, interviews, news and features.
9. Go to TalkingDead.com, where you can ask host Chris Hardwick and guests Scott M. Gimple, Greg Nicotero and Conan O'Brien questions about the Premiere.
10.  Watch the last five full episodes of The Walking Dead Season 4 on www.amc.com by using your cable provider log-in.
The Walking Dead returns this Sun., Oct. 12 at 9/8c on AMC.
Read More