Press
Steven Yeun, Michael Cudlitz Chat With EW; TV Guide Talks Cannibals With Andrew J. West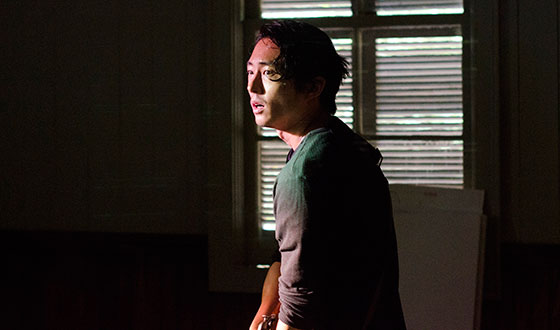 This week, Steven Yeun and Michael Cudlitz are interviewed by Entertainment Weekly, while TV Guide discusses "Strangers" with Andrew J. West. Plus, Alexandra Breckenridge joins the Season 5 cast. Read on for more:
• Steven Yeun, talking to Entertainment Weekly, says, "I think that's what's cool is Glenn holds out hope for humanity and for redemption and for salvation for people, but this world keeps screwing it up."
• Entertainment Weekly interviews Michael Cudlitz, who talks about the group going to D.C. and how "if he was able to convince them all to come with him that would be fantastic and a coup on his part. But it is not necessary to the mission: The mission comes first."
• Andrew J. West discusses cannibalism with TV Guide and explains, "What is much more important to Gareth — more so than vengeance, certainly more so than some sort of sadistic impulse, which I don't think is a part of his persona — is survival."

• According to The Hollywood Reporter, Alexandra Breckenridge has been cast in a Season 5 recurring role.
• The Daily Beast discusses the end of "Strangers," calling it the show's "most gruesome scene yet."
• Josh McDermitt talks to toofab about his reaction to the ending of "Strangers": "I remember reading the script and when I got to that part, I started shaking my head and I yelled, 'I LOVE WORKING ON THIS SHOW!!!'"
• Steven Yeun chats with Adweek about his "info diet" and his Reddit lurking habits.
• During a Reddit Ask Me Anything, Gale Anne Hurd says viewers will be "amazed by Beth's journey this season, and the challenges she's going to face. She's had to grow up so quickly, and I think Daryl really helped her along that path."
• The Boston Herald interviews Andrew Lincoln, Norman Reedus and Steven Yeun, with Lincoln remarking, "The cast and crew, we're all going through this out-of-body experience."
• The Hollywood Reporter compares the TV show cast members to their graphic novel counterparts.
• The Huffington Post spotlights Jimmy Fallon's "Pros and Cons" of watching The Walking Dead.
• Uproxx looks up the Bible verses in Father Gabriel's church and concludes, "This was all a round about way of foreshadowing (SPOILER) Bob's leg being eaten by cannibals right? Or wait maybe it's just stuff from the bible that relates to zombies."
• At Walker Stalker Con, Greg Nicotero reveals "an ongoing Easter Egg involving watches and clocks in the series," according to ComicBook.com.
• Awful Announcing discusses The Walking Dead's blockbuster ratings vis-à-vis NFL broadcasts, the usual ratings leader.
• MTV lists the 17 times it fell in love with Norman Reedus over the course of the show.
• Metro explains how Carol has become the show's best character and declares, "She's not only the best character on The Walking Dead, she might actually be one of the best characters on TV."
• MTV traces the evolution of Rick's beard, from his pre-apocalypse "smooth, clean-shaven look" to "a wooly winter wonderland."
• Zap2it explains why The Walking Dead, "a good — no, great — TV show," is so popular, while The Globe and Mail submits its theories for why the show is "a massive hit."
• Speaking with Byrdie, Danai Gurira describes Michonne as "a woman of unapologetic strength, and I thought that was an interesting character to explore."
• Atlanta Magazine attends Walker Stalker Con and visits the "Bromance panel" with Andrew Lincoln, Norman Reedus and Greg Nicotero, while Nicotero ("the heart and soul" of The Walking Dead) teases that Season 5, Episode 9 "might be the best we've ever done."
• The Atlanta Journal Constitution also has an account of The Walking Dead's presence at Walker Stalker Con.
• Moviepilot has an account of the "Dead Men" and "Dead Women" panels at Atlanta's Walker Stalker Con.
• Lost Remote shares an infographic with statistics about The Walking Dead's considerable fan base.
• For recaps and reviews of Season 5, Episode 2, "Strangers," check out A.V. Club, Basket of Kisses, Cleveland.com, Entertainment Weekly, HitFix, The Huffington Post, Los Angeles Times, MTV, New York Daily News, Time, TV.com, TVLine, Variety, Vulture and Yahoo TV.
To stay up-to-date on all the latest news about The Walking Dead, sign up for the weekly Dead Alert newsletter.
Read More