Press
Scott Gimple Talks New Rick in Season 5; Norman Reedus Graces GQ Cover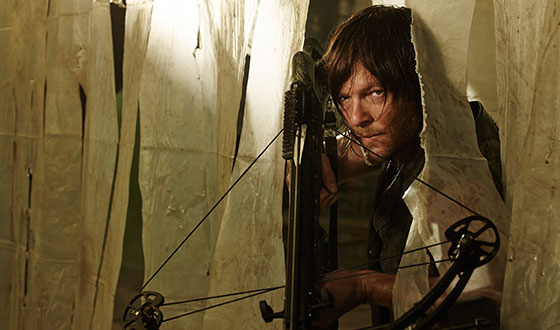 This week, Scott Gimple talks to Entertainment Weekly about Season 5, while Norman Reedus talks about The Walking Dead's appeal in GQ. Plus, Entertainment Weekly asks several cast members — including Melissa McBride, Michael Cudlitz and Norman Reedus — about the new season. Read on for more:
• Entertainment Weekly learns from Scott Gimple that Rick in Season 5 "doesn't blink to protect people who he loves. He does not blink and he can get pretty scary pretty quick."
• In GQ's cover story, Norman Reedus talks about how The Walking Dead remains appealing, saying, "As long as we keep it moving and keep it fresh and interesting, it'll stay fresh and interesting." Reedus is GQ's example of looking good in your 40's, a time when "you know who you are, and you call the shots. It's called maturity. Congratulations, you've arrived."
• Reviewing the Season 5 premiere, Variety applauds the show, which "finds itself in a very good place, from the current makeup of its ever-evolving cast to the latitude it has earned to take unexpected detours. Given the hype surrounding the series, it's still impressive to see the producers deliver such a feast."

• Entertainment Weekly interviews Melissa McBride ("one of the can't-miss-characters on the show"), who says, "I love the questions that this show brings. We fight so hard, holding out for something. What? What are they holding out for? Why? It's so brutal. I love it."
• Entertainment Weekly chats with Michael Cudlitz, who says, "I think people who are fans of the comics and people who know nothing about it will be equally satisfied with the reveal of Abraham's past and what is driving him."
• Andrew J. West talks to Entertainment Weekly about Gareth's assessment of Rick, how "he probably sees Rick in a lot of ways as a kindred spirit. Obviously, right off the bat he identifies him as the ringleader."
• Emily Kinney, interviewed by Entertainment Weekly about Beth and Daryl, says, "I would say last season what you saw, there's definitely a connection, and a connection that's growing. And they care about each other a lot, and so there's definitely something really special there."
• Speculating what Daryl would be up to if there'd been no zombie apocalypse, Norman Reedus tells Entertainment Weekly, "Daryl would be probably with his brother doing crime. I think he would probably be up to no good. I think he would probably have no friends but his brother."
• TV Guide considers The Walking Dead a top 10 must-see show, cautioning, "As the horror hit begins its fifth season, humans appear to be the true monsters." [No Link]
• According to The Hollywood Reporter, Tyler James Williams has been cast on the show as a character named Noah.
• Josh McDermitt, in a conversation with Channel Guide Magazine, says Eugene is traveling with Abraham and Rosita because "he needs someone to protect him to get to Washington so he can cure this thing. On his own, he's not going to make it 30 yards!"
• Emily Kinney tells Channel Guide Magazine she enjoyed the episode where Beth read from her journal, saying that it "was so helpful for me and, I think, also helpful for the audience because they got to know the character in a different way."
• Talking to Business Insider, Emily Kinney says her singing career has expanded her fan base. Kinney also talks to Business Insider about "losing Scott Wilson, because he became so much of, you know, a father figure to me and Lauren [Cohan] in real life, and to not have his energy on set was really, really difficult."
• Reviewing the season premiere, Den of Geek declares that the "impressive season 5 opener delivers exactly what's needed to keep people tuning in." And, E! Online states, "Carol is so awesome in this episode." Plus, TV Guide says, "Look for a very bloody first episode that offers some quick answers about the people of Terminus."
• Deadline reports that Gale Anne Hurd is joining the Science and Technology Council of the Academy of Motion Picture Arts and Sciences.
• Andrew Lincoln speaks with The Guardian about the importance of family in his life and how having children was "a revelation – it's like going through a doorway and everything is different forever."
• Greg Nicotero tells Extra that the walkers rot more and more each day, and the writers "do a great job of allowing the elements to play a part in the rotisserie chicken version of what our walkers are this season."
• According to Ad Age, The Walking Dead is the scripted series with the most expensive ad buy, at more than $400,000 for a package of spots.
• The Atlanta Journal-Constitution points out that The Walking Dead is a show that's used social media to fuel its "rabid" fan base, as AMC "works hard to keep fans engaged even during the offseason."
• The Chicago Tribune's RedEye is rooting for a Mad Men/The Walking Dead crossover: "Don't say you wouldn't watch a crossover that had Don Draper showing up bloodsoaked to a pitch meeting for Campbell's Soup after slaying a hoard of zombies outside the office."
• Screen Crush features a parody of The Walking Dead from Bad Lip Reading, "complete with Carl's very own pop number and zombie chorus."
• Dread Central showcases an AMC video of Danai Gurira discussing "what it's like to have her own action figure and describes her strategies for releasing aggression."
• Scotland's Daily Record thinks Season 4 was the best so far, "a brilliant blend of adventure, action and heartbreak which bodes well for the soon ­to ­begin fifth season." And Uproxx found "the back half of season four to be the most compelling and entertaining eight-episode chunk of the series so far. Michael Cudlitz was a big reason why."
• ScreenCrush unboxes the limited edition Season 4 tree walker Blu-ray.
• TVWise reports that Season 4 will be available in the U.K. on NOW TV on Oct. 1.
To stay up-to-date on all the latest news about The Walking Dead, sign up for the weekly Dead Alert newsletter.
Read More